For RATING SHIRTS - Click on your Rating Abbreviation below:
Click on your Rating abbreviation above: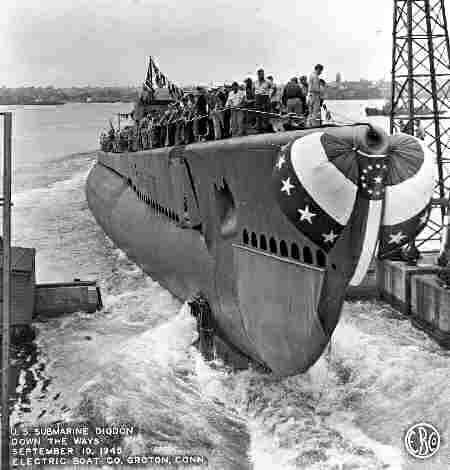 U.S.S. DIODON
(SS-349)

DIRTY D
Click to view crew list
USS DIODON (SS-349) - a Balao class submarine
In Commission 1946 to 1971
SS-349 Deployments - Major Events
Add a SS-349 Shellback Initiation
Add a SS-349 Deployment - Major Event
Month
Year
to
Month
Year
Deployment / Event
JUN
1944
-
Keel Date: 1 JUN 1944
at Electric Boat Company Groton CT
SEP
1945
-
Launch Date: 10 SEP 1945
MAR
1946
-
Commissioned: 18 MAR 1946
OCT
1950
-
DEC
1950
West Pac
MAR
1954
-
SEP
1954
West Pac
APR
1963
-
SEP
1963
West Pac
APR
1963
-
SEP
1963
West Pac
MAY
1967
-
NOV
1967
West Pac
APR
1969
-
OCT
1969
West Pac
JAN
1971
-
Decommissioned: 15 JAN 1971
SS-349 General Specifications
Class: Balao class submarine
Complement: 10 Officers and 70 Enlisted
Displacement: 1870 tons
Length: 307 feet
Beam: 27 feet 4 inches
Draft: 17 feet
Range: 15 000 Nautical Miles
Final Disposition: Sold for scrap 12 May 1972
USS DIODON (SS-349)
Diodon (SS-349) was launched 10 September 1945 by Electric Boat Co. Groton Conn.; sponsored by Mrs. D. Cullinane; and commissioned 18 March 1946 Lieutenant Commander J. M. Hingson in command. Diodon arrived at San Diego Calif. 5 July 1946, and during the next 4 years joined in training operations along the west coast. in Alaskan waters, and in the Hawaiian Islands as well as training members of the Naval Reserve.
She was extensively modernized at Mare Island Naval Shipyard between August 1947 and March 1948. On 14 September 1950 Diodon sailed for the Far East rescuing six aviators off Guam during her passage. She trained frigates of the Republic of Korea in antisubmarine warfare in Sagami Wan Japan and from 30 October to 28 November made a simulated war patrol. She passed undetected through Tsugaru Strait to Otaru, Hokkaido then continued her patrol undetected as she observed and photographed shipping in La Perouse Strait. She returned to the west coast for overhaul from February to May 1951.
Resuming her west coast operations Diodon aided in the training of Canadian naval air and surface forces out of Esquimalt B.C. from October to December 1952. She returned to the Far East from March to September 1954 again conducting a surveillance patrol in La Perouse Straits from 24 May to 22 June. During her west coast training operations in the next 2 years
Diodon again operated with the Canadian Navy and in March 1956 admitted visitors by means of a submarine escape bell while 130 feet below the surface during rescue drills.
During her 1956-57 tour of duty in the Far East Diodon visited Brisbane Australia for the celebration commemorating the great victory of the Battle of the Coral Sea in May 1942. She served again in the Far East in 1958-59 and 1960.


[Note: The above USS DIODON (SS-349) history may or may not contain text provided by crew members of the USS DIODON (SS-349) or by other non-crew members and text from the Dictionary of American Naval Fighting Ships]