For RATING SHIRTS - Click on your Rating Abbreviation below:
Click on your Rating abbreviation above: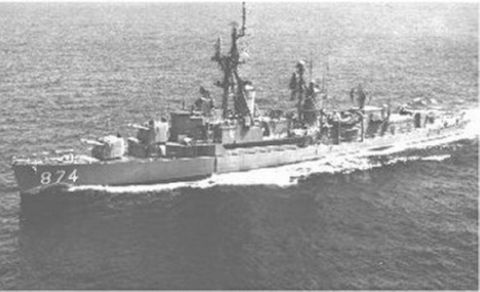 U.S.S. DUNCAN
(DD-874)

THE DUNCANEERS
Click to view crew list
USS DUNCAN (DD-874) - a Gearing-class destroyer
In Commission 1945 to 1971
DD-874 Deployments - Major Events
Add a DD-874 Shellback Initiation
Add a DD-874 Deployment - Major Event
Month
Year
to
Month
Year
Deployment / Event
MAY
1944
-
Keel Date: 22 MAY 1944
at Consolidated Steel Corporation Orange TX
OCT
1944
-
Launch Date: 27 OCT 1944
FEB
1945
-
Commissioned: 25 FEB 1945
JAN
1950
-
JAN
1951
West Pac
DEC
1957
-
Shellback Initiation - 16 DEC 1957 - Pacific Ocean
DEC
1957
-
Shellback Initiation - 16 DEC 1957 - Pacific Ocean
NOV
1958
-
AUG
1959
West Pac
OCT
1960
-
JUN
1961
Regular Overhaul
OCT
1961
-
APR
1964
West Pac
JUL
1963
-
Shellback Initiation - 6 JUL 1963 - Pacific Ocean
AUG
1965
-
FEB
1966
West Pac
SEP
1965
-
DEC
1965
West Pac-Viet Nam
JAN
1966
-
JUL
1967
West Pac-Viet Nam
DEC
1966
-
JUN
1967
West Pac
JAN
1967
-
MAY
1967
West Pac-Viet Nam
NOV
1968
-
JUN
1969
West Pac-Viet Nam
MAY
1969
-
Shellback Initiation - 7 MAY 1969 - Pacific Ocean
MAY
1969
-
Shellback Initiation - 7 MAY 1969 - Pacific Ocean
APR
1970
-
NOV
1970
West Pac-Viet Nam
JAN
1971
-
Decommissioned: 15 JAN 1971
DD-874 General Specifications
Class: Gearing-class destroyer
Named for: Silas Duncan
Complement: 336 Officers and Enlisted
Displacement: 2425 tons
Length: 390 feet 6 inches
Beam: 40 feet 1 inches
Flank Speed: 36 Knots
Range: 4 500 Nautical Miles
Final Disposition:Sunk as target 31 July 1980
USS DUNCAN (DD-874)
The third Duncan (DD-874) was launched 27 October 1944 by Consolidated Steel Corp. Orange Tex.; sponsored by Mrs. D. C. Thayer and commissioned 25 February 1945 Commander P. D. Williams in command. She was reclassified DDR-874 on 18 March 1949.
Duncan converted to a radar picket destroyer during her post shakedown overhaul sailed from Norfolk 2 June 1945 for the Pacific and after touching at San Diego and Pearl Harbor joined Cabot (CVL-28) for screening and plane guard duty during the strikes on Wake Island of 1 August. After calling at Eniwetok she continued to Okinawa to join the 7th Fleet for patrol duty off the Chinese and Korean coasts during the landing of occupation troops at Tsingtao Taku and Jinsen. Duncan served in the Far East on occupation duty until 25 March 1946 when she sailed for the west coast arriving at San Diego 28 April.
For the next year Duncan trained along the west coast keeping high her operational skills and readiness. In May 1947 she departed San Diego for a 5-month cruise to the Far East where she visited Okinawa Japan and China. On her return to the States Duncan resumed coastal operations with both aircraft and submarines. On 1 March 1948 she suffered 2 killed and 14 injured in an explosion on board. After repairs at Long Beach Calif. the destroyer rejoined the fleet for training until January 1949 when she again sailed for the western Pacific this time for 8 months.
Duncan operated between San Diego and Pearl Harbor until November 1950 when she steamed into Korean waters to join the 7th Fleet in its unremitting projection of sea power against Communist aggression. Duncan served a total of three tours off Korea during the fighting in that ravaged land. She sailed as plane guard for carriers and as antisubmarine escort for battleships; she fired shore bombardments in support of minesweepers and to interdict enemy communications; she patrolled against North Korean minesweepers and fishing craft. Through all she added her significant contribution to the vast and indispensable sea-borne support of the United Nations troops ashore.
Since the end of the Korean fighting in 1953 Duncan has remained busy in the Pacific alternating Far Eastern duty with training and maintenance on the west coast. She has visited Australia Japan the Philippines Taiwan Hong Kong and many islands of the Pacific during her far flung travels in guarding peace and order. At the end of 1960 Duncan lay in Long Beach Naval Shipyard undergoing extensive overhaul and modernization a sign of many more active years ahead.
Duncan received seven battle stars for Korean war service.


[Note: The above USS DUNCAN (DD-874) history may or may not contain text provided by crew members of the USS DUNCAN (DD-874) or by other non-crew members and text from the Dictionary of American Naval Fighting Ships]