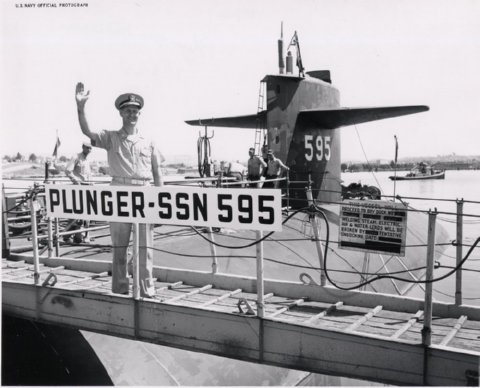 U.S.S. PLUNGER
(SSN-595)

WHAT IS PAST IS PROLOGUE
Click to view crew list
USS PLUNGER (SSN-595) - a Thresher/Permit-class submarine
In Commission 1962 to 1990
SSN-595 Deployments - Major Events
Add a SSN-595 Shellback Initiation
Add a SSN-595 Deployment - Major Event
Month
Year
to
Month
Year
Deployment / Event
MAR
1960
-
Keel Date: 2 MAR 1960
at Mare Island Naval Shipyard Vallejo CA
DEC
1961
-
Launch Date: 9 DEC 1961
NOV
1962
-
Commissioned: 21 NOV 1962
SEP
1965
-
MAR
1966
West Pac
OCT
1968
-
MAR
1969
West Pac
AUG
1970
-
DEC
1970
West Pac-Viet Nam
SEP
1973
-
MAY
1974
West Pac
DEC
1973
-
DEC
1973
CDR Al Wilderman (CO) was lost at sea
DEC
1973
-
DEC
1973
Sea Trials
NOV
1974
-
Shellback Initiation - 5 NOV 1974 - Indian Ocean
AUG
1976
-
JAN
1977
West Pac
MAR
1978
-
OCT
1978
West Pac
AUG
1979
-
NOV
1979
West Pac
JAN
1982
-
JAN
1983
Dry Dock
JAN
1984
-
JUL
1984
West Pac
JAN
1986
-
JUN
1986
West Pac
OCT
1986
-
NOV
1986
Sea Trials
FEB
1988
-
JUL
1988
West Pac
FEB
1990
-
Decommissioned: 2 FEB 1990
SSN-595 General Specifications
Class: Thresher/Permit-class submarine
Complement: 100 Officers and Enlisted
Displacement: 3540 tons
Length: 295 feet
Beam: 31 feet 8 inches
Flank Speed: 20 knots
USS PLUNGER (SSN-595)
Plunger, the first submarine torpedo boat to be built for the Navy, was authorized by Congress 3 March 1893; a contract for her construction was awarded to Holland Torpedo Boat Co. 13 March 1895. However, the boat and the contract were cancelled in April 1900.


III


(SSN-595: dp. 3,700 (surf.), 4,300 (subm.); l. 278'6; b. 31'8; s. 20+ k.; cpl. 100; a. 4 tt.; cl. Thresher)


The third Plunger (SSN-595) was authorized as an SSGN but was laid down as an SSN 2 March 1960 at Mare Island Shipyard, Vallejo, Calif.; launched 9 December 1961; sponsored by Mrs. Clinton P. Anderson; and commissioned at Mare Island 21 November 1962, Comdr. William M. Adams in command.


Following a trip to Puget Sound 27 November to test torpedo tubes and sound gear, Plunger departed Mare Island 5 January 1963 for shakedown to Pearl Harbor. Plunger next was homeported at Mare Island and operated to test the performance of sonar and the fire control system. In April she changed homeport to Pearl Harbor, where she became flagship of ComSubDiv 71, 1 April.


Continuing in a testing capacity, Plunger evaluated the most advanced class of nuclear attack subs. Operating off the U.S. west coast during the spring and summer, she proceeded to Wake Island 15 September 1964 for SubRon Operational Evaluation missile firing.


At Pearl Harbor again in January 1965, Plunger was selected to demonstrate the capability of the Navy's latest ASW weapon system to Dr. Donald Hornig, Special Assistant to the President for Science and Technology. At Wake Island in May, Plunger participated in C/S-17, the SubRon Operational Training Test. In September she prepared for WestPac deployment, which continued into mid-1966. During this deployment, Plunger conducted evaluation exercises of AN/SQS-36 sonar and traveled as far east as Okinawa and Subic Bay. She also conducted ASW exercises and executed oceanographic and port surveys.


At Pearl Harbor with SubRon 7 in 1967, Plunger operated to improve the ASW readiness of the Pacific fleet; from 6 to 22 March, she participated in ASW exercises and later continued in advanced type-training work. During inport periods at Pearl Harbor Plunger provided services to Fleet Training Program Pearl Harbor. Homeporting at Puget Sound the last 6 months of 1967, Plunger returned to Pearl Harbor 1 February 1968 and continues operations with the Pacific Fleet into 1970.


[Note: The above USS PLUNGER (SSN-595) history may, or may not, contain text provided by crew members of the USS PLUNGER (SSN-595), or by other non-crew members, and text from the Dictionary of American Naval Fighting Ships]