For RATING SHIRTS - Click on your Rating Abbreviation below:
Click on your Rating abbreviation above: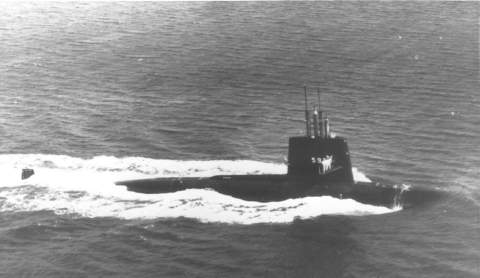 U.S.S. SHARK
(SSN-591)


Click to view crew list
USS SHARK (SSN-591) - a Skipjack-class submarine
In Commission 1961 to 1990
SSN-591 Deployments - Major Events
Add a SSN-591 Shellback Initiation
Add a SSN-591 Deployment - Major Event
Month
Year
to
Month
Year
Deployment / Event
FEB
1958
-
Keel Date: 24 FEB 1958
at Newport News Shipbuilding & Drydock Co. Newport News VA
MAR
1960
-
Launch Date: 16 MAR 1960
FEB
1961
-
Commissioned: 9 FEB 1961
FEB
1972
-
Shellback Initiation - 19 FEB 1972 - Pacific Ocean
MAY
1972
-
NOV
1972
Mediterranean
SEP
1977
-
DEC
1977
UNITAS
OCT
1977
-
Shellback Initiation - 1 OCT 1977 - Atlantic Ocean
OCT
1977
-
Shellback Initiation - 12 OCT 1977 - Atlantic Ocean
JAN
1981
-
JAN
1982
Regular Overhaul
OCT
1988
-
OCT
1988
UNITAS
OCT
1988
-
Shellback Initiation - 11 OCT 1988 - Atlantic Ocean
SEP
1990
-
Decommissioned: 15 SEP 1990
SSN-591 General Specifications
Class: Skipjack-class submarine
Complement: 83 Officers and Enlisted
Displacement: 2880 tons
Length: 252 feet
Beam: 32 feet
Draft: 30 feet
Final Disposition: Entered the Submarine Recycling Program on 1 October 1995
USS SHARK (SSN-591)
The seventh Shark (SSN-591) was laid down on 24 February 1958 by the Newport News Shipbuilding and Dry Dock Co., Newport News, Va.; launched on 16 March 1960; sponsored by Mrs. Louis Shane, Jr.; and commissioned on 9 February 1961, Lt. Comdr. John F. Pagan, Jr., in command.


After preliminary testing and fitting out, Shark sailed to the Caribbean in May for her shakedown cruise. The submarine returned to her building yard for post shakedown repairs and final acceptance by the Navy.


Shark sailed for the Mediterranean and duty with the 6th Fleet on 12 August. This was the first such deployment for a nuclear submarine, and Shark was deployed until 14 November 1961. On 29 January 1962, the submarine steamed to Bermuda, B.W.I., for 2 weeks of type training. She was next deployed to the North Atlantic from 15 March to 23 May. During this period, Shark paid a one-week visit to Portsmouth, England. On 25 August, she departed for another two months in the North Atlantic. On her return trip to Norfolk, she underwent an availability period that lasted until 7 January 1963.


Shark participated in SUBFALLEX in the North Atlantic from 7 August to 24 October, with a week spent in Faslane, Scotland. The remainder of 1963 was either spent in port, in local operations, or conducting antisubmarine warfare exercises in the Caribbean.


On 22 March 1964, Shark departed Norfolk to participate in SUBSPRINGEX and returned on 21 May. On 25 June 1964, she sailed to Charleston, S.C., for her first shipyard overhaul which lasted until 7 June 1965. On 7 April 1965, at the shipyard, Shark was presented the Navy Unit Commendation for meritorious service from 5 April to 9 May 1964, a period in which she achieved results of great value and importance to the United States Navy in the field of antisubmarine warfare capabilities.


The submarine put to sea for sea trials on 7 June. One month later, she suffered damage to the forward oxygen system which necessitated additional repairs at Charleston. On 9 October, she passed her sea trials and sailed to Key West, Fla., for two weeks of torpedo tube tests and a. wire-guided torpedo development project.


Shark returned to Norfolk on 25 October 1965 and conducted type training, individual ship exercises, and antisubmarine warfare exercises until 8 January 1966. The ship then operated in the Caribbean until 7 February. She was there again for further trials in July and October.


Shark stood out of Norfolk on 7 January 1967 for the North Atlantic and conducted special operations until 24 March. Two weeks of this period were spent at Holy Loch, Scotland. On 12 April, she was presented her second Navy Unit Commendation for operations in 1966 in which Shark contributed significantly to the knowledge of the United States Navy in the field of antisubmarine warfare. Shark departed Norfolk on 16 May for Halifax, Nova Scotia, which was the first visit of a nuclear ship to a Canadian port. The submarine operated with Royal Canadian Navy ASW units before returning to her homeport.


On 11 June 1967, Shark prepared for her first refueling period at the Norfolk Naval Shipyard and did not put to sea again until March 1968. The remainder of 1968 and 1969 was spent performing local or special operations.


Shark was in drydock at Norfolk from 1 January 1970 to 9 August 1971. The remainder of the year and 1972 was spent in refresher training and undergoing various trials along the east coast, with the exception of a deployment to the 6th Fleet from 31 May to 19 November 1972. Since January 1973, into August 1974, Shark continues to operate with the Atlantic Fleet from her homeport of Norfolk.


[Note: The above USS SHARK (SSN-591) history may, or may not, contain text provided by crew members of the USS SHARK (SSN-591), or by other non-crew members, and text from the Dictionary of American Naval Fighting Ships]