For RATING SHIRTS - Click on your Rating Abbreviation below:
Click on your Rating abbreviation above: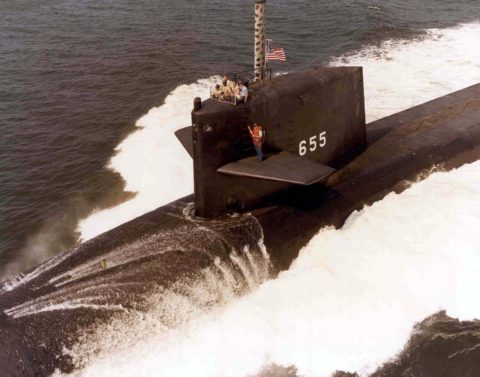 U.S.S. HENRY L. STIMSON
(SSBN-655)

THE SCREW NEVER STOPS
Click to view crew list
USS HENRY L. STIMSON (SSBN-655) - a Benjamin Franklin-class fleet ballistic missile submarine
In Commission 1966 to 1993
SSBN-655 Deployments - Major Events
Add a SSBN-655 Shellback Initiation
Add a SSBN-655 Deployment - Major Event
Month
Year
to
Month
Year
Deployment / Event
APR
1964
-
Keel Date: 4 APR 1964
at General Dynamics Electric Boat Groton CT
NOV
1965
-
Launch Date: 13 NOV 1965
AUG
1966
-
Commissioned: 20 AUG 1966
JUL
1969
-
SEP
1969
First Moon Landing Blue Crew underway
SEP
1973
-
DEC
1973
North Atlantic
AUG
1978
-
DEC
1979
Mediterranean
JUL
1980
-
AUG
1980
Started refits at the new NSSB Kingsbay, GA. 2nd boat to do so.
MAR
1984
-
MAR
1984
DASO LAUNCH AFTER REFUELING OVERHAUL
DEC
1988
-
FEB
1989
Desert Storm
MAY
1993
-
Decommissioned: 5 MAY 1993
SSBN-655 General Specifications
Class: Benjamin Franklin-class fleet ballistic missile submarine
Named for: Henry L. Stimson (1867–1950)
Complement: 13 Officers and 130 Enlisted
Displacement: 7250 tons
Length: 425 feet
Beam: 33 feet
Flank Speed: 16 knots surfaced
Final Disposition: Scrapping via Ship and Submarine Recycling Program completed 12 August 1994
USS HENRY L. STIMSON (SSBN-655)
From: Dictionary of American Fighting Ships
Henry L. Stimson
Henry Lewis Stimson born in New York City 21 September 1867 graduated from Yale in 1888. After graduate work and law school at Harvard he entered the law firm headed by Elihu Root in 1891 and two years later became a partner.
In 1906 President Theodore Roosevelt appointed him U.S. Attorney for the Southern District of New York. Here he made a distinguished record prosecuting antitrust cases. After defeat as Republican candidate for governor of New York in 1910 Stimson was appointed Secretary of War in 1911. He continued the reorganization of the Army begun by Root bringing it to high efficiency prior to its vast expansion in World War I.
Following the outbreak of war he was a leader in the American effort to aid the stricken people of Belgium. After the United States became a belligerent he served in France as an artillery officer reaching rank of Colonel in August 1918.
His success in several important diplomatic assignments and as Governor-General of the Philippine Islands led to Stimson's appointment as Secretary of State in 1929. His management of the Nation's foreign affairs was highlighted by his strong opposition to Japanese occupation of Manchuria the first aggressive step which led to World War II.
Returning to private life at the end of President Hoover's administration Stimson was an outspoken advocate of strong opposition to Japanese aggression. In 1941 President Roosevelt returned him to his old post at the head of the War Department and he skillfully directed the tremendous expansion of the Army to the force of over 10 000 000 men which crushed Axis ground forces in Europe and the Pacific.
Stimson retired from public office 21 September 1945 and died at Huntington N.Y. 20 October 1950.
---
(SSB(N) - 655: dp. 7 250; l. 425'; b. 33'; dr. 32'; s. over 20 k.; cpl. 122: a. 16 A-3 Polaris missiles 4 21" tt.; cl. Lafayette)
Henry L. Stimson (SSB(N)-655) was laid down 4 April 1964 by the Electric Boat Division of General Dynamics Corp. Groton Conn.; launched 13 November 1965; sponsored by Mrs. Thomas J. Dodd wife of Senator Dodd of Conn.; and commissioned 20 August 1966 Captain Richard E. Jortberg (blue crew) and Comdr. Robert H. Weeks (gold crew ) in command.
Following shakedown Henry L. Stimson prepared for her role as one of the Navy's nuclear-powered submarines silently and invisibly roving the seas as a mighty deterrent against agression [sic; aggression] preserving peace and protecting freedom.
Assigned to Submarine Squadron 16 Henry L. Stimson departed Charleston S.C. 23 February 1967 on her first deterrent patrol. After successfully completing patrols in her assigned areas with each of her two crews she continues in mid-1967 to serve the Nation as part of the first line of defense against any hostile power.
Transcribed by Yves HUBERT (hubertypc@aol.com)
---
^
[Note: The above USS HENRY L. STIMSON (SSBN-655) history may or may not contain text provided by crew members of the USS HENRY L. STIMSON (SSBN-655) or by other non-crew members and text from the Dictionary of American Naval Fighting Ships]