For RATING SHIRTS - Click on your Rating Abbreviation below:
Click on your Rating abbreviation above: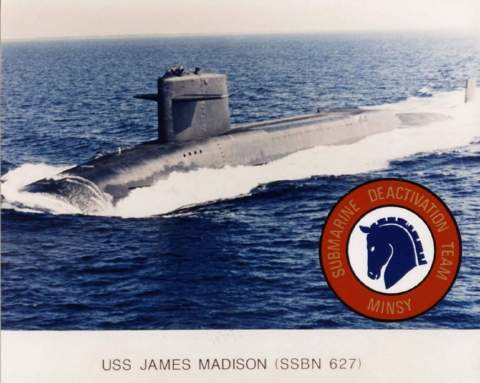 U.S.S. JAMES MADISON
(SSBN-627)

WETSU - WE EAT THIS SH#@ UP
Click to view crew list
USS JAMES MADISON (SSBN-627) - a James Madison-class fleet ballistic missile submarine (hull design SCB-216 Mod 3)[1]
In Commission 1964 to 1992
SSBN-627 Deployments - Major Events
Add a SSBN-627 Shellback Initiation
Add a SSBN-627 Deployment - Major Event
Month
Year
to
Month
Year
Deployment / Event
MAR
1962
-
Keel Date: 5 MAR 1962
at Newport News Shipbuilding & Drydock Co. Newport News VA
MAR
1963
-
Launch Date: 15 MAR 1963
JUL
1964
-
Commissioned: 28 JUL 1964
MAR
1973
-
JUN
1973
Blue Nose - Arctic Circle
APR
1975
-
Shellback Initiation - 8 APR 1975 - Atlantic Ocean
SEP
1979
-
NOV
1981
Regular Overhaul
FEB
1982
-
MAR
1982
Sea Trials
SEP
1985
-
NOV
1985
North Atlantic
SSBN-627 General Specifications
Class: James Madison-class fleet ballistic missile submarine (hull design SCB-216 Mod 3)
Named for: James Madison
Complement: 15 Officers and 132 Enlisted
Displacement: 7320 tons
Length: 425 feet
Beam: 33 feet
Flank Speed: Over 20 knots
Final Disposition: Scrapping via Ship-Submarine Recycling Program completed 24 October 1997
USS JAMES MADISON (SSBN-627)
From: Dictionary of American Fighting Ships

James Madison

James Madison was born at Port Conway Va. 10 March 1751 and graduated from the College of New Jersey (now Princeton) in 1771. He was a member of the Virginia Council of State and in 1780 became a member of the Continental Congress. An early advocate of increased Federal power under the Articles of Confederation Madison served in the Virginia House of Delegates 1784-86 and was instrumental in securing passage of Jefferson's religious freedom bill. He played an influential role in the movement which led to the Constitutional Convention drafted the "Virginia Plan" which became the core of that document and worked tirelessly for its adoption. A first-rate thinker and writer on political theory and practice he was the author of 29 of the famous Federalist Papers.

Madison served in the House 1789-97 and proposed the first 10 amendments to the Constitution which became the Bill of Rights. Later as leader of the Jeffersonian Republicans he drew up the Virginia Resolves and condemned the Alien and Sedition Acts.

After being Secretary of State under Jefferson 1801-09 he was elected President. His first term was marred by the unpopular War of 1812 and his administration was marked by a trend toward nationalism. President James Madison died 28 June 1836 but continues in fame as one of the Nation's most important thinkers and statesmen..
---
(SSB(N) - 627: dp. 7 250; l. 425'; b. 33'; dr. 31'5"; s. over 20 k.; cpl. 140; a. 16 Pol. mis.; cl. Lafayette)
The second James Madison (SSB (N)-627) was [laid down 5 March 1962 ] launched 15 March 1963 by the Newport News Shipbuilding & Dry Dock Co. Newport News Va.; sponsored by Mrs. A. S. "Mike" Monroney wife of U.S. Senator Monroney of Oklahoma; and commissioned 24 July 1964 [Vol. IV errata: 28 July 1964] Comdr. Joseph L. Skoog Jr. (blue crew) and Comdr. John C. Lewis (gold crew) in command.
The two crews in turn conducted shakedown operations at sea. Completely successful launches of A-3 missiles climaxed the cruise of each team. After post-shakedown repairs and modification in November and December of 1964 James Madison sailed for her first patrol 17 January 1965.
Reliability accuracy undetected mobility and instant readiness are the words which characterize Polaris ships and their crews. By the end of 1966 James Madison had completed her 10th patrol and she continued to serve in the European area helping to prevent war. Her men may be proud that James Madison - by providing a seagoing platform for weapons the traditional function of a warship - is an instrument of diplomacy and a keeper of the peace.
[Transcriber's note: James Madison was completed with the 2500-mile range Polaris A3 and she was refitted with the Poseidon missile between 1969 and 1978. In 1979-82 she received Trident I missile.
K. Jack Bauer and Stephen S. Roberts "Register of Ships of the U. S. Navy 1775-1990 " p. 293.]
Transcribed by Yves HUBERT (hubertypc@aol.com)
---
^
[Note: The above USS JAMES MADISON (SSBN-627) history may or may not contain text provided by crew members of the USS JAMES MADISON (SSBN-627) or by other non-crew members and text from the Dictionary of American Naval Fighting Ships]