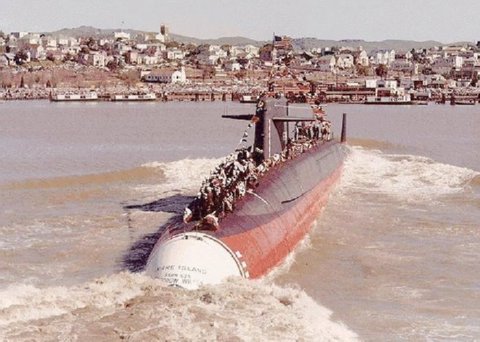 U.S.S. WOODROW WILSON
(SSBN-624)

WOODY WOO
Click to view crew list
USS WOODROW WILSON (SSBN-624) - a Lafayette-class submarine
In Commission 1963 to 1994
SSBN-624 Deployments - Major Events
Add a SSBN-624 Shellback Initiation
Add a SSBN-624 Deployment - Major Event
Month
Year
to
Month
Year
Deployment / Event
SEP
1961
-
Keel Date: 13 SEP 1961
at Mare Island Naval Shipyard Vallejo CA
JAN
1963
-
MAR
1963
Blue Nose - Arctic Circle
FEB
1963
-
Launch Date: 22 FEB 1963
DEC
1963
-
Commissioned: 27 DEC 1963
JAN
1967
-
JAN
1968
North Atlantic
MAR
1967
-
MAR
1967
Mediterranean
JAN
1968
-
JAN
1969
North Atlantic
OCT
1969
-
OCT
1969
Panama Canal
AUG
1971
-
Shellback Initiation - 20 AUG 1971 - Pacific Ocean
FEB
1972
-
Shellback Initiation - 17 FEB 1972 - Pacific Ocean
JAN
1977
-
AUG
1983
North Atlantic-Med-Indian Ocean
JAN
1978
-
JAN
1978
Blue Nose - Arctic Circle
OCT
1992
-
MAR
1993
Mediterranean
SEP
1994
-
Decommissioned: 1 SEP 1994
SSBN-624 General Specifications
Class: Lafayette-class submarine
Named for: Woodrow Wilson (1856-1924)
Complement: 13 Officers and 130 Enlisted
Displacement: 7250 tons
Length: 425 feet
Beam: 33 feet
Flank Speed: 20 knots
Final Disposition: Entered Ship-Submarine Recycling Program 26 September 1997; recycling completed 27 October 1998
USS WOODROW WILSON (SSBN-624)
Woodrow Wilson (SSBN-624) was laid down on 16 September 1961 at Vallejo, Calif., by the Mare Island Naval Shipyard; launched on 22 February 1963; sponsored by Miss Eleanor A. Sayre, the granddaughter of President Wilson; and commissioned on 27 December 1963, Comdr. C. N. Mitchell and Comdr. W. N. Dietzen in command of the Blue and Gold crews, respectively.


Woodrow Wilson departed Vallejo, Calif., on 9 January 1964, bound for the east coast on a route which would take her through the Panama Canal. After stopping briefly at San Diego, the submarine proceeded on to Panama, arriving on 19 January at the west coast end of the canal. Violent anti-American demonstrations and riots over a recent flag-displaying incident had resulted in an extremely tense atmosphere. As a result, the submarine transited the canal in a record seven hours and ten minutes while combat-ready marines and soldiers guarded the locks.


Making port at Charleston, S.C., on 5 February, the Woodrow Wilson conducted shakedown off the lower eastern seaboard into March and underwent her post-shakedown availability into April. She put to sea at the end of May upon the conclusion of these repairs and alterations and commenced her first deterrent patrol out of Charleston in June.


Woodrow Wilson subsequently operated in the Atlantic until the autumn of 1969 conducting her patrols from forward bases at Rota, Spain, and Holy Loch, Scotland. She was then transferred to the Pacific and arrived at Pearl Harbor on 19 November, via Charleston and the Panama Canal. The fleet ballistic missile submarine continued toward the western Pacific to be based at Guam. She conducted deterrent patrols from Apra Harbor through 1972. In that year, she shifted back to the Atlantic and served with the Atlantic Fleet into 1978. Between 1964 and 1977, the ship performed 37 deterrent patrols


[Note: The above USS WOODROW WILSON (SSBN-624) history may, or may not, contain text provided by crew members of the USS WOODROW WILSON (SSBN-624), or by other non-crew members, and text from the Dictionary of American Naval Fighting Ships]