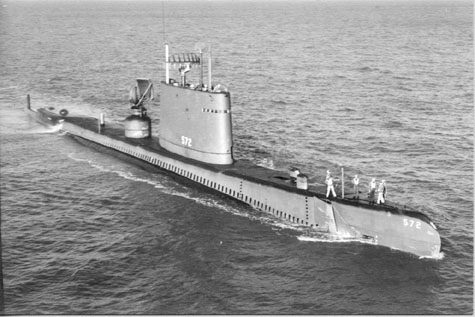 U.S.S. SAILFISH
(SS-572)

THE FIGHTERS
Click to view crew list
USS SAILFISH (SS-572) - a Sailfish-class submarine
In Commission 1956 to 1978
SS-572 Deployments - Major Events
Add a SS-572 Shellback Initiation
Add a SS-572 Deployment - Major Event
Month
Year
to
Month
Year
Deployment / Event
DEC
1953
-
Keel Date: 8 DEC 1953
at Portsmouth Naval Shipyard Kittery ME
SEP
1955
-
Launch Date: 8 SEP 1955
APR
1956
-
Commissioned: 14 APR 1956
OCT
1962
-
JAN
1963
Mediterranean-Indian Ocean-Persian Gulf
JAN
1965
-
JUL
1965
Regular Overhaul
JUL
1968
-
FEB
1969
Regular Overhaul
JUL
1969
-
JUL
1969
Panama Canal
JUL
1969
-
JUL
1969
Transfered from New London Conn to Pearl Harbor
OCT
1969
-
MAY
1970
West Pac-Viet Nam
JAN
1971
-
AUG
1971
West Pac
JUL
1971
-
Shellback Initiation - 27 JUL 1971 - Pacific Ocean
JUL
1971
-
Shellback Initiation - 27 JUL 1971 - Pacific Ocean
NOV
1972
-
JUL
1973
West Pac-Viet Nam
JUN
1974
-
DEC
1974
West Pac
SEP
1978
-
Decommissioned: 29 SEP 1978
SS-572 General Specifications
Class: Sailfish-class submarine
Named for: Sailfish
Complement: 95 Officers and Enlisted
Displacement: 2030 tons
Length: 350 feet
Beam: 29 feet 1 inches
Flank Speed: 20 Knots
Final Disposition: Sunk as target May 2007
USS SAILFISH (SS-572)
The second Sailfish (SSR-572) was laid down on 8 December 1953 by the Portsmouth (N.H.) Naval Shipyard; launched on 8 September 1955; sponsored by Mrs. Lynde D. McCormick; and commissioned on 14 April 1956, Lt. Comdr. S. R. McCord in command.


Sailfish was the first submarine built expressly for radar picket service. She and sister ship, Salmon, were also the largest conventionally powered submarines in the United States Navy and, to the present, still hold that distinction. Following trials off the New Hampshire coast, Sailfish conducted a shakedown cruise in the Caribbean before joining Submarine Squadron (SubRon) 6 at Norfolk, Va. In July 1957, she began her first extended deployment with the 6th Fleet in the Mediterranean. She returned to Norfolk in October and, through the fall of 1958, engaged in local operations, with occasional visits to Caribbean ports. In December, she commenced a seven-month conversion and overhaul at Portsmouth. In April 1959, while the yard work was still in progress, she was transferred to SubRon 10 at New London, Conn.


Sailfish resumed coastal operations out of New London in July, participating in fleet and NATO exercises, providing qualification training for prospective submarine officers and crews, and sharpening her own battle readiness. On 3 February 1961, Sailfish was reclassified SS-572, and assumed the duties of an attack submarine. By September 1962, she was preparing for her second Mediterranean deployment and departed New London on 10 October. She operated with the 6th Fleet over the next four months and returned to New London in February 1963, where she participated in local operations through the rest of that year and 1964.


In January 1965, Sailfish was transferred to Philadelphia where she entered the Naval Shipyard for extensive "FRAM II" conversion. Thirteen months later, in February 1966, she left the navy yard presenting a more sleek, streamlined appearance, broken only by the deck-mounted fins of the new "puffs" sonar system. These new fins duplicated on a miniature scale the form of her conning tower, giving her the dorsaled look of a large, beautiful fish, like the "sailfish" for which she was named. Following an exhaustive checkout of her newly acquired systems and a period of refresher training, she deployed in July for her third Mediterranean tour. After four months, she returned to New London and local operations.


On 1 November 1967, she was assigned to SubRon 8 and joined the submarines of Submarine Division (SubDiv) 82, specialists in antisubmarine warfare. She operated out of Groton, Conn., until July 1968; then underwent overhaul into February 1969. On 1 July, she was ordered to the Pacific and assigned a new home port, Pearl Harbor. Sailfish departed New London on 14 July; transited the Panama Canal; and, after a brief visit to Acapulco, Mexico, proceeded to Hawaii. From Pearl Harbor, she sailed on 9 October for deployment with the 7th Fleet in the western Pacific. Sailfish operated out of Yokosuka, Japan. In January 1970, she participated in Allied exercises off Taiwan and Okinawa; in February, she conducted joint training operations with Republic of Korea Navy units; and, in March, she operated with units of the Japanese Maritime Self Defense Force. On 26 May, Sailfish returned to Pearl Harbor and spent the remainder of the year there in training operations and upkeep.


On 8 February 1971, Sailfish departed Pearl Harbor for her second WestPac deployment. For over six months, she cruised the western Pacific. In late May, she joined units of the United States Navy and of the Japanese Maritime Self Defense Force in HUK ASWEX 3-71. By mid-July, she was in the Mindanao Sea participating in another antisubmarine exercise, this time with units of the Philippine Navy. Sailfish spent a week in Brisbane, Australia, before returning to Pearl Harbor, on 28 August, for overhaul.


The submarine underwent regular overhaul from 20 October 1971 until 14 July 1972. Between July and December, she operated between Hawaii and the California coast, engaged in trials and type training. On 1 December, Sailfish departed San Diego for Yokosuka, Japan, and her third WestPac cruise. She plied the waters of the western Pacific until 4 May 1973, when she departed Subic Bay to return to the United States. She stopped overnight, on the night of 19 and 20 May, at Pearl Harbor; then continued on to San Diego. For the rest of 1973, she operated off the California coast, out of San Diego. As of May 1974, Sailfish continues to operate out of her home port of San Diego.


[Note: The above USS SAILFISH (SS-572) history may, or may not, contain text provided by crew members of the USS SAILFISH (SS-572), or by other non-crew members, and text from the Dictionary of American Naval Fighting Ships]