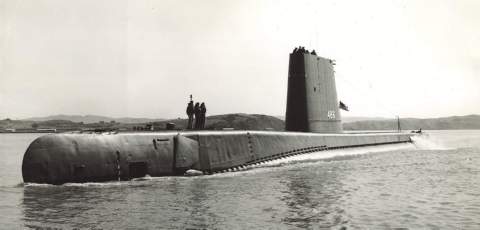 U.S.S. POMODON
(SS-486)

WETSU
Click to view crew list
USS POMODON (SS-486) - a Tench-class submarine
In Commission 1945 to 1970
SS-486 Deployments - Major Events
SS-486 General Specifications
Class: Tench-class submarine
Complement: 10 Officers and 71 Enlisted
Displacement: 1870 tons
Length: 307 feet
Beam: 27 feet 4 inches
Draft: 17 feet
Range: 11 000 Nautical Miles
Final Disposition: Sold for scrap 26 January 1972
USS POMODON (SS-486)
Pomodon (SS-486) was laid down 29 January 1945 by the Portsmouth Navy Yard, Portsmouth, N.H.; launched 12 June 1945; sponsored by Mrs. Lorena Neff; commissioned 11 September 1945, Commander Melvin H. Dry in command.


Departing Portsmouth 6 January 1946, Pomodon slipped through the Cape Cod Canal and set her course for the Panama Canal Zone for further training. By May the submarine was back north to New London for several days operations before an availability and upkeep period at New London, Conn.


Slipping out of the Submarine Base at New London, Pomodon set her course southward again; transited the Panama Canal arriving San Diego 12 October; and joined Submarine Squadron 3. After alterations at Mare Island, 25 October 1946 to 26 July 1947, the submarine returned to San Diego 28 July and began operations in the area as part of Task Forces 52 and 56.


The conversion had made Pomodon the first Guppy type submarine in the Pacific Fleet (Greater Underwater Propulsion Power obtained from increased storage battery capacity combined with a streamlined superstructure).


At the outbreak of hostilities in Korea in July 1950 Pomodon was deployed to Pearl Harbor. In January 1951 Pomodon was again modernized at Mare Island Naval Shipyard and in May 1951 she returned to service as the most modern and advanced Guppy submarine in the Submarine Force.


Pomodon departed San Diego in November 1951 for a sixmonth deployment with the United Nations Forces resisting Communist aggression in Korea, followed by operations in the San Diego area. During the next decade, the submarine made six more WestPac deployments bolstering the forces of freedom in the Far East.


Pomodon's eighth deployment with the 7th Fleet, 6 June to 30 November 1966, took her to Vietnamese waters and she operated with American destroyers and carrier Kearsarge on Yankee station. Training operations on the west coast and overhaul at Hunter's Point Division, San Francisco Naval Shipyard filled 1967. She again headed west across the Pacific for her ninth deployment 22 March 1968. She operated in Japanese waters, off Okinawa, and in the Philippines before entering the Vietnam combat zone 13 August. Pomodon returned to San Diego 17 October where she prepared for future service.


[Note: The above USS POMODON (SS-486) history may, or may not, contain text provided by crew members of the USS POMODON (SS-486), or by other non-crew members, and text from the Dictionary of American Naval Fighting Ships]