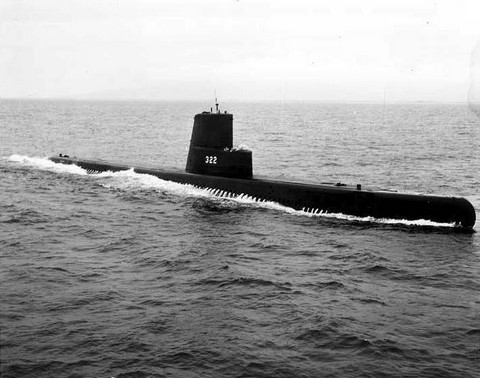 U.S.S. BLACKFIN
(SS-322)

POLICEMEN OF THE PACIFIC
Click to view crew list
USS BLACKFIN (SS-322) - a Balao class submarine
In Commission 1944 to 1972
SS-322 Deployments - Major Events
Add a SS-322 Shellback Initiation
Add a SS-322 Deployment - Major Event
Month
Year
to
Month
Year
Deployment / Event
JUN
1943
-
Keel Date: 10 JUN 1943
at Electric Boat Company Groton CT
MAR
1944
-
Launch Date: 12 MAR 1944
JUL
1944
-
Commissioned: 4 JUL 1944
DEC
1951
-
JUN
1952
Far East
JAN
1955
-
JUN
1955
West Pac
JAN
1957
-
JUL
1957
West Pac
MAY
1957
-
NOV
1957
West Pac
NOV
1958
-
MAY
1959
West Pac
APR
1959
-
Shellback Initiation - 3 APR 1959 - Pacific Ocean
SEP
1960
-
FEB
1961
West Pac
NOV
1963
-
JUN
1964
West Pac
MAY
1964
-
Shellback Initiation - 25 MAY 1964 - Pacific Ocean
DEC
1966
-
JUN
1967
West Pac-Viet Nam
APR
1967
-
Shellback Initiation - 23 APR 1967 - Pacific Ocean
APR
1967
-
Shellback Initiation - 27 APR 1967 - Pacific Ocean
FEB
1968
-
OCT
1968
West Pac
AUG
1970
-
MAR
1971
West Pac-Viet Nam
JAN
1971
-
Shellback Initiation - 28 JAN 1971 - Pacific Ocean
SEP
1972
-
Decommissioned: 15 SEP 1972
SS-322 General Specifications
Class: Balao class submarine
Complement: 10 Officers and 70 Enlisted
Displacement: 1830 tons
Length: 307 feet 7 inches
Beam: 27 feet 3 inches
Draft: 16 feet 10 in
Range: 11 000 Nautical Miles
Final Disposition: Sunk as target off San Diego California 13 May 1973
USS BLACKFIN (SS-322)
Blackfin (SS-322) was launched 12 March 1944 by Electric Boat Co. Groton Conn. sponsored by Mrs. Charles A. Lockwood wife of Rear Admiral Lockwood; and commissioned 4 July 1944 Lieutenant Commander G. H. Laird Jr. in command.
Blackfin arrived at Pearl Harbor 11 September 1944. During her war operations (30 September 1944-5 September 1945) she completed five war patrols. Her operating areas included the South China and the Yellow Seas. Blackfin sank the Japanese destroyer Shigure 24 January 1945 in 06°00' N. 103°48' E. and a cargo ship for a total of 4325 toss.
The termination of hostilities occurred while Blackfin was on her fifth war patrol. After occupying a lifeguard station and destroying 61 floating mines she retired to Guam arriving in Apra Harbor 5 September 1945. After receiving voyage repairs and fuel she proceeded to San Diego where she joined Submarine Squadron 1.
Through July 1948 Blackfin continued on active duty in the Pacific. The majority of her operations were conducted near the Hawaiian and Marianas Islands. In June and July 1946 she participated in Operation Iceberg which took her across the Arctic Circle. She reported to Mare Island for inactivation in July 1948 and was placed out of commission in reserve there 19 November 1948.
In November 1950 Blackfin began conversion to a Guppy submarine and was recommissioned 15 May 1951.
Since that time she has operated with Submarine Force Pacific Fleet based at San Diego until 8 March 1954 and thereafter at Pearl Harbor. During this time she completed two tours in the Far East (December 1951-June 1952 and January-June 1955); conducted local and training operations; and has made several simulated war patrols.
Blackfin received three battle stars for her World War II service.


[Note: The above USS BLACKFIN (SS-322) history may or may not contain text provided by crew members of the USS BLACKFIN (SS-322) or by other non-crew members and text from the Dictionary of American Naval Fighting Ships]