For RATING SHIRTS - Click on your Rating Abbreviation below:
Click on your Rating abbreviation above: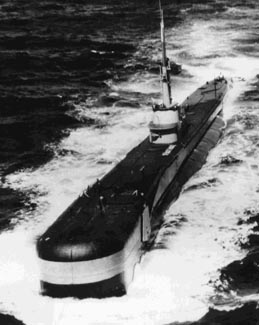 U.S.S. BAYA
(SS-318)


Click to view crew list
USS BAYA (SS-318) - a Balao class submarine
In Commission 1944 to 1946
SS-318 Deployments - Major Events
Add a SS-318 Shellback Initiation
Add a SS-318 Deployment - Major Event
Month
Year
to
Month
Year
Deployment / Event
APR
1943
-
Keel Date: 8 APR 1943
at Electric Boat Company Groton CT
JAN
1944
-
Launch Date: 2 JAN 1944
MAY
1944
-
Commissioned: 20 MAY 1944
APR
1965
-
DEC
1972
West Pac-Viet Nam
MAY
1966
-
JUN
1966
West Pac-Viet Nam
MAR
1969
-
JAN
1970
Fasor III - long range active sonar research
OCT
1972
-
Decommissioned: 30 OCT 1972
SS-318 General Specifications
Class: Balao class submarine
Complement: 10 Officers and 70 Enlisted
Displacement: 1526 tons
Length: 311 feet 9 inches
Beam: 27 feet 3 inches
Draft: 16 feet 10 in
Range: 11 000 Nautical Miles
Final Disposition: Sold for scrap 12 October 1973
USS BAYA (SS-318)
Baya (SS-318) was launched 2 January 1944 by Electric Boat Co. Groton Conn.; sponsored by Mrs. C. C. Kirkpatrick wife of Lieutenant Commander Kirkpatrick; and commissioned 20 May 1944 Commander A. H. Holtz in command.
Baya arrived at Pearl Harbor in August 1944. During 23 August 1944-25 July 1945 she completed five war patrols in the South China Sea Gulf of Siam Java Sea and Philippine Sea. Baya sank four Japanese vessels totaling 8855 tons and an 8407-ton passenger-cargo ship in conjunction with Hawkbill (SS-366).
Baya departed Subic Bay Philippine Islands in September 1945 and arrived at San Francisco on the 24th. Shortly thereafter she began inactivation and on 14 May 1946 went out of commission in reserve at Mare Island Naval Shipyard.
Baya was recommissioned 10 February 1948 and converted to an electronics experimental submarine. Reclassified AGSS-318 12 August 1949 Baya has since conducted experiments for the Navy Electronics Laboratory San Diego Calif. participated in local operations near San Diego; and has served with the joint American-Canadian Task Force gathering scientific data off western Canada in November and December 1948. During July-September 1949 she made a cruise to the Arctic to gather valuable scientific data in the Bering and Chukchi Seas. Between July and October 1955 she was deployed to Pearl Harbor on further experimental research.
Baya received four battle stars for her World War II service.


[Note: The above USS BAYA (SS-318) history may or may not contain text provided by crew members of the USS BAYA (SS-318) or by other non-crew members and text from the Dictionary of American Naval Fighting Ships]