For RATING SHIRTS - Click on your Rating Abbreviation below:
Click on your Rating abbreviation above: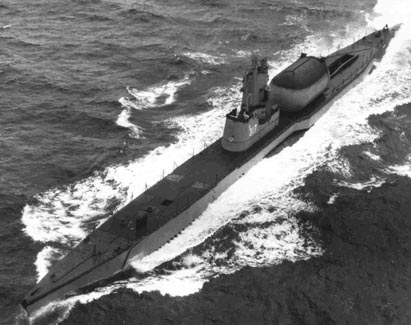 U.S.S. BARBERO
(SS-317)


Click to view crew list
USS BARBERO (SS-317) - a Balao class submarine
In Commission 1944 to 1950
SS-317 Deployments - Major Events
Add a SS-317 Shellback Initiation
Add a SS-317 Deployment - Major Event
Month
Year
to
Month
Year
Deployment / Event
MAR
1943
-
Keel Date: 25 MAR 1943
at General Dynamics Electric Boat Groton CT
DEC
1943
-
Launch Date: 12 DEC 1943
APR
1944
-
Commissioned: 29 APR 1944
FEB
1956
-
FEB
1956
Recommisioning
MAY
1956
-
MAY
1956
Panama Canal
AUG
1957
-
OCT
1957
Antarctic Circle
AUG
1957
-
AUG
1957
Blue Nose - Arctic Circle
JUL
1958
-
JUL
1958
Mediterranean-Lebanon
FEB
1963
-
MAY
1963
West Pac
JUN
1964
-
Decommissioned: 30 JUN 1964
SS-317 General Specifications
Class: Balao class submarine
Complement: 10 Officers and 70 Enlisted
Displacement: 1526 tons
Length: 311 feet 9 inches
Beam: 27 feet 3 inches
Draft: 16 feet 10 in
Range: 11 000 Nautical Miles
Final Disposition: Sunk as a target off Pearl Harbor on 7 October 1964
USS BARBERO (SS-317)
Barbero (SS-317) was launched 12 December 1943 by Electric Boat Co. Groton Conn.; sponsored by Mrs. Katherine R. Keating and commissioned 29 April 1944 Lieutenant Commander I. S. Hartman in command.
Barbero's war operations span the period from 9 August 1944 until 2 January 1945 during which time she completed two war patrols. She is officially credited with sinking three Japanese merchant ships totaling 9126 tons while patrolling in the Java and South China Seas.
On 27 December 1944 enroute to Fremantle Australia Barbero while at periscope depth received an aerial bomb close aboard aft. This near miss damaged the port reduction gear and put Barbero out of action for the remainder of the war.
In September 1945 she was ordered to Mare Island Navy Yard where she underwent pre-inactivation overhaul and was placed in commission in reserve 25 April 1946.
Following conversion to a cargo submarine (reclassified SSA-317 31 March 1948) at Mare Island Barbero was recommissioned 26 July 1948 and assigned to the Pacific Fleet. Between October 1948 and March 1950 she took part in an experimental program to evaluate her capabilities as a cargo carrier. Experimentation was discontinued in early 1950 and she went out of commission in reserve 30 June 1950.
On 1 February 1955 Barbero entered Mare Island Naval Shipyard for her second conversion. Her designation was changed to SSG-317 (Guided Missile Submarine) 25 October 1955 and she was recommissioned 28 October 1955. She operated off the coast of California until April 1956 when she transited the Panama Canal and joined the Atlantic Fleet.
Barbero received two battle stars for her World War II service.


[Note: The above USS BARBERO (SS-317) history may or may not contain text provided by crew members of the USS BARBERO (SS-317) or by other non-crew members and text from the Dictionary of American Naval Fighting Ships]