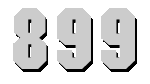 U.S.S. LAMAR
(PCE-899)


Click to view crew list
USS LAMAR (PCE-899) - a PCE-842-class patrol craft
In Commission 1945 to 1964
PCE-899 Deployments - Major Events
PCE-899 General Specifications
Complement: 99 Officers and Enlisted
Displacement: 640 tons
Length: 184 feet 6 inches
Beam: 33 feet 1 inches
Draft: 9 feet 8 in
Flank Speed: max: 16 knots
Final Disposition: Sold on 8 November 1971
USS LAMAR (PCE-899)
PCR--899 was laid down as PC--899 on 11 January 1943 by Willamette Iron & Steel Corp. Portland Oreg. ; reclassified PCE--899 on 28 March 1943: launched 11 August 1943 ; sponsored by Mrs. Opha McClimans and commissioned 17 March 1945 Lt. Charles E. Pigg Jr. in command.
After shakedown along the west coast PCE--899 departed San Pedro 5 May for the Marianas. Steaming via Pearl Harbor and Eniwetok she reached Guam 12 June and began weather station patrols out of Apra Harbor. Assigned to SerForPac she gathered weather data in an area west of the Marianas. Placed in "caretaker status" 27 June 1946 at Apra she resumed active status 12 September Lt. M. H. Seaver in command.
Resuming weather reporting patrols in waters between the Marianas and the Carolines PCE--899 operated out of Guam until 26 August 1948 when she departed her patrol area for Pearl Harbor. Reaching Pearl Harbor 9 September she served there for more than 3 months then sailed for Guam 22 December. She arrived 1 January 1949 made periodic patrols for 5 months and departed for the west coast 1 August. Steaming via Kwajalein and Pearl Harbor she arrived San Diego 27 October. Five days later she headed for the east coast arriving Philadelphia 25 November. PCE--899 decommissioned 16 December and entered the Atlantic Reserve Fleet.
Towed from Philadelphia to Milwaukee Wis. in 1950 PCE--899 recommissioned 13 December 1950 Lt. L. C. Riley in command. Assigned to the 9th Naval District she served as a Naval Reserve training ship out of Milwaukee. For more than 13 years she provided valuable service In training and maintaining the fighting excellence of officers and men of the Naval Reserve. Renamed Lamar (P.E.--899) on 15 February 1956 she primarily cruised the upper Great Lakes. From 17 August 1959 to 17 October she made a training cruise that sent her via the St. Lawrence River and Nova Scotia to Newport RI.
Lamar completed service in the Great Lakes 6 April 1964 and sailed to Philadelphia arriving 28 April. She decommissioned 25 May and entered the Atlantic Reserve Fleet. In June 1964 her name was struck from the Naval Register and transferred to the Coast Guard 29 July 1964 and was commissioned in that service as USCGC Lamar (WTR--899) serving in this capacity into 1969.


[Note: The above USS LAMAR (PCE-899) history may or may not contain text provided by crew members of the USS LAMAR (PCE-899) or by other non-crew members and text from the Dictionary of American Naval Fighting Ships]