For RATING SHIRTS - Click on your Rating Abbreviation below: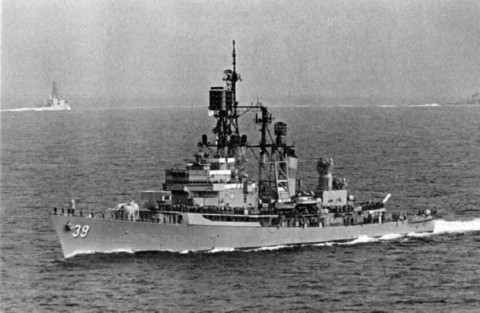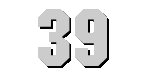 U.S.S. MACDONOUGH
(DDG-39)

THE MIGHTY MAC
Click to view crew list
USS MACDONOUGH (DDG-39) - a Farragut-class destroyer
In Commission 1961 to 1992
DDG-39 Deployments - Major Events
Add a DDG-39 Shellback Initiation
Add a DDG-39 Deployment - Major Event
Month
Year
to
Month
Year
Deployment / Event
APR
1958
-
Keel Date: 15 APR 1958
at Fore River Shipyard Bethlehem Steel Corporation
JUL
1959
-
Launch Date: 9 JUL 1959
NOV
1961
-
Commissioned: 4 NOV 1961
MAY
1974
-
MAY
1974
Recommisioning
JUN
1975
-
NOV
1975
North Atlantic
JUN
1975
-
NOV
1975
Blue Nose - Arctic Circle
JUL
1976
-
DEC
1976
UNITAS
AUG
1976
-
Shellback Initiation - 1 AUG 1976 - Atlantic Ocean
AUG
1976
-
Shellback Initiation - 1 AUG 1976 - Atlantic Ocean
OCT
1976
-
Shellback Initiation - 25 OCT 1976 - Atlantic Ocean
JUN
1977
-
JAN
1978
MIDDLE EAST
SEP
1977
-
NOV
1977
North Atlantic
JAN
1980
-
JAN
1981
Dry Dock
JUN
1981
-
NOV
1981
Mediterranean-Indian Ocean-Persian Gulf
JUN
1982
-
DEC
1982
Mediterranean-Indian Ocean-Persian Gulf
JAN
1984
-
JAN
1984
UNITAS
JAN
1984
-
APR
1984
North Atlantic
FEB
1984
-
APR
1984
North Atlantic
JUN
1984
-
DEC
1984
UNITAS
JUL
1984
-
Shellback Initiation - 15 JUL 1984 - Pacific Ocean
JAN
1986
-
JUN
1986
Mediterranean
MAY
1986
-
NOV
1986
Mediterranean
AUG
1988
-
FEB
1989
Mediterranean
AUG
1990
-
JAN
1991
Desert Shield
OCT
1990
-
JAN
1991
Desert Shield
JAN
1991
-
MAR
1991
Desert Storm
OCT
1992
-
Decommissioned: 23 OCT 1992
DDG-39 General Specifications
Class: Farragut-class destroyer
Named for: Thomas Macdonough
Complement: 21 Officers and 356 Enlisted
Displacement: 5800 tons
Length: 512.5 feet
Beam: 52 feet
Flank Speed: 33 knots
Final Disposition: Struck - To be disposed of by dismantling
USS MACDONOUGH (DDG-39)
The fourth Macdonough was projected as DL-8 but redesignated DLG-8 prior to keel laying by the Fore River Shipyard Bethlehem Steel Co. Quincy Mass. 16 April 1958; launched 9 July 1959 sponsored by Mrs. Agnes Macdonough Wilson great-gr anddaughter of Commodore Thomas Macdonough; and commissioned 4 November 1961 Comdr. Wm. G. Hurley in command.
The guided-missile frigate Macdonough having undergone an extended shakedown and training period reported to her home port at Charleston S.C. 23 September 1962 and assumed duties as flagship for Commander Cruiser-Destroyer Flotilla 6 Atlantic Fleet. A month later she joined other units of the 2d Fleet in enforcing the Cuban quarantine remaining with that force until it was dissolved on Thanksgiving Day. The first 3 months of 1963 were spent firing missiles off the coast of Florida under the auspices of the Operational Test and Evaluation Force. She returned to Charleston in March and operated in the Charleston-Norfolk area until departing on her first 6th Fleet deployment 4 June.
The frigate cruised the Mediterranean until the following fall taking part in scheduled fleet exercises and training operations. Upon her return to the East Coast 26 October she resumed operations in the Charleston area. With the new year 1964 Macdon ough steamed south to Puerto Rico for training exercises with the 2d Fleet. During these exercises; she participated in an Atlantic Fleet live-firing antiair warfare exercise which included missile firing at drone aircraft. The ship returne d to Charleston for 2 weeks in February and then put out to sea again for carrier exercises off the East Coast followed by helicopter evaluation tests in the Atlantic.
Macdonough's second Mediterranean deployment 10 July to 22 December 1964 was followed by a 6-month overhaul at the Charleston Naval Shipyard. Coastal operations out of home port occupied the frigate until mid-September 1966 when she proce eded to the Atlantic Fleet Missile Range and then to Guantanamo Bay Cuba for training exercises. Having returned to her Charleston home port in early November Macdonough prepared for another Mediterranean deployment departing Charleston at the end of the month
On 8 April 1966 Macdonough returned to South Carolina and once again resumed operations and fleet and squadron exercises along the southern east coast and in the Caribbean. During the summer a midshipman training cruise took the frigate to several east coast ports and to the Caribbean. After participating in "LANTFLEX 66 " and AAW/ASW/amphibious exercise she returned to Charleston 16 December.
After conducting further exercises off the east coast Macdonough prepared once again for overseas movement; and on 2 May 1967 she departed Charleston for her fourth Mediterranean cruise. She conducted summer midshipmen training visited various Mediterranean ports and participate in several joint exercises with ships of Allied navies returning to South Carolina 28 October.
Macdonough continued operating with the mighty 2d Fleet until May 1968 when she again deployed to the Mediterranean returning to her home port in September. She remained off the east coast into 1969.


[Note: The above USS MACDONOUGH (DDG-39) history may or may not contain text provided by crew members of the USS MACDONOUGH (DDG-39) or by other non-crew members and text from the Dictionary of American Naval Fighting Ships]