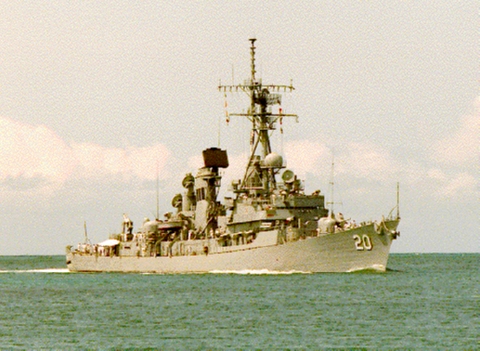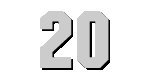 U.S.S. GOLDSBOROUGH
(DDG-20)

NON SIBI
Click to view crew list
USS GOLDSBOROUGH (DDG-20) - a Charles F. Adams-class guided missle destroyer
In Commission 1963 to 1993
DDG-20 Deployments - Major Events
Add a DDG-20 Shellback Initiation
Add a DDG-20 Deployment - Major Event
Month
Year
to
Month
Year
Deployment / Event
JAN
1961
-
Keel Date: 3 JAN 1961
at Puget Sound Bridge and Dredging Company Seattle Washi
DEC
1961
-
Launch Date: 15 DEC 1961
NOV
1963
-
Commissioned: 9 NOV 1963
APR
1964
-
Shellback Initiation - 23 APR 1964 - Pacific Ocean
NOV
1964
-
JUN
1965
West Pac-Viet Nam
JUN
1965
-
JUN
1965
1965 GEMINI GT-4 RECOVERY SHIP USS GOLDSBOROUGH (DDG-20)
AUG
1965
-
AUG
1965
1965 GEMINI GT-5 RECOVERY SHIP USS GOLDSBOROUGH (DDG-20)
FEB
1966
-
JUN
1966
West Pac-Viet Nam
AUG
1967
-
FEB
1968
West Pac-Viet Nam
AUG
1967
-
FEB
1968
West Pac
AUG
1967
-
FEB
1968
West Pac
AUG
1967
-
FEB
1968
West Pac-Viet Nam
AUG
1967
-
Shellback Initiation - 8 AUG 1967 - Pacific Ocean
JAN
1968
-
Shellback Initiation - 30 JAN 1968 - Pacific Ocean
JAN
1968
-
Shellback Initiation - 30 JAN 1968 - Pacific Ocean
JAN
1969
-
JUL
1969
West Pac-Viet Nam
JUL
1969
-
JUL
1969
Apollo 11 Recovery Team
NOV
1969
-
NOV
1969
Apollo 12 recovery team
JUL
1970
-
FEB
1971
West Pac-Viet Nam
NOV
1970
-
NOV
1970
Boiler Explosion
JAN
1971
-
Shellback Initiation - 24 JAN 1971 - Pacific Ocean
APR
1972
-
FEB
1973
West Pac-Viet Nam
JUL
1972
-
Shellback Initiation - 4 JUL 1972 - Pacific Ocean
JUL
1972
-
Shellback Initiation - 4 JUL 1972 - Pacific Ocean
OCT
1972
-
MAY
1973
West Pac-Viet Nam
MAY
1974
-
JUN
1976
West Pac-Viet Nam
JUN
1974
-
JUN
1976
West Pac-Viet Nam
JUL
1976
-
Shellback Initiation - 7 JUL 1976 - Pacific Ocean
JUL
1976
-
Shellback Initiation - 7 JUL 1976 - Indian Ocean
JUL
1976
-
Shellback Initiation - 7 JUL 1976 - Indian Ocean
JUN
1977
-
OCT
1978
West Pac-Indian Ocean
APR
1978
-
Shellback Initiation - 5 APR 1978 - Indian Ocean
APR
1978
-
Shellback Initiation - 5 APR 1978 - Pacific Ocean
MAY
1980
-
OCT
1980
West Pac-Indian Ocean-Persian Gulf
AUG
1980
-
Shellback Initiation - 8 AUG 1980 - Indian Ocean
NOV
1980
-
Shellback Initiation - 18 NOV 1980 - Pacific Ocean
NOV
1980
-
Shellback Initiation - 18 NOV 1980 - Pacific Ocean
APR
1982
-
NOV
1982
West Pac
MAY
1982
-
NOV
1982
West Pac
JUL
1982
-
Shellback Initiation - 16 JUL 1982 - Pacific Ocean
NOV
1982
-
NOV
1982
Hurricane Ewa
JUN
1988
-
DEC
1988
West Pac-Indian Ocean-Persian Gulf
JUN
1990
-
DEC
1990
Desert Shield
APR
1993
-
Decommissioned: 29 APR 1993
DDG-20 General Specifications
Class: Charles F. Adams-class guided missle destroyer
Named for: Rear Admiral Louis M. Goldsborough
Complement: 24 Officers and 330 Enlisted
Displacement: 3277 tons
Length: 437 feet
Beam: 47 feet
Flank Speed: 33 knots
Range: 4 500 nautical miles
Final Disposition:Sold to Australia for parts and scrapped
USS GOLDSBOROUGH (DDG-20)
The third Goldsborough was launched 15 December 1961 by the Puget Sound Bridge and Drydock Co. Seattle Wash.; sponsored by Mrs. Alan Bibb wife of U.S. Senator Bibb of Nevada; commissioned in the Puget Sound Naval Shipyard 9 November 1963 Captain Charles D. Allen Jr. in command.


Goldsborough joined the U.S. Pacific Fleet 25 December 1963 as a unit of Cruiser-Destroyer Force with homeport at Pearl Harbor.


After shakedown out of Puget Sound the new guided missile destroyer arrived Pearl Harbor 14 February 1964. Following qualification and acceptance tests she sailed 18 April for Sydney Australia for the Coral Sea celebration and returned Pearl Harbor 1 June. She operated in Hawaiian waters in the summer and early fall then got underway 23 November for Yokosuka and her first WestPac deployment. After operations strengthening the 7th Fleet during the escalating war in Vietnam Goldsborough returned to Pearl for ASW training.


The guided missile destroyer headed for the Orient once more 9 February 1966 to bolster the 7th fleet. In April she provided gunfire support for Operation "Binh Phu I" firing 594 rounds of 5" ammunition at Viet Cong troop concentration and buildings. During the last half of the month she screened attack carriers at Yankee Station. Next came SEATO exercises in May and duty as station ship at Hong Kong in June. On 26 June Goldsborough was again off Vietnam on picket station. She sailed for Hawaii 16 July and reach Pearl Harbor on the 23d.


A month later she entered the Pearl Harbor Naval Shipyard for overhaul and extensive modification to prepare for resumed action in 1967.


[Note: The above USS GOLDSBOROUGH (DDG-20) history may or may not contain text provided by crew members of the USS GOLDSBOROUGH (DDG-20) or by other non-crew members and text from the Dictionary of American Naval Fighting Ships]