For RATING SHIRTS - Click on your Rating Abbreviation below:
Click on your Rating abbreviation above: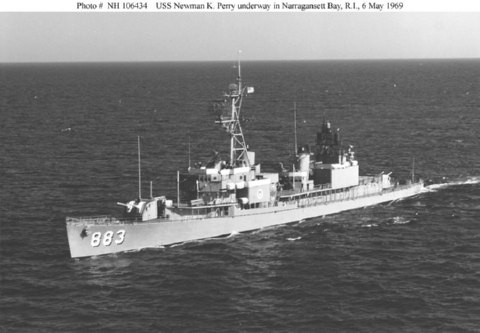 U.S.S. NEWMAN K. PERRY
(DD-883)

IN WAR AND PEACE ALWAYS VIGILANT
Click to view crew list
USS NEWMAN K. PERRY (DD-883) - a Gearing class destroyer
In Commission 1945 to 1981
DD-883 Deployments - Major Events
Add a DD-883 Shellback Initiation
Add a DD-883 Deployment - Major Event
Month
Year
to
Month
Year
Deployment / Event
OCT
1944
-
Keel Date: 10 OCT 1944
at Consolidated Steel Corporation Orange TX
MAR
1945
-
Launch Date: 17 MAR 1945
JUL
1945
-
Commissioned: 26 JUL 1945
DEC
1945
-
APR
1946
Japan Occupation
JUN
1946
-
AUG
1946
Operation Crossroads
SEP
1958
-
MAR
1959
Mediterranean
OCT
1962
-
OCT
1962
Cuban Missle Blockade
SEP
1966
-
APR
1967
West Pac-Viet Nam
MAR
1967
-
Shellback Initiation - 2 MAR 1967 - Pacific Ocean
MAR
1967
-
Shellback Initiation - 29 MAR 1967 - Indian Ocean
APR
1968
-
SEP
1968
Mediterranean
APR
1969
-
DEC
1969
Mediterranean
MAR
1971
-
OCT
1971
North Atlantic-Med-Indian Ocean
APR
1972
-
JUN
1972
Guantanamo Bay
FEB
1981
-
Decommissioned: 27 FEB 1981
DD-883 General Specifications
Class: Gearing-class destroyer
Complement: 345 Officers and Enlisted
Displacement: 2425 tons
Length: 390 feet 6 inches
Beam: 40 feet 10 inches
Draft: 18 feet 6 in
Final Disposition: Transferred to South Korea 1981
USS NEWMAN K. PERRY (DD-883)
Newman K. Perry (DD-883) was laid down by the Consolidated Steel Corp. Orange Texas 10 October 1944; launched 17 March 1945; sponsored by Mrs. Laura P. Gunter sister of Ens. N. K. Perry; and commissioned 26 July 1945 Comdr. Norman E. Smith in command
Following shakedown Newman K. Perry served briefly with the Atlantic Fleet. On 7 November 1945 she got underway for Pearl Harbor whence she sailed to Japan for three month's occupation duty. She returned to Pearl Harbor 28 March 1946 and was assigned to Joint Task Force 1 for operation "Crossroads" the 1946 atomic bomb test series at Bikini. Sailing for the Marshalls 27 May she witnessed tests "Able" and "Baker" and in August steamed for the United States.
On 18 August she arrived at San Diego whence she operated until 25 August 1947. Then with DesDiv 132 she headed west arriving at Yokosuka 13 September. Three days later she sailed to Tsingtao to commence a series of patrol escort search and rescue ASW and hydrographic survey missions and exercises along the China coast and off Taiwan and Okinawa. Relieved 5 May 1948 she returned to San Diego trained naval reservists through the summer and in October entered the Mare Island shipyard for overhaul.
The destroyer departed San Francisco 15 January 1949 and until April conducted exercises off the west coast. On 4 April she departed San Diego with DesDiv 182 for Newport her new homeport arriving 21 April.
After her return to Destroyer Forces Atlantic Fleet she rotated tours with the 6th Fleet in the Mediterranean and midshipmen and reservist training cruises and fleet squadron and type training exercises with the 2nd Fleet. Redesignated a radar picket destroyer in 1950 she conducted her scheduled operations as DDR-883 until 1964 when she resumed the designation DD-883. A change in operations in 1959 took her to Charleston S. C. which served as her homeport for several years before she resumed operations out of Newport.
A second change in operations took her to the Western Pacific for her overseas deployment in 1966. Departing Newport with DesDiv 201 4 October she transited the Panama Canal stopped in Hawaii Japan Okinawa and the Philippines and arrived on station in the Mekong Delta of South Viet Nam 23 November. Assigned to fire support duties she shelled enemy coastal storage areas until the 28th. She then shifted to Phu Quoe island off the Cambodian-South Viet Namese border to support Viet Namese and Special Forces units for five days returning to the Delta area in December. Other assignments on that tour with the 7th Fleet took her along the coast to the DMZ and then to the Gulf of Tonkin for planeguard and search and rescue missions. On 8 March 1967 she departed the combat zone for Hong Kong before returning to Subic Bay for the last time. On the 27th she departed the Philippines for the Mediterranean and Newport arriving 8 May.
After overhaul at Boston Newman K. Perry began 1968 with Caribbean exercises and on 4 April departed Newport for the Mediterranean to resume her annual deployments with the 6th Fleet. She has maintained that schedule into 1970.


[Note: The above USS NEWMAN K. PERRY (DD-883) history may or may not contain text provided by crew members of the USS NEWMAN K. PERRY (DD-883) or by other non-crew members and text from the Dictionary of American Naval Fighting Ships]