For RATING SHIRTS - Click on your Rating Abbreviation below:
Click on your Rating abbreviation above: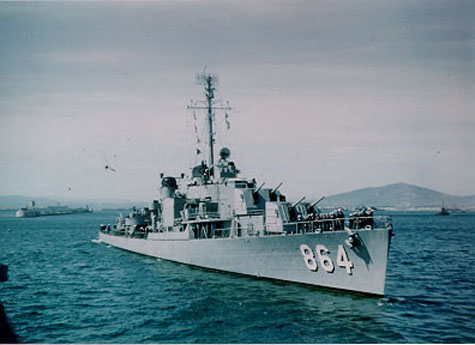 U.S.S. HAROLD J. ELLISON
(DD-864)

U.S.S. HAPPY JACK
Click to view crew list
USS HAROLD J. ELLISON (DD-864) - a Gearing-class destroyer
In Commission 1945 to 1983
DD-864 Deployments - Major Events
Add a DD-864 Shellback Initiation
Add a DD-864 Deployment - Major Event
Month
Year
to
Month
Year
Deployment / Event
OCT
1944
-
Keel Date: 3 OCT 1944
at Bethlehem Steel Corporation Staten Island New York
MAR
1945
-
Launch Date: 14 MAR 1945
JUN
1945
-
Commissioned: 23 JUN 1945
JUL
1955
-
DEC
1955
Mediterranean
SEP
1965
-
APR
1966
West Pac-Viet Nam
FEB
1966
-
Shellback Initiation - 27 FEB 1966 - Indian Ocean
OCT
1966
-
DEC
1966
Dry Dock
JAN
1967
-
APR
1967
Guantanamo Bay
NOV
1967
-
MAY
1968
MidEast around Africa to Red Sea and Persian Bulf
NOV
1967
-
MAY
1968
Mid-East 67-68
NOV
1967
-
Shellback Initiation - 12 NOV 1967 - Atlantic Ocean
MAR
1968
-
Shellback Initiation - 4 MAR 1968 - Atlantic Ocean
MAR
1968
-
MAR
1968
Port Louis, Mauritius receives Independence from British Gov.
JUL
1968
-
SEP
1968
South America
JAN
1969
-
MAY
1969
Mediterranean
MAR
1969
-
SEP
1969
Guantanamo Bay
NOV
1969
-
FEB
1970
Dry Dock
APR
1970
-
JUN
1970
Guantanamo Bay
MAY
1970
-
Shellback Initiation - 24 MAY 1970 - Atlantic Ocean
SEP
1970
-
Shellback Initiation - 25 SEP 1970 - Atlantic Ocean
SEP
1970
-
MAR
1971
MidEast around Africa to Red Sea and Persian Gulf
SEP
1971
-
OCT
1971
Blue Nose - Arctic Circle
SEP
1971
-
OCT
1971
Blue Nose - Arctic Circle
SEP
1971
-
OCT
1971
Blue Nose - Arctic Circle
AUG
1976
-
MAR
1977
Dry Dock
OCT
1983
-
Decommissioned: 1 OCT 1983
DD-864 General Specifications
Class: Gearing-class destroyer
Named for: Ensign Harold John Ellison (1917-1942)
Complement: 367 Officers and Enlisted
Displacement: 2425 tons
Length: 390 feet 6 inches
Beam: 41 feet 1 inches
Flank Speed: 34 knots
Range: 6 500 Nautical Miles
Final Disposition:Sunk as a target 1994
USS HAROLD J. ELLISON (DD-864)
Harold J. Ellison (DE-545) a John C. Butler-Class destroyer escort was building at Boston Navy Yard Boston but was canceled 10 June 1944.
(DD-864: dp. 2 425; l. 390'6"; b. 41'1"; dr. 18'6" s. 35 k.; cpl. 367; a. 6 5" 12 40mm. 5 21" tt. 6 dcp. 2 dct. 1 dct. (h.h.); cl. Gearing)
Harold J. Ellison (DD-864) was launched by Bethlehem Steel Co. Staten Island N.Y. 14 March 1945 sponsored by Mrs. Audrey Ellison widow; and commissioned 23 June 1945 Comdr. J. C. South in command.
Although scheduled to join the Pacific Fleet for the final assault on Japan Harold J Ellison was completing her shakedown cruise when the surrender came 15 August 1945. Homeported at Norfolk she operated in the Atlantic and Caribbean for the next 2 y ears taking part in Naval Reserve training cruises and antisubmarine exercises.
Beginning in 1947 when she sailed from Norfolk 10 November Harold J. Ellison added periodic cruises to the Mediterranean with the 6th Fleet to her operations helping to keep the peace and protect American interests in this vital area. She participat ed in the search for lost British submarine Affray in April 1961 and added cruises to the Caribbean and northern Europe in 1953
From 1954 to 1956 she continued tactical training along the East Coast and participated in European cruises. Following the explosive Suez crises Harold J. Ellison took part in vital peacekeeping operation during 1957 as the 6th Fleet helped stabilize the dangerous incident in the Eastern Mediterranean.
The following summer another crisis threatened the stability of the Mideast as the government of Lebanon was in danger from communist oriented insurgents. The veteran peace keeping destroyer screened Saratoga and Des Moines from July to September l958 while the 6th Fleet landed Marines at the request of Lebanese President Chamoun. Once again the rapid and effective response of this mighty armada clearly pointed up the value of ready trained propositioned amphibious forces in maintaining world peace.
In September she operated with famed Task Group Alfa for the perfection of new tactics and equipment in antisubmarine warfare. Harold J. Ellison remained on this duty until April 1959.
The ship returned to her pattern of cruises to the Mediterranean in 1959 departing 21 September. In 1960 her homeport became Charleston and in 1961 during her tenth tour with the 6th Fleet the ship cruised in the troubled Persian Gulf during the cr isis in Kuwait. Harold J. Ellison added a new function in January 1962 when she was assigned to Project Mercury as a part of the recovery unit on the Atlantic range. In 1962 she entered New York Naval Shipyard for a Fleet modernization and rehabilitation overhaul an extensive repair job designed to extend her life and improve her readiness. The veteran destroyer rejoined the fleet in early 1963 and through 1964 continued to operate on training and readiness exercises off the Atlantic coast. Her high peac etime accomplishments are exemplified by the winning of five Battle Efficiency "E" awards during her years of service.
On 29 September 1965 Harold J. Ellison departed Norfolk in DesRon 24 and headed via the Panama Canal for the Pacific to augment the Pacific Fleet during the struggle for freedom in Vietnam. During her months in the combat zone she served as a rescue destroyer screened carriers patrolled and fired over 1 000 rounds of fire in ammunition on various Viet Cong targets to support friendly troops.
Leaving Southeast Asia by steaming eastward through the Suez Canal she completed her round the-world cruise upon returning to Norfolk in April 1966. In July she entered the Norfolk Naval Shipyard for an overhaul which lasted for the rest of the year. P>
After sea trials and refresher training early in 1967 Harold J. Ellison rejoined the Atlantic Fleet ready for future assignments


[Note: The above USS HAROLD J. ELLISON (DD-864) history may or may not contain text provided by crew members of the USS HAROLD J. ELLISON (DD-864) or by other non-crew members and text from the Dictionary of American Naval Fighting Ships]