For RATING SHIRTS - Click on your Rating Abbreviation below:
Click on your Rating abbreviation above: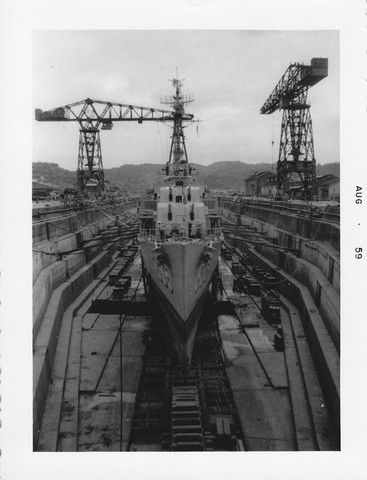 U.S.S. GEORGE K. MACKENZIE
(DD-836)

LUCEO NON URO
I SHINE BUT DO NOT BURN
Click to view crew list
USS GEORGE K. MACKENZIE (DD-836) - a Gearing-class destroyer
In Commission 1945 to 1976
DD-836 Deployments - Major Events
Add a DD-836 Shellback Initiation
Add a DD-836 Deployment - Major Event
Month
Year
to
Month
Year
Deployment / Event
DEC
1944
-
Keel Date: 21 DEC 1944
at Bath Iron Works Bath ME
MAY
1945
-
Launch Date: 13 MAY 1945
JUL
1945
-
Commissioned: 13 JUL 1945
DEC
1957
-
Shellback Initiation - 17 DEC 1957 - Pacific Ocean
JAN
1959
-
JUL
1959
West Pac
MAR
1961
-
DEC
1962
West Pac - Laotian Crisis
APR
1964
-
AUG
1966
West Pac-Viet Nam
MAY
1964
-
AUG
1966
West Pac-Viet Nam
JUN
1965
-
Shellback Initiation - 30 JUN 1965 - Pacific Ocean
JUN
1965
-
Shellback Initiation - 5 JUN 1965 - Pacific Ocean
JUN
1967
-
DEC
1967
West Pac-Viet Nam
AUG
1967
-
SEP
1967
West Pac-Viet Nam
JUN
1968
-
MAR
1970
West Pac-Viet Nam
JUL
1968
-
JUL
1970
West Pac-Viet Nam
OCT
1969
-
JAN
1973
West Pac
FEB
1970
-
APR
1970
West Pac-Viet Nam
OCT
1971
-
JUL
1972
West Pac-Viet Nam
JAN
1973
-
JUL
1973
West Pac-Viet Nam
APR
1973
-
Shellback Initiation - 14 APR 1973 - Pacific Ocean
APR
1973
-
Shellback Initiation - 4 APR 1973 - Pacific Ocean
APR
1974
-
OCT
1974
West Pac-Indian Ocean-Persian Gulf
AUG
1974
-
Shellback Initiation - 7 AUG 1974 - Indian Ocean
SEP
1975
-
MAY
1976
West Pac
SEP
1976
-
Decommissioned: 30 SEP 1976
DD-836 General Specifications
Class: Gearing-class destroyer
Named for: George K. MacKenzie
Complement: 336 Officers and Enlisted
Displacement: 2425 tons
Length: 390 feet 6 inches
Beam: 40 feet 10 inches
Flank Speed: 35 knots
Range: 4 500 Nautical Miles
Final Disposition:Sunk as a target 15 October 1976
USS GEORGE K. MACKENZIE (DD-836)
George K. MacKenzie(DD-S36) was launched 13 May 1943 by the Bath Iron Works Bath Maine; sponsored by Miss Donna MacKenzie daughter and commissioned 13 July 1945 Comdr. Alvin W. Slayden in command.
After shakedown off Cuba MacKenzie returned to Boston 15 September 1945 and subsequently participated in the Navy Day celebrations 27 October at Savannah Ga. She served with the Operational Development Force at Norfolk her home port and conducted training exercises and escort duties along the Atlantic seaboard until sailing 5 January 1948 on a goodwill tour to Buenos Aires Argentina.
MacKenzie returned to Norfolk 9 February after these duties as a "steel gray diplomat" and continued peacetime operations highlighted by a Midshipman cruise June to July 1948 to Portugal Italy North Africa and Cuba. In October 1948 the destroyer sailed for the Near East where she supported the United Nations Palestine Patrol and the allied occupation of Trieste returning to Newport for Christmas.
After overhaul at Boston until April 1949 George K. MacKenzie continued peacetime training on the eastern seaboard and made a "Med" cruise from January to May 1950. When the uneasy truce in the Far East was shattered by the North Korean aggression George K. MacKenzie was transferred to the Pacific. She arrived Pearl Harbor 1 July 1950 to prepare for wartime service.
During her first tour in Korea 26 July 1950 to 30 January 1951 she screened attack carriers during strikes on North Korean targeted and provided close support for advancing Allied armies. After a repair period at San Diego 15 February to 17 July 1951 she returned to perform the same vital screening and support duties until April 1952.
George K. MacKenzie provided antisubmarine screening and fired several important bombardment missions at Wonsan Harbor 16 to 17 January and again 23 February to 21 March 1953 in support of United Nations forces. She lent effective fire support to troops in the vicinity of Suwon Dan 15-19 April 1953 in company with Los Angeles and demolished sections of the enemy's railroad along the eastern coast of Korea in May.
Homeported in San Diego and Long Beach Calif. she completed a total of nine tours of duty in the Far East including training exercises and duty with the Taiwan patrol between 1953 and 1959.
George K. MacKenzie's homeport was changed to Yokosuka Japan 15 February 1960 as she continued her peacetime training duties visiting Hong Kong the Philippines and other Far Eastern ports including those in Japan. In 1961 George K. MacKenzie sailed from Subic Bay P.I. 23 March to rendezvous with carriers Midway and Lexington in the South China Sea to act during the Laos crisis as a powerful on-the-spot force if needed. Fortunately the crisis passed; and after further operations George K. MacKenzie put in at her new home port of New York 11 December 1962. She entered Brooklyn Navy Yard for modernization returning to sea in October 1963. George K. Mackenzie then made preparations to return to her new homeport of Long Beach Calif. where she arrived 28 January 1964 to prepare for extended duty in the Far East. She left the West Coast 26 May and reached Yokosuka Japan 13 June to begin over 2 years of continuous service in Oriental waters operating alternately in Japanese waters and off Vietnam fighting to repel Communist aggression. She specialized in screening aircraft carriers and shelling Communist positions ashore. The battle-tested destroyer returned to Long Beach 3 August 1966 for a major overhaul to prepare for future action. In mid-1967 she was again in the Far East aiding in the struggle to save Southeast Asia. On 29 July she was screening Forrestal (CVA-59) when fire broke out on the carrier's flight deck. After helping to put out the flames she escorted the stricken flattop to Subic Bay for repairs.
George K. MacKenzie was awarded six battle stars for Korean service.


[Note: The above USS GEORGE K. MACKENZIE (DD-836) history may or may not contain text provided by crew members of the USS GEORGE K. MACKENZIE (DD-836) or by other non-crew members and text from the Dictionary of American Naval Fighting Ships]