For RATING SHIRTS - Click on your Rating Abbreviation below:
Click on your Rating abbreviation above: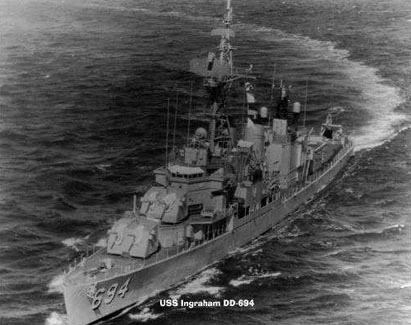 U.S.S. INGRAHAM
(DD-694)

THE MIGHTY I
Click to view crew list
USS INGRAHAM (DD-694) - an Allen M. Sumner-class destroyer
In Commission 1944 to 1971
DD-694 Deployments - Major Events
Add a DD-694 Shellback Initiation
Add a DD-694 Deployment - Major Event
Month
Year
to
Month
Year
Deployment / Event
AUG
1943
-
Keel Date: 4 AUG 1943
at Federal Shipbuilding and Drydock Company
JAN
1944
-
Launch Date: 16 JAN 1944
MAR
1944
-
Commissioned: 10 MAR 1944
OCT
1944
-
MAY
1945
Pacific Theater WWII
MAY
1953
-
OCT
1953
Korea
MAY
1953
-
Shellback Initiation - 31 MAY 1953 - Pacific Ocean
MAY
1953
-
Shellback Initiation - 31 MAY 1953 - Pacific Ocean
MAY
1953
-
Shellback Initiation - 31 MAY 1953 - Pacific Ocean
JUN
1956
-
DEC
1956
Mediterranean
FEB
1957
-
AUG
1957
Mediterranean-Indian Ocean-Persian Gulf
OCT
1962
-
OCT
1962
Cuban Missle Blockade
SEP
1963
-
DEC
1963
Mediterranean-Indian Ocean
SEP
1965
-
MAY
1966
West Pac-Viet Nam
SEP
1965
-
APR
1966
West Pac-Viet Nam
SEP
1965
-
MAY
1966
West Pac-Viet Nam
FEB
1966
-
Shellback Initiation - 27 FEB 1966 - Pacific Ocean
FEB
1966
-
Shellback Initiation - 27 FEB 1966 - Pacific Ocean
FEB
1966
-
Shellback Initiation - 27 FEB 1966 - Pacific Ocean
FEB
1966
-
Shellback Initiation - 27 FEB 1966 - Indian Ocean
NOV
1966
-
APR
1967
Mediterranean
AUG
1967
-
AUG
1967
Expo 67 Montreal Canada
OCT
1967
-
MAY
1968
Mediterranean
DEC
1967
-
APR
1968
Mediterranean-West Africa
AUG
1969
-
DEC
1969
North Atlantic
AUG
1969
-
DEC
1969
North Atlantic
MAY
1970
-
OCT
1970
Mediterranean
JUN
1971
-
Decommissioned: 15 JUN 1971
DD-694 General Specifications
Class: Allen M. Sumner-class destroyer
Named for: Duncan Ingraham
Complement: 336 Officers and Enlisted
Displacement: 2200 tons
Length: 376 feet 6 inches
Beam: 40 feet
Flank Speed: 34 knots
Range: 6500 Nautical Miles
Final Disposition:Sold to Greece 16 July 1971
USS INGRAHAM (DD-694)
The third Ingraham (DD-694) was launched 16 January 1944 by Federal Shipbuilding & Drydock Co. Kearny N.J.; sponsored by Mrs. George Ingraham Hutchinson; and commissioned 10 March 1944 Comdr. H. W. Gordon in command.
After shakedown in Bermuda and training out of Norfolk Ingraham sailed for duty with the Pacific Fleet arriving Eniwetok 31 October in time to begin the final push of the enemy to its home islands. In mid-November she commenced screening carriers during strikes on Luzon in which considerable damage was done to the dwindling Japanese navy and air force. The destroyer continued patrol and antisubmarine duty until 12 December when she sailed for the assault and landings on Mindoro. Three days later in company with Barton she sank a Japanese cargo ship off the southwest tip of Mindoro.
After a brief stay she departed San Pedro 2 January 1945 for the operations in the Lingayen Gulf. Arriving off the Gulf on the sixth she added her powerful anti-aircraft fire to that of the invasion fleet and bombarded shore targets behind the beaches.
At the end of January Ingraham joined a fast carrier task force for strikes on the Japanese homeland. Following repair at Saipan 20 February she joined the invasion fleet off Iwo Jima 23 February and provided accurate call fire for the Marines ashore.
On 21 March the ship took up radar picket station in support of the Okinawa-Gunto operation. On 5 May she came under concerted air attack and shot down four of the enemy planes before a fifth crashed the ship above the waterline on the port side its bomb exploding in the generator room. With only 1 gun operative and with 51 casualties aboard Ingraham retired to Hunter's Point Calif. for repairs.
After repairs she operated along the East Coast until 7 May 1946 when she departed for the atomic bomb tests at Bikini (another example of the Navy's participation in technological development to strengthen America). After the tests and overhaul Ingraham departed San Diego 24 February 1947 for the Far East. The destroyer engaged in various exercises and in late June arrived Manila to act as official U.S. representative at the Philippine Independence anniversary. She returned to San Diego 8 October 1947.
Ingraham operated along California until 4 April 1949 when she departed San Diego for Norfolk arriving 20 April. She participated in training exercises in the Atlantic until 24 November 1950 when she departed Norfolk for four months duty with the 6th Fleet. Communist aggression in Korea once against threatened the peace of the world; and the U.S. Navy stood out as a symbol of strength to defeat this threat. She commenced exercises in the Atlantic during the summer of 1951 then made another cruise to the Mediterranean during the fall of 1951 and summer of 1952.
Ingraham departed Norfolk 24 April 1953 to escort carrier Lake Champlain to Japan via the Mediterranean and Suez Canal. She arrived Yokosuka 9 June and later that month joined the carrier task force providing air support to our forces in Korea. Her accuracy was excellent as she destroyed gun emplacements and supply areas. Following the truce she operated on security patrol before returning to Norfolk 27 October. During 1954 the destroyer operated on hunter-killer operations a cruise to South America and NATO exercises out of Northern Ireland. She resumed training operations following overhaul in June 1955 and sailed on a summer training cruise to the Scandinavian countries returning to Norfolk 6 September.
Ingraham departed Norfolk 28 July for duty with the 6th Fleet as trouble flared over the Suez Canal. The presence of the fleet was felt and the crisis was resolved without a mayor conflict. She returned to Norfolk 4 December to begin a series of training cruises climaxed by a NATO exercise in September and October 1957.
The destroyer returned to 6th Fleet duty in February 1958 and operated on patrol and exercises in the Mediterranean and the Red Sea. She returned to Norfolk Va. 2 July prior to the Lebanon crisis in which the 6th Fleet played a major role in preserving the freedom of a small nation. Ingraham operated on the East Coast until 13 February 1959 when she departed for another tour with the 6th Fleet and a crisis over Berlin was averted through our strong naval force. Departing the Mediterranean on 30 August she returned to Portsmouth Va. 7 September and began overhaul.
During 1960 she engaged in operations out of Mayport Fla. before embarking on another cruise with the 6th Fleet beginning late September. She resumed readiness training out of Mayport in March 1961 before undergoing an extensive 8-month overhaul at Portsmouth. Ingraham arrived at her new homeport Newport R.I. 23 February 1962 then engaged in fleet operations in the Atlantic and in the Caribbean. In September and October she was assigned to the recovery area for the Project Mercury flight of "Sigma 7" and under more somber conditions took part in the Cuban blockade which ended in the removal of Russian missiles from that island. Once again this courageous ship helped participate in a series of crises resolved peacefully because of America's overwhelming naval power.
She continued operations along the East Coast until 1 October 1963 when she sailed for another deployment to the Mediterranean to strengthen our peace-keeping force in Europe.
Regular deployment with the Atlantic Fleet occupied Ingraham's time until 29 September 1965 when she departed Newport for the western Pacific arriving 31 October at Yokosuka Japan for resupply before operations in the South China Sea. Though acting as a part of the screen for the carrier Ticonderoga (CVA-14) she also fired support missions for ground troops ashore.
On 12 November Ingraham steamed 10 miles up the Saigon River to bombard an enemy supply base and by the 13th shelled a guerrilla assembly area some 300 miles from the site of her action the previous day.
In early December the ship kept regular surveillance on a Russian submarine off Hainan Island bordering the Gulf of Tonkin. Ingraham's presence with the fleet of Vietnam underscores the determination of Americans to preserve the freedom of a small nation. From 1 January 1968 to 24 January Ingraham operated with TF-T7 in the South China Sea. She left for Newport 4 February by way of the Suez Canal.
Arriving 8 April off the East Coast Ingraham began a repair and training period. From 14 June to 21 June she participated in Operation "Beachtime " an amphibious landing in the Caribbean. Ingraham spent 28 October to 28 November preparing for service in the Mediterranean.
On 8 December she arrived at Gibraltar.
Ingraham received the Navy Unit Commendation for her action off Okinawa and four battle stars for service in World War II. She earned a fifth battle star for service in Korea.


[Note: The above USS INGRAHAM (DD-694) history may or may not contain text provided by crew members of the USS INGRAHAM (DD-694) or by other non-crew members and text from the Dictionary of American Naval Fighting Ships]