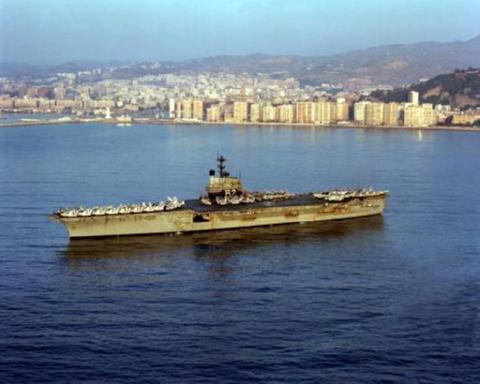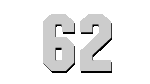 U.S.S. INDEPENDENCE
(CV-62)

FREEDOMS FLAGSHIP
Click to view crew list
Named for the right of self-government, the fifth USS Independence was commissioned on Jan. 10, 1959. In 1960, she saw her first cruise to the Mediterranean. The year 1962 saw the ship helping with the Berlin crisis during that summer. The fall saw her go to the Caribbean to help with quarantining Cuba during the Russian missile crisis.
The ship continued cruising various Atlantic runs through 1965. In that year, she went on a run to the South China Sea. While there, her aircrews conducted thousands of sorties against the North Vietnamese troops. Upon her return to the east coast, the ship resumed her normal operations in the Atlantic and Mediterranean.
The 1970's saw USS Independence carrying out more operations in the Mediterranean. She was the site of the first female US pilot to gain carrier qualification in 1979. In 1980, the ship was waiting when the American hostages were freed from Iran. During the next few years, she saw action in Lebanon and Grenada.
In 1990, the ship became the first carrier to enter the Persian Gulf in over 15 years. She helped with air support during and after Operation Desert Storm. The rest of the 1990's saw her flying missions over southern Iraq and making visits to various Pacific ports. She was decommissioned on Sept. 30, 1998.
CV-62 Deployments - Major Events
Add a CV-62 Shellback Initiation
Add a CV-62 Deployment - Major Event
Month
Year
to
Month
Year
Deployment / Event
AUG
1960
-
Shellback Initiation - 1 AUG 1960 - Atlantic Ocean
AUG
1960
-
MAR
1961
Mediterranean
MAR
1961
-
APR
1961
Bay of Pigs Invasion
APR
1962
-
AUG
1962
Mediterranean
OCT
1962
-
OCT
1962
Cuban Missle Blockade
JAN
1963
-
JAN
1964
Antarctic Circle
SEP
1963
-
MAR
1964
Mediterranean
SEP
1963
-
MAR
1964
Mediterranean
JUL
1964
-
Shellback Initiation - 7 JUL 1964 - Atlantic Ocean
AUG
1964
-
NOV
1964
North Atlantic
JAN
1965
-
DEC
1965
West Pac-Viet Nam
FEB
1965
-
Shellback Initiation - 15 FEB 1965 - Atlantic Ocean
MAY
1965
-
Shellback Initiation - 2 MAY 1965 - Atlantic Ocean
MAY
1965
-
Shellback Initiation - 21 MAY 1965 - Atlantic Ocean
MAY
1965
-
Shellback Initiation - 21 MAY 1965 - Pacific Ocean
MAY
1965
-
DEC
1965
West Pac-Viet Nam
MAY
1965
-
Shellback Initiation - 10 MAY 1965 - Pacific Ocean
JUN
1965
-
NOV
1965
need to get cruise book
JUN
1965
-
NOV
1965
West Pac-Viet Nam
JUN
1966
-
FEB
1967
Mediterranean
APR
1968
-
JAN
1969
Mediterranean
JUL
1969
-
AUG
1969
Sortie in North Atlantic w/ stop in Portsmouth, England (Dates ?
JUN
1970
-
JAN
1971
Mediterranean-Lebanon
MAR
1971
-
APR
1972
Mediterranean
MAR
1971
-
APR
1972
med cruise
SEP
1971
-
MAR
1972
Blue Nose - Arctic Circle
SEP
1971
-
MAR
1972
Mediterranean
SEP
1971
-
APR
1972
North Atlantic-Med-Indian Ocean
SEP
1971
-
APR
1972
Mediterranean-Lebanon
SEP
1971
-
MAR
1972
Blue Nose - Arctic Circle
MAR
1972
-
MAR
1973
Dry Dock
SEP
1972
-
MAR
1973
Blue Nose - Arctic Circle
JAN
1973
-
JAN
1973
Mediterranean-Indian Ocean
JAN
1973
-
Shellback Initiation - 24 JAN 1973 - Atlantic Ocean
JAN
1973
-
Shellback Initiation - 24 JAN 1973 - Atlantic Ocean
JAN
1973
-
Shellback Initiation - 24 JAN 1973 - Atlantic Ocean
JAN
1973
-
JAN
1973
Sea Trials
JAN
1973
-
Shellback Initiation - 24 JAN 1973 - Atlantic Ocean
JUN
1973
-
Shellback Initiation - 6 JUN 1973 - Atlantic Ocean
JUN
1973
-
Shellback Initiation - 6 JUN 1973 - Atlantic Ocean
JUN
1973
-
DEC
1973
North Atlantic-Med-Indian Ocean
JUN
1973
-
Shellback Initiation - 6 JUN 1973 - Atlantic Ocean
JUN
1974
-
FEB
1975
North Atlantic-Med-Indian Ocean
JUL
1974
-
JAN
1975
Mediterranean
SEP
1974
-
SEP
1974
Mediterranean
OCT
1975
-
MAY
1976
North Atlantic-Med-Indian Ocean
JUN
1976
-
JUN
1976
Mediterranean-Lebanon
MAR
1977
-
OCT
1977
Mediterranean
MAR
1977
-
OCT
1977
Mediterranean-Indian Ocean
JUN
1979
-
DEC
1979
Mediterranean
OCT
1979
-
Shellback Initiation - 9 OCT 1979 - Atlantic Ocean
NOV
1980
-
Shellback Initiation - 29 NOV 1980 - Pacific Ocean
NOV
1980
-
Shellback Initiation - 29 NOV 1980 - Indian Ocean
NOV
1980
-
Shellback Initiation - 29 NOV 1980 - Indian Ocean
NOV
1980
-
Shellback Initiation - 29 NOV 1980 - Indian Ocean
MAR
1981
-
MAY
1985
North Atlantic-Med-Indian Ocean
APR
1981
-
Shellback Initiation - 14 APR 1981 - Atlantic Ocean
MAY
1981
-
Suez Canal (South to North)
JUN
1982
-
DEC
1982
Mediterranean-Lebanon
OCT
1983
-
NOV
1983
Grenada
OCT
1984
-
FEB
1985
Mediterranean-Indian Ocean
APR
1985
-
JAN
1988
Dry Dock
OCT
1986
-
JAN
1987
Great Lakes
AUG
1988
-
Shellback Initiation - 28 AUG 1988 - Atlantic Ocean
AUG
1988
-
Shellback Initiation - 28 AUG 1988 - Atlantic Ocean
AUG
1988
-
Shellback Initiation - 1 AUG 1988 - Atlantic Ocean
JAN
1990
-
DEC
1990
Desert Shield
JAN
1990
-
JAN
1997
West Pac
JUN
1990
-
DEC
1990
West Pac-Indian Ocean-Persian Gulf
JUN
1990
-
DEC
1990
West Pac-Indian Ocean
JUL
1990
-
Shellback Initiation - 7 JUL 1990 - Indian Ocean
JUL
1990
-
Shellback Initiation - 31 JUL 1990 - Indian Ocean
AUG
1990
-
NOV
1990
Desert Shield
JAN
1992
-
DEC
1994
West Pac-Indian Ocean-Persian Gulf
MAR
1992
-
OCT
1992
West Pac-Indian Ocean-Persian Gulf
APR
1992
-
Shellback Initiation - 25 APR 1992 - Pacific Ocean
APR
1992
-
Shellback Initiation - 25 APR 1992 - Pacific Ocean
APR
1992
-
Shellback Initiation - 25 APR 1992 - Indian Ocean
MAY
1992
-
MAY
1992
50th Anniversary Battle of Coral Sea - Sydney AU
JUN
1992
-
OCT
1992
West Pac-Indian Ocean-Persian Gulf
DEC
1992
-
DEC
1994
West Pac-Indian Ocean-Persian Gulf
JUN
1993
-
Shellback Initiation - 25 JUN 1993 - Pacific Ocean
JUN
1994
-
JUL
1994
RIMPAC
DEC
1995
-
DEC
1998
West Pac-Indian Ocean-Persian Gulf
JAN
1997
-
SEP
1997
Spring cruise
APR
1997
-
Shellback Initiation - 27 APR 1997 - Pacific Ocean
JAN
1998
-
MAY
1998
Southern Watch
FEB
1998
-
Shellback Initiation - 1 FEB 1998 - Pacific Ocean
SEP
1998
-
SEP
1998
Decommisioning
DEC
2000
-
DEC
2002
West Pac-Indian Ocean-Persian Gulf
DEC
2006
-
DEC
2007
West Pac-Indian Ocean-Persian Gulf
CV-62 General Specifications