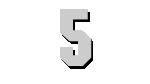 U.S.S. YORKTOWN
(CV-5)


Click to view crew list
USS Yorktown (CV-5) was an aircraft carrier commissioned before World War II began and which fought in the Battle of Midway in the North Pacific. The Battle of Midway, though not as famous as the attack on Pearl Harbor, was an important turning point in World War II, and though Yorktown was eventually lost in the battle, her role in it was crucial to winning the battle, and in a small way, the war. Below is an account of Yorktown's role in the battle.
Yorktown and the Battle of Midway Island
After the attack on Pearl Harbor, Yorktown was dispatched from the Atlantic, where she had been patrolling, to the Pacific via the Panama Canal. She then participated in combat operations in the South Pacific, notably in the Marshalls-Gilberts and the Battle of the Coral Sea, in which she was damaged while her planes assisted in sinking two Japanese carriers.
After repairs, she was sent to Midway Island, several hundred miles northwest of Hawaii, in June 1942. There, her planes damaged and/or destroyed three Japanese ships while she sustained enough damage from enemy strikes to warrant an abandon ship order. Two days later, while American forces tried to salvage Yorktown, she was torpedoed and sunk June 7, 1942. She lay under the sea until 1998.
CV-5 Deployments - Major Events
Add a CV-5 Shellback Initiation
Add a CV-5 Deployment - Major Event
Month
Year
to
Month
Year
Deployment / Event
MAY
1934
-
Keel Date: 21 MAY 1934
at Newport News Shipbuilding & Drydock Co. Newport News VA
APR
1936
-
Launch Date: 4 APR 1936
SEP
1937
-
Commissioned: 30 SEP 1937
MAY
1942
-
JUN
1942
Middle Pacific
JUN
1942
-
JUN
1942
Battle of Midway
JUN
1942
-
JUL
1942
Middle Pacific
JUN
1942
-
JUN
1942
midway
JAN
1970
-
JAN
1976
Mediterranean
CV-5 General Specifications
Class: Yorktown-class aircraft carrier
Named for: The Battle of Yorktown
Complement: 2217 Officers and Enlisted
Length: 770 feet
Draft: 25 feet 11.5 in
Flank Speed: 32 Knots
Final Disposition: Sunk 7 June 1942