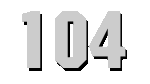 U.S.S. ATLANTA
(CL-104)


Click to view crew list
USS ATLANTA (CL-104) - a Fargo-class light cruiser
In Commission 1944 to 1970
CL-104 Deployments - Major Events
Add a CL-104 Shellback Initiation
Add a CL-104 Deployment - Major Event
Month
Year
to
Month
Year
Deployment / Event
JAN
1943
-
Keel Date: 25 JAN 1943
FEB
1944
-
Launch Date: 6 FEB 1944
DEC
1944
-
Commissioned: 3 DEC 1944
MAR
1945
-
Shellback Initiation - 17 MAR 1945 - Atlantic Ocean
MAY
1947
-
Shellback Initiation - 6 MAY 1947 - Pacific Ocean
MAY
1963
-
JUN
1965
Operation Sailor Hat
APR
1970
-
Decommissioned: 1 APR 1970
CL-104 General Specifications
Complement: 1 426 officers and enlisted
Displacement: 10000 tons
Length: 610 feet 1 inches
Beam: 66 feet 4 inches
Draft: 24 feet 10 in
Flank Speed: 31 Knots
USS ATLANTA (CL-104)
The fourth Atlanta (CL-104) was laid down on 25 January 1943 at Camden, N.J., by the New York Shipbuilding Corp.; launched on 6 February 1944; sponsored by Mrs. John R. Marsh (better known by her pen name, Margaret Mitchell, the author of the novel Gone With The Wind) who also sponsored the cruiser Atlanta (CL-51); and commissioned on 3 December 1944, Capt. B. H. Colyear in command.


After commissioning, the light cruiser got underway on 5 January 1945 for shakedown training in the Chesapeake Bay and the Caribbean. Upon the completion of those exercises, Atlanta arrived at Norfolk on 14 February and then moved up the coast to Philadelphia. After a period in the navy yard there, she sailed on 27 March for the Pacific. She stopped at Guantanamo Bay, Cuba, and transited the Panama Canal before reaching Pearl Harbor on 18 April. From 19 April to 1 May, the ship conducted training exercises in Hawaiian waters. She then sailed to Ulithi and reported to Task Force (TF) 58 on 12 May.


From 22 to 27 May, Atlanta served with the Fast Carrier Task Force operating south of Japan near Okinawa while its aircraft struck targets in the Ryukyus and on Kyushu to support forces fighting for Okinawa. Her task group broke up on 13 June, and Atlanta entered San Pedro Bay, Philippines, on 14 June. Following two weeks of upkeep, she sailed on 1 July with Task Group (TG) 38.1 and once again protected the fast carriers launching strikes against targets in the Japanese home islands. During these operations, the cruiser took part in several shore bombardment missions against Honshu and Hokkaido.


Atlanta was operating off the coast of Honshu when the Japanese surrendered on 15 August 1945. On 16 September, she entered Tokyo Bay and remained there through 29 September.


With over 500 passengers on board, the cruiser sailed on 30 September for the United States. She paused en route at Guam before arriving in Seattle, Wash., on 24 October. The vessel then proceeded to the shipyard at Terminal Island, Calif., for an extensive overhaul. She was ready to return to sea on 3 January 1946 and got underway for Sasebo, Japan.


From January through June, Atlanta operated amone several Far Eastern ports which included Manila, Philippines; Tsingtao and Shanghai, China; Okinawa; Saipan; Nagasaki, Kagoshima, and Yokosuka, Japan. In June, she returned via Guam to the United States and arrived at San Pedro, Calif., on the 27th. Two days later, the cruiser entered the San Francisco Naval Shipyard for overhaul. On 8 October, she headed toward San Diego for sea trials.


The cruiser remained in southern California waters until 23 February 1947, when she left for maneuvers off Hawaii. On 1 May, she departed Pearl Harbor with TF 38 for a visit to Australia. The ships stayed in Sydney through 27 May, then sailed for San Pedro, Calif., via the Coral Sea, Guadalcanal, Tulagi, and Guam. She dropped anchor at San Pedro on 28 July. A series of maneuvers off the California coast ensued, the Atlanta returned to Pearl Harbor on 28 September. She continued on to Yokosuka, Japan. After two days at anchor there, she sailed to Tsingtao, China. Other ports of call during the deployment were Hong Kong; Singapore; and Keelung, China. On 27 April 1948, the cruiser got underway and proceeded via Kwajalein and Pearl Harbor to San Diego.


Following her arrival back in the United States on 19 May, Atlanta conducted exercises off San Diego. She paid a visit to Juneau, Alaska, from 29 June to 6 July. She then arrived at Seattle on 12 July to begin a major overhaul. The cruiser returned to San Diego for local maneuvers on 20 November.


In early February 1949, the ship embarked naval reservists for a training cruise and operated between San Diego and San Francisco until 1 March when she entered the Mare Island Naval Shipyard to commence deactivation. Atlanta was decommissioned on 1 July 1949 and placed in the Pacific Reserve Fleet. Her name was struck from the Navy list on 1 October 1962, and she was earmarked for disposal.


Atlanta's career, however, had not yet ended. Instead, she underwent an extensive modification at the San Francisco Naval Shipyard. Reinstated on the Navy list as IX-304 on 15 May 1964, the vessel was converted to a target ship for studies of the effects of high energy air explosions on naval ships. The changes included cutting her hull down to the main deck level and erecting various experimental superstructures-designed for guided missile frigates and guided missile destroyers-on her deck. In these configurations she was subjected to explosions to determine whether or not the experimental structures could satisfactorily combine essential lightness with equally essential strength and blast resistance. These three tests were conducted off the coast of Kahoolawe, Hawaii, in early 1965. Atlanta was damaged, but not sunk, by the experiments. She was laid up at Stockton, Calif., sometime late in 1965. Her name was again struck from the Navy list on 1 April 1970, and the former light cruiser was sunk during an explosive test off San Clemente Island, Calif., on 1 October 1970.


Atlanta (CL-104) earned two battle stars for her World War II service.


[Note: The above USS ATLANTA (CL-104) history may, or may not, contain text provided by crew members of the USS ATLANTA (CL-104), or by other non-crew members, and text from the Dictionary of American Naval Fighting Ships]