For RATING SHIRTS - Click on your Rating Abbreviation below: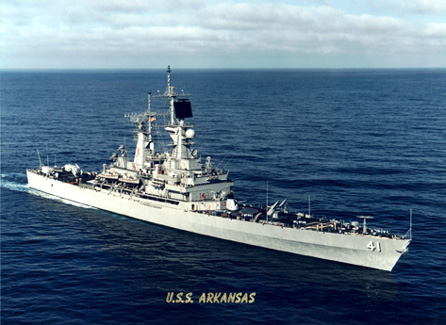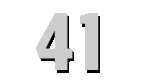 U.S.S. ARKANSAS
(CGN-41)

DEFENDER OF OPPORTUNITY
Click to view crew list
The USS ARKANSAS (CGN-41), a Virginia class cruiser, was commissioned on 18 OCT 1980. Built in Newport News, Virginia at Newport News Shipbuilding, USS ARKANSAS underwent extensive fit out and shakedown training in Hampton Roads and the VACAPES operating area. In early 1981 ARKANSAS sailed to Puerto Rico and returned for final fit out prior to underway qualifications and certifications. In April 1981, USS ARKANSAS stood out of Norfolk for the Caribbean and South Atlantic. Upon her return in June 1981, USS ARKANSAS spent the remainder of the year undergoing maintenance pier side. The first nine months of 1982 were spent in training, maintenance and exercises in the Caribbean, before she departed on her first and only "Med" in October. In May 1984 USS VIRGINA changed her homeport to Alameda, California. The final fourteen years of her career was spent attached to the Pacific fleet, deploying to the Western Pacific and on to the Indian Ocean / Persian Gulf when called upon. USS ARKANSAS served her country for 17 years, 8 months and 19 days, until decommissioned on 7 JUL 1998. USS ARKANSAS was disposed of by 1999 at the Nuclear-Powered Ships Recycling Program at Puget sound NSY, Bremerton, Washington.

The USS ARKANSAS (CGN-41) deployment history and significant events of her service career follow:
CGN-41 Deployments - Major Events
Add a CGN-41 Shellback Initiation
Add a CGN-41 Deployment - Major Event
Month
Year
to
Month
Year
Deployment / Event
JAN
1977
-
Keel Date: 17 JAN 1977
at Newport News Shipbuilding & Drydock Co. Newport News VA
OCT
1978
-
Launch Date: 21 OCT 1978
OCT
1980
-
Commissioned: 18 OCT 1980
MAY
1981
-
Shellback Initiation - 25 MAY 1981 - Atlantic Ocean
MAY
1981
-
Shellback Initiation - 5 MAY 1981 - Atlantic Ocean
NOV
1982
-
MAY
1983
Mediterranean-Lebanon
JUN
1984
-
DEC
1984
Circumnavigation
JAN
1986
-
AUG
1986
Mediterranean-Indian Ocean-Persian Gulf
JUL
1986
-
Shellback Initiation - 3 JUL 1986 - Atlantic Ocean
JAN
1989
-
JAN
1989
Desert Shield
MAY
1991
-
NOV
1991
Desert Storm
NOV
1991
-
Shellback Initiation - 11 NOV 1991 - Pacific Ocean
NOV
1991
-
Shellback Initiation - 7 NOV 1991 - Pacific Ocean
JUN
1994
-
NOV
1994
Mediterranean-Indian Ocean-Persian Gulf
JUL
1994
-
Shellback Initiation - 31 JUL 1994 - Pacific Ocean
MAY
1996
-
NOV
1996
Operation Deep Freeze
MAY
1996
-
NOV
1996
West Pac-Indian Ocean-Persian Gulf
JUL
1998
-
Decommissioned: 7 JUL 1998
CGN-41 General Specifications
Class: Virginia class cruiser
Named for: State of Arkansas
Complement: 473 Officers and Enlisted
Displacement: 9473 tons
Length: 585 feet
Beam: 63 feet
Flank Speed: 30+ knots
Range: Unlimited distance
Final Disposition:Disposed of by Recycling 1 November 1999
USS ARKANSAS (CGN-41)
The fourth Arkansas (CGN-41l) was laid down on 17 January 1977 at Newport News, Va., by the Newport News Shipbuilding and Dry Dock Co.; launched on 21 October 1978; sponsored by Mrs. Dale Bumpers, the wife of United States Senator Dale Bumpers, of Arkansas; and commissioned on 18 October 1980, Capt. Dennis S. Read in command.


The guided-missile cruiser spent the four months following her commissioning in the vicinity of Hampton Roads, Va., clearing up details associated with her acceptance by the Navy and preparing for her shakdown cruise. Late in February 1981, she made a brief round-trip voyage to Puerto Rico and back and then resumed preparations for shakedown training. In March, she completed contract trials and conducted a public relations call at Port Everglades, Fla. April brought a series of underway qualifications and certifications. On 28 April, Arkansas departed Norfolk to carry out shakedown training in the West Indies. That cruise included more tests and trials, port visits to several Caribbean Islands and a swing south to call at Rio de Janeiro and Recife in Brazil. The warship returned to Norfolk on 25 June and began post-shakdown availability at the Newport News Shipbuilding Co. six days later. Arkansas completed repairs on 15 December and put to sea for three days of trials before returning to port where holiday routine occupied what little remained of 1981.


The warship did not get underway again until three weeks into 1982. She put to sea on 22 January and shaped a course south to Key West, Fla., where she underwent explosive shock tests. In the intervals between the several tests, Arkansas visited Mayport and Port Everglades for work on some of her equipment. Returning north at the beginning of March, she entered the yard at the Newport News Shipbuilding Co. for two months of post-shakedown repairs. The guided-missile cruiser conducted trials at sea on 3 and 4 May and then returned to Newport News for another 11 days to correct minor deficiencies. She arrived back in Norfolk on 20 May and, the next day, commenced local operations out of her home port. Over the ensuing four months, Arkansas carried out a schedule of training operations conducted mostly off the Virginia capes. Two missions, however, took her south to the West Indies. From 23 June to 16 July she voyaged to Guantanamo Bay, Cuba, for refresher training. Between 24 September and 16 October, the warship served as escort for Nimitz (CVN-68) during an operational readiness exercise executed in the vicinity of Puerto Rico.


Upon her return to Norfolk in mid-October, Arkansas began preparations for her first tour of duty with the 6th Fleet in the Mediterranean Sea. The guided-missile cruiser embarked upon that assignment on 10 November 1982. She completed the transatlantic voyage on 30 November, then set out across the Mediterranean bound for the coast of troubled Lebanon. She arrived on station near Beirut on 6 December. Though Arkansas spent most of her time supporting the multinational force ashore in its efforts to keep peace in Lebanon, she left the eastern Mediterranean occassionally for port calls and to participate in some of the 6th Fleet's freedom-of-navigation maneuvers into the Gulf of Sidra off the coast of Libya. The warship completed her final tour on station near Lebanon on 4 May 1983 and laid in a course for Gibraltar. After a two-day visit to the "Rock," Arkansas got underway for Norfolk on 10 May.


The guided-missile cruiser stood into her home port again at the end of the third week in May. Norfolk, however, remained her home port only for the duration of her post-deployment standdown period. On 8 July, Arkansas began the long voyage to her new base of operations at Alameda, Calif. Steaming by way of Port Everglades in Florida and Charlotte Amalie in the Virgin Islands, she arrived in the Canal Zone on 21 July and transited the Panama Canal on the 22d. From there, the warship headed north to Alameda, reaching her destination on 31 July. Arkansas spent the next five weeks at her new home port clearing up incidentals attendant to the shift of bases and carried out nuclear propulsion safety training.


Normal operations at sea began again during the second week in September and occupied the guided-missile cruiser for the remainder of 1983 and the first six weeks of 1984. Between 12 and 14 February 1984, Arkansas made the passage from Alameda to Bremerton, Wash., where she entered the Puget Sound Naval Shipyard for a three-month repair period. The warship returned to Alameda in mid-May and readied herself for a deployment that became a circumnavigation of the globe. On 1 June, Arkansas put to sea on the first leg of her long voyage. En route to Hawaii, she participarted in the multinational exercise Operation "RIMPAC 84." She spent the latter half of June conducting exercises in the Hawaiian islands then resumed the voyage west on 2 July. Arkansas arrived at Subic Bay on 20 July and remained in the Philippines until the beginning of August. At that time, she set out for Hong Kong where she visited during the period 6 to 10 August.


From there, Arkansas headed for the Indian Ocean. The guided-missile cruiser served almost three months in the Indian Ocean, primarily in that portion known as the Arabian Sea where the protracted war between Iraq and revolutionary Iran threatened to engulf their neighbors and perhaps involve the superpowers as well. On 1 November, Arkansas entered the Red Sea on her way to the Suez Canal. She passed through the canal on the 3d and, after an expeditious passage, stopped at Toulon,France, from the 7th to the 12th. Returning to sea on the 12th, the warship shaped a course through the Strait of Gibraltar and across the Atlantic. She rounded out her circumnavigation with calls at the Azores, Barbados, and St. Thomas. Arkansas transited the Panama Canal on 9 December and reached Alameda on the 17th.


Post-deployment standdown kept her in port at Alameda through the end of 1984 and into February of 1985. Between 17 and 19 February, Arkansas sailed north to Bremerton for a four-month restricted availability during which she was armed with Tomahawk cruise missiles and the Phalanx close-in air defense system. Back at Alameda on 25 June, the guided-missile cruiser resumed training operations out of her home port soon thereafter. The usual exercises, inspections and examinations kept her busy through the summer and fall of 1985. On 7 December, the warship began preparations for overseas movement.


The usual year-end holiday leave and upkeep period interrupted her efforts to get ready for the upcoming deployment, but the guided-missile cruiser put to sea as scheduled on 15 January 1986. Again she participated in exercises during the passage, stopped at Pearl Harbor, and spent only a brief period of time in the western Pacific. By mid-March, after visits to Subic Bay and Singapore, she made her way across the Indian Ocean to Karachi, Pakistan. The guided-missile cruiser called at Karachi between 15 and 20 March then resumed her voyage to the Arabian Sea. Once more, Arkansas patrolled the waters of the troubled Middle East.


Her sojourn in the Arabian Sea, however, lasted only until late April. On the 29th and the 30th, she transited the Suez Canal and headed for another hot spot. During the month of May and June, Arkansas served with Enterprise (CVN-65) and Truxtun (CGN-35) off the coast of Libya in the wake of the air strikes launched on that country by the United States in reprisal for terrorist activity against Americans. Arkansas left the Mediterranean at the end of June and shaped a course for Australia. She stopped at Fremantle between 18 and 22 July and then headed for Subic Bay where she laid over for two days at the end of the month. From there, the warship headed for Pearl Harbor where she paused overnight on 8 and 9 August. She arrived back in her home port on 13 August. Arkansas remained at Alameda until late September for the leave and upkeep period that usually follows an extended tour of duty overseas. Early in October the warship resumed local operations along the west coast. She remained so occupied for the rest of 1986


[Note: The above USS ARKANSAS (CGN-41) history may, or may not, contain text provided by crew members of the USS ARKANSAS (CGN-41), or by other non-crew members, and text from the Dictionary of American Naval Fighting Ships]