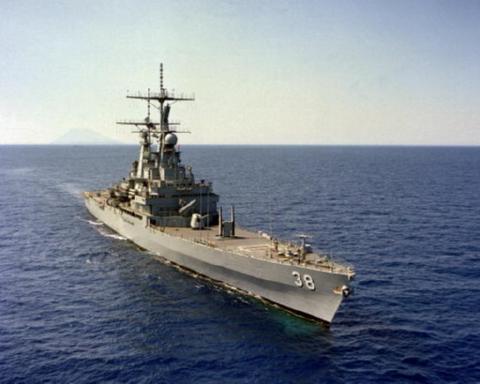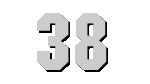 U.S.S. VIRGINIA
(CGN-38)

SIC SEMPER TYRANNIS
Click to view crew list
The USS VIRGINIA (CGN-38), the first of the nuclear powered Virginia class cruisers, was commissioned on 11 SEP 1976. USS VIRGINIA was built by the Newport News Shipbuilding & Dry Dock Company in Newport News, Virginia. After extensive shake down sailing, VIRGINA underwent a extended yard period from April to September 1977. VIRGINA first crossed the Atlantic in August 1978 during a three month "North Atlantic". Over the following sixteen years, VIRGINIA deployed regularly to the "MED", Caribbean, and on into the Indian Ocean as the US Navy established a standing naval force in the Persian Gulf after the Hostage Crisis in Iran. USS VIRGINIA served her country for 18 years, 1 month and 30 days, until decommissioned on 10 NOV 1994. VIRGINIA was disposed of, along with her sister nuclear powered cold warriors, by the Puget Sound Naval Shipyard in 2002.

The USS VIRGINIA (CGN-38) deployment history and significant events of her service career follow:
CGN-38 Deployments - Major Events
Add a CGN-38 Shellback Initiation
Add a CGN-38 Deployment - Major Event
Month
Year
to
Month
Year
Deployment / Event
AUG
1972
-
Keel Date: 19 AUG 1972
at Newport News Shipbuilding & Drydock Co. Newport News VA
DEC
1974
-
Launch Date: 14 DEC 1974
SEP
1976
-
Commissioned: 11 SEP 1976
OCT
1976
-
DEC
1976
Caribbean
OCT
1976
-
DEC
1976
Caribbean
FEB
1977
-
APR
1977
Caribbean
APR
1977
-
AUG
1977
Dry Dock
APR
1977
-
AUG
1977
Regular Overhaul
SEP
1977
-
NOV
1977
Caribbean
FEB
1978
-
APR
1978
Caribbean
SEP
1978
-
NOV
1978
North Atlantic
NOV
1978
-
Shellback Initiation - 11 NOV 1978 - Atlantic Ocean
JAN
1979
-
JUL
1979
Mediterranean
APR
1980
-
Shellback Initiation - 23 APR 1980 - Pacific Ocean
APR
1980
-
DEC
1980
Mediterranean-Indian Ocean
APR
1980
-
DEC
1980
Mediterranean-Indian Ocean
APR
1980
-
DEC
1980
Indian Ocean
APR
1980
-
Shellback Initiation - 23 APR 1980 - Atlantic Ocean
APR
1980
-
Shellback Initiation - 23 APR 1980 - Atlantic Ocean
JAN
1982
-
JUL
1982
Mediterranean
JUN
1983
-
DEC
1983
Mediterranean
FEB
1984
-
JUN
1984
Regular Overhaul
MAR
1985
-
APR
1985
Post Overhaul Sea Trials and SM-2 MR OPTEST at AFWTF
JAN
1986
-
FEB
1986
Guantanamo Bay
APR
1987
-
NOV
1987
Mediterranean
SEP
1988
-
OCT
1988
Guantanamo Bay
MAY
1989
-
NOV
1989
Mediterranean
OCT
1989
-
FEB
1994
Caribbean
DEC
1990
-
JUN
1991
Mediterranean
SEP
1992
-
DEC
1992
Caribbean
OCT
1992
-
Shellback Initiation - 30 OCT 1992 - Atlantic Ocean
OCT
1992
-
Shellback Initiation - 30 OCT 1992 - Pacific Ocean
SEP
1993
-
DEC
1993
Caribbean
NOV
1994
-
Decommissioned: 10 NOV 1994
CGN-38 General Specifications
Class: Virginia-class cruiser
Named for: The Commonwealth of Virginia
Complement: 500 Officers and Enlisted
Displacement: 11000 tons
Length: 585 feet
Beam: 63 feet
Flank Speed: 30+ knots
Range: Unlimited distance
Final Disposition:Disposed of by recycling 10 October 2002
USS VIRGINIA (CGN-38)
The fifth Virginia (CGN-38) was laid down on 19 August 1972 by the Newport News Shipbuilding & Dry Dock Co. as a nuclear-powered, guided-missile frigate, DLGN-38; launched on 14 December 1974; sponsored by Miss Virginia S. Warner, daughter of the Honorable John Warner, former Secretary of the Navy; reclassified a nuclear-powered, guided-missile cruiser and redesignated CGN-38 on 30 June 1975; and commissioned on 11 September 1976, Capt. George W. Davis, Jr., in command.


During the first six months of her commissioned service, Virginia ranged the eastern seaboard of the United States and cruised in the West Indies several times conducting a myriad of post-commissioning tests and shakedown training. On 25 April 1977, she entered the Norfolk Naval Shipyard for a five-month, post-shakedown availability. She completed her final sea trials on 28 September and began duty as an operational unit of the Atlantic Fleet. In November, she cruised along the New England and Canadian coasts, participating in antisubmarine warfare exercises. In December, she returned to the West Indies for missile firings on the Atlantic Fleet weapons range. She completed that mission on 13 December and reentered Norfolk three days later to begin holiday leave and upkeep in her home port. The beginning of 1978 found her still in Norfolk; but, by mid-month, she returned to sea in the Virginia capes operating area for a series of local operations. On 28 January, however, she departed Norfolk to return to the area along the Florida coast and in the West Indies for a series of special tests conducted under the auspices of the Office of the Chief of Naval Operations. The guided-missile cruiser returned to Norfolk on 23 March and resumed local operations.


That employment lasted until 23 August when she embarked upon a cruise to northern Europe to participate in Operation "Northern Wedding," a NATO exercise the purpose of which was to test the ability to reinforce NATO forces in western Europe. During that deployment, she visited Oslo in Norway, Rotterdam in the Netherlands, and Portsmouth in England. The warship departed the latter port on 3 October and reentered Norfolk on the 12th. On 16 November, she put to sea for training exercises in the Gulf of Mexico. During that voyage, she made a port visit at Mobile, Ala., and conducted naval gunfire support training at Vieques Island near Puerto Rico. She made another port visit to the island of St. Thomas on 6 and 7 December before heading home. Virginia reentered Norfolk on 11 December and began preparations for her first deployment to the Mediterranean which was scheduled to commence in early 1979.


[Note: The above USS VIRGINIA (CGN-38) history may, or may not, contain text provided by crew members of the USS VIRGINIA (CGN-38), or by other non-crew members, and text from the Dictionary of American Naval Fighting Ships]