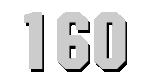 U.S.S. PAPAGO
(ATF-160)


Click to view crew list
USS PAPAGO (ATF-160) - an Abnaki-class fleet ocean tug
In Commission 1945 to 1992
ATF-160 Deployments - Major Events
Add a ATF-160 Shellback Initiation
Add a ATF-160 Deployment - Major Event
Month
Year
to
Month
Year
Deployment / Event
MAR
1945
-
Keel Date: 19 MAR 1945
at Charleston Ship Building & Drydock Company Charleston SC
JUN
1945
-
Launch Date: 21 JUN 1945
OCT
1945
-
Commissioned: 3 OCT 1945
JAN
1953
-
APR
1953
Guantanamo Bay
MAY
1958
-
JUL
1958
Norfolk to Newfoundland naval base
OCT
1962
-
OCT
1962
Cuban Missle Blockade
JAN
1964
-
DEC
1965
Antarctic Circle
JUL
1992
-
Decommissioned: 28 JUL 1992
ATF-160 General Specifications
Class: Abnaki-class fleet ocean tug
Complement: 8 Officers and 68 Enlisted
Displacement: 1205 tons
Length: 205 feet 0 inches
Beam: 38 feet 6 inches
Draft: 15 feet 6 in
Final Disposition: Inactive Fleet - Philadelphia PA
USS PAPAGO (ATF-160)
(It.); l. 205'; b. 39'; dr. 17' (max.); s. 17 k.; cpl. 91; a. 1 3, 2 40mm., 4 20mm.; cl. Abnaki)
Papago (ATF-160) was laid down at Charleston, South Carolina by the Charleston Shipbuilding and Drydock Co. 19 March 1945; launched 21 June 1945; sponsored by Mrs. William Thomas Johnston; commissioned 3 October 1945, Lt. W. S. Hall in command.


Following shakedown, Papago reported to Naval Operating Base, Newport, R.I. 17 November and conducted training operations and movements to assist various vessels in distress for the remainder of the year. After duty as a stand-by tug in Bermuda, she towed YD-171, the world's largest self-propelled floating crane at the time, from Bremerhaven, Germany to Cristobal-Colon, Canal Zone 14 August-20 September 1946. She was engaged in general towing, upkeep and material maintenance for several months after which she made towing voyages in 1949 from the Canal Zone to Norfolk, from Norfolk to Newport, and from Boston to Bayonne.


Papago refloating Missouri (BB-63), aground in Hampton Roads, 30 January-7 February 1950. Among her many towing assignments along the eastern coast during the remainder of the year was moving decommissioned destroyer escorts to Philadelphia 10-14 May preparatory to the transfer of those ships to France under the Military Defense Assistance Program. Papago did not participate in the Korean conflict. Towing highlighted her operations in coastal waters and in the Caribbean during that period.


From 1955 to 1962 Papago continued similar operations. She participated in refresher training and towed gunnery targets in the Guantanamo Bay area 11 March-16 July 1957, deployed to the Clyde area, Scotland, for NATO force operations 14-28 September 1957, participated in the Mercury Space Project 2-4 December 1959, and towed decommissioned Des Moines (CA-134) from Boston to Philadelphia 17-21 July 1961.


Papago was engaged 6 March-22 April 1962 in salvaging and refloating decommissioned Monssen (DD-798), grounded at Beach Haven, N.J. while being towed by another vessel during a severe storm. As a result of those efforts, she received a citation from CinCLantF1t. The Cuban Missile Crisis, however, was the most significant event of the year. Papago rendered valuable services during the quarantine operation and shared patrol duties with other vessels 10 October-14 November.


Early in 1963, Papago provided services for Operation Springboard in the Caribbean and spent much of the remainder of that year and the next in the Guantanamo Bay and Virginia Capes areas. She joined CTG 124.3 in May 1965 for duty during the crisis in the Dominican Republic, then steamed in the North Atlantic as part of ComServDiv 81. Among her varied assignments in 1966 were participation in the Gemini IX launch and salvage operations off Mobile of a lost aircraft, while 1967 was highlighted by duty as rescue, salvage, and towing ship for ComSixFlt in the Mediterranean. After Liberty (AGTR-5) was attacked by Israeli forces, Papago provided her with escort and communication support. The first half of 1968 was marked by four and a half months of almost continuous steaming in coastal and Caribbean waters involving pioneering in nuclear submarine towing methods, followed in the fall by participation in communications experiments in the Virginia Capes area. Papago received the Award of Excellence in Engineering for fiscal year 1968.


Papago ended 1968 and began 1969 undergoing extensive overhaul in Newport News. Into July she was in Little Creek awaiting further orders for her services.


[Note: The above USS PAPAGO (ATF-160) history may, or may not, contain text provided by crew members of the USS PAPAGO (ATF-160), or by other non-crew members, and text from the Dictionary of American Naval Fighting Ships]