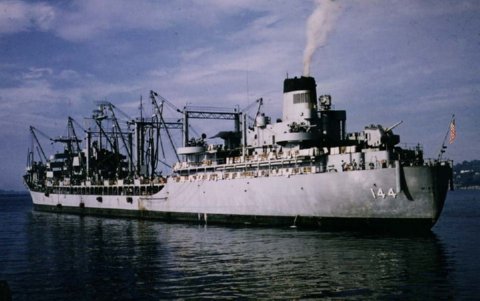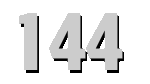 U.S.S. MISSISSINEWA
(AO-144)

FUELUM NO FOOLUM
Click to view crew list
The USS MISSISSINEWA (AO-144), a Neosho-class oiler, was commissioned on 18 JAN 1955. Built by New York Shipbuilding Corp. of Camden, New Jersey, USS MISSISSINEWA took up station at Newport, Rhode Island and served with the Atlantic Fleet after commissioning. In 1956 she shifted homeport to Naples Italy and for the next eight years refueled the US Navy ships in the Mediterranean Sea. Returning to Newport, RI in 1964, she resumed the standard routine of an Atlantic Fleet "Oiler"; fleet support along the East Coast, training and maintenance in preparation for deployment and "MED" cruises on a regular basis. USS MISSISSINEWA served her country for 21 years, 9 months and 28 days, until decommissioned on 15 NOV 1976. USS MISSISSINEWA was transferred to the Military Sealift Command as T-AO-144 after her decommissioning and continued to fuel the fleet with a civilian crew until 1991. The hulk of the MISSISSINEWA was scrapped in 2007.

The USS MISSISSINEWA (AO-144) deployment history and significant events of her service career follow:
AO-144 Deployments - Major Events
Add a AO-144 Shellback Initiation
Add a AO-144 Deployment - Major Event
Month
Year
to
Month
Year
Deployment / Event
MAY
1953
-
Keel Date: 4 MAY 1953
at New York Shipbuilding Camden NJ
JUN
1954
-
Launch Date: 2 JUN 1954
JAN
1955
-
Commissioned: 18 JAN 1955
MAY
1956
-
AUG
1957
Mediterranean
JAN
1960
-
JUL
1960
Returned to U.S for new outfitting.
JUL
1960
-
JUL
1960
Returned to 6th Flt Serv Force and brought aboard 6th Flt Staff
SEP
1961
-
SEP
1961
John F Kennedy visits Naples
JUL
1962
-
JUL
1963
Sheldon H. Kinney Capt. USN Commanding Officer
JUL
1962
-
SEP
1962
Yard overhaul at Bethlehem Steel Hoboken Shipyard NJ
SEP
1962
-
SEP
1964
Mediterranean Deployment - Service Force Sixth Fleet
SEP
1962
-
SEP
1962
Guantanamo Bay
JUL
1963
-
JUL
1964
William J. Maddocks Capt. USN Commanding Officer
JUL
1964
-
JUL
1965
Thomas Turner Capt. USN Commanding Officer
OCT
1964
-
FEB
1965
Yard overhaul at Boston Naval Shipyard Charlestown Mass.
JAN
1965
-
JAN
1966
Mediterranean
FEB
1965
-
APR
1965
Guantanamo Bay
JUN
1965
-
FEB
1966
Mediterranean
FEB
1966
-
DEC
1966
Newport R.I.
JUN
1966
-
Shellback Initiation - 6 JUN 1966 - Atlantic Ocean
APR
1967
-
Shellback Initiation - 4 APR 1967 - Atlantic Ocean
MAY
1967
-
Shellback Initiation - 19 MAY 1967 - Atlantic Ocean
SEP
1967
-
MAR
1968
Mediterranean
SEP
1968
-
JAN
1969
Dry Dock
FEB
1969
-
MAR
1969
Guantanamo Bay
MAR
1969
-
DEC
1969
Mediterranean
MAR
1971
-
MAY
1971
Guantanamo Bay
SEP
1971
-
MAR
1972
Mediterranean
MAY
1972
-
SEP
1972
South Boston Naval Shipyard Drydock
FEB
1973
-
AUG
1973
Mediterranean
NOV
1974
-
MAY
1975
Mediterranean
JAN
1975
-
JAN
1975
collision with uss saratoga
JUN
1975
-
AUG
1975
Guantanamo Bay
DEC
1975
-
DEC
1975
Guantanamo Bay
NOV
1976
-
Decommissioned: 15 NOV 1976
MAR
1982
-
Shellback Initiation - 6 MAR 1982 - Indian Ocean
JAN
1983
-
AUG
1983
Mediterranean-Indian Ocean
AO-144 General Specifications
Class: Neosho-class oiler
Complement: 324 USNS
Displacement: 11600 tons
Length: 655 feet
Beam: 86 feet
Draft: 35 feet
Final Disposition: Scrapped 2007
USS MISSISSINEWA (AO-144)
The second Mississinewa (AO‑144) was laid down by New York Shipbuilding Corp., Camden, N.J., in May 1953; launched 12 June 1954; sponsored by Mrs. Jerauld Wright; and commissioned 18 January 1955, Capt. M. J. Jensen in command.


Mississinewa, second of a class designed to provide fuel, food, stores, and mail services rapidly and for sustained periods to ships at sea, operated primarily along the east coast, with one brief Mediterranean deployment, until 1 May 1956. She then departed her original home port, Newport, for Naples, Italy. With Naples as her home port, the tanker cruised the Mediterranean servicing the 6th Fleet in normal and crisis operations until 1964. During the fall of 1956 and early winter 1957, she supported 6th Fleet ships as they stood by in case they were called on to intervene in the Suez war and the tense period that followed. Again, in mid‑July 1958, she got underway on short notice to provide logistic support to ships of the 6th Fleet during an emergency in the Middle East, this time in Lebanon. Remaining off the Lebanese coast until September, she refueled over 200 ships as the fleet landed marines and then stood by at the request of President Chamoun of Lebanon.


From 1962 to 1964, Mississinewa's responsibilities were increased as she served as flagship of Commander Service Force, 6th Fleet. In that capacity she assumed a larger portion of the implementation of the policy, proven wise in preceding years, of maintaining ships of the 6th Fleet independent of bases on European soil.


Prior to the reassignment of Newport as her home port in September 1964, Mississinewa had returned to the United States only for regularly scheduled yard periods. During those intervals she received new equipment during overhaul, which included in 1957 the installation of a helipad and the assignment of a helicopter for use in vertical replenishment. Since 1964, into 1969, she has operated in the western Atlantic, from Newfoundland to the Caribbean, with regular deployments to the Mediterranean and one, in August 1966, to northern Norway for NATO exercises.


[Note: The above USS MISSISSINEWA (AO-144) history may, or may not, contain text provided by crew members of the USS MISSISSINEWA (AO-144), or by other non-crew members, and text from the Dictionary of American Naval Fighting Ships]