For RATING SHIRTS - Click on your Rating Abbreviation below:
Click on your Rating abbreviation above: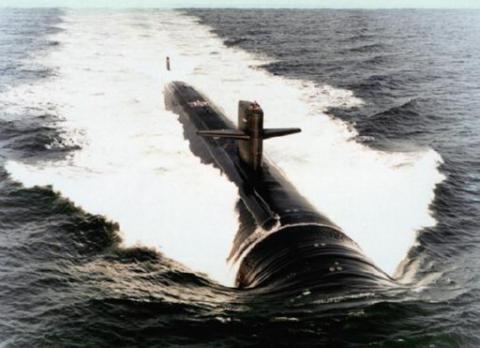 U.S.S. AUGUSTA
(SSN-710)

ANY MISSION - ANY TIME
Click to view crew list
The USS AUGUSTA (SSN-710), a Los Angeles class submarine, was commissioned on 19 JAN 1985. USS AUGUSTA served her country for 24 years and 23 days, until decommissioned on 11 FEB 2009.

The USS AUGUSTA (SSN-710) deployment history and significant events of her service career follow:
SSN-710 Deployments - Major Events
Add a SSN-710 Shellback Initiation
Add a SSN-710 Deployment - Major Event
Month
Year
to
Month
Year
Deployment / Event
JUL
1981
-
Keel Date: 24 JUL 1981
at General Dynamics Corp. Fore River Shipyard Quincy Ma
JAN
1984
-
Launch Date: 21 JAN 1984
JAN
1985
-
Commissioned: 19 JAN 1985
AUG
1987
-
NOV
1987
North Atlantic
JAN
1988
-
JAN
1988
Blue Nose - Arctic Circle
OCT
1989
-
DEC
1989
Blue Nose - Arctic Circle
JAN
1991
-
APR
1991
North Atlantic
FEB
1995
-
MAY
1995
North Atlantic
NOV
1997
-
APR
1998
North Atlantic
MAR
1999
-
SEP
1999
North Atlantic-Med-Indian Ocean
MAR
1999
-
SEP
1999
North Atlantic
MAY
2001
-
OCT
2001
Blue Nose - Arctic Circle
FEB
2003
-
MAR
2003
Mediterranean
FEB
2003
-
AUG
2003
North Atlantic-Med-Indian Ocean
MAR
2005
-
SEP
2005
North Atlantic-Med-Indian Ocean
FEB
2007
-
SEP
2007
North Atlantic-Med-Indian Ocean
FEB
2008
-
FEB
2008
Decommisioning
SSN-710 General Specifications
Class: Los Angeles-class submarine
Named for: Augusta
Complement: 12 Officers and 98 Enlisted
Displacement: 5786 tons
Length: 362 feet
Beam: 32 feet 10 inches
Flank Speed: 20 knots
Final Disposition: To be disposed of by submarine recycling
USS AUGUSTA (SSN-710)
The fifth Augusta (SSN-710) was laid down on 1 April 1982 at Groton, Conn., by the Electric Boat Division of the General Dynamics Corp.; launched on 21 January 1984; sponsored by Mrs. Diana D. Cohen; and commissioned at the Submarine Base, New London, on 15 January 1985, Capt. Thomas W. Turner in command.


Augusta carried out shakedown training in the western Atlantic and in the West Indies until mid-June. On the 14th, the nuclear submarine began post-shakedown repairs at the Electric Boat yard where she was built. The availability lasted through the end of 1985 and well into the first month of 1986. She conducted trials at sea between 21 and 24 January 1986 and completed the repair period on the 26th. In February, she voyaged to the Virgin Islands for weapons certifications and technical evaluations.


She returned north to New London late in February, but early March found her on her way south again. She carried out further technical work in the Bahamas between early March and the middle of June. During the summer, Augusta participated in midshipmen training cruises and a fleet exercise. The nuclear submarine operated at sea in the northern Atlantic for most of October and then began a restricted availability at Groton on the 31st. Those repairs occupied most of what remained of 1986. Augusta was underway briefly between 15 and 22 December for sea trials; otherwise she remained at Groton. As of the beginning of 1987, the warship was still there.


[Note: The above USS AUGUSTA (SSN-710) history may, or may not, contain text provided by crew members of the USS AUGUSTA (SSN-710), or by other non-crew members, and text from the Dictionary of American Naval Fighting Ships]