For RATING SHIRTS - Click on your Rating Abbreviation below:
Click on your Rating abbreviation above: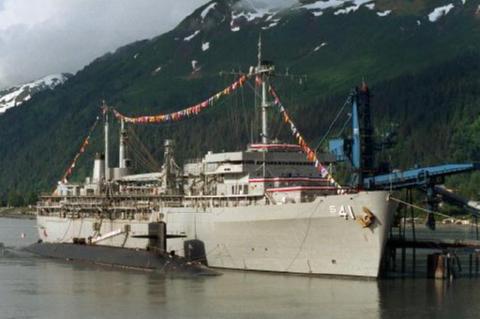 U.S.S. ALASKA
(SSBN-732)

ALERT
Click to view crew list
The USS ALASKA (SSBN-732), an Ohio-class ballistic missile submarine, was commissioned on 25 JAN 1986. USS ALASKA serves her country from her homeport of

The USS ALASKA (SSBN-732) deployment history and significant events of her service career follow:
SSBN-732 Deployments - Major Events
Add a SSBN-732 Shellback Initiation
Add a SSBN-732 Deployment - Major Event
Month
Year
to
Month
Year
Deployment / Event
APR
1955
-
MAR
1958
Grenada
MAR
1983
-
Keel Date: 9 MAR 1983
at General Dynamics Electric Boat Groton CT
JAN
1985
-
Launch Date: 12 JAN 1985
JAN
1986
-
Commissioned: 25 JAN 1986
MAR
1997
-
Shellback Initiation - 9 MAR 1997 - Pacific Ocean
FEB
2000
-
APR
2000
Last C-4 Patrol
MAY
2000
-
NOV
2001
C-4 to D-5 Backfit
MAR
2002
-
MAR
2002
1st D-5 DASO out of King's Bay GA
JAN
2003
-
MAY
2003
Alaska
AUG
2006
-
Shellback Initiation - 16 AUG 2006 - Atlantic Ocean
SSBN-732 General Specifications
Class: Ohio-class ballistic missile submarine
Named for: The U.S. state of Alaska
Complement: 15 Officers and 140 Enlisted
Displacement: 16764 tons
Length: 560 feet.
Beam: 42 feet
Flank Speed: 25+ knots
USS ALASKA (SSBN-732)
The fourth Alaska (SSBN-732) was laid down on 9 March 1983 at Groton, Conn., by the Electric Boat Division of the General Dynamics Corp.; launched on 12 January 1985; sponsored by Mrs. Catherine Ann Stevens; and commissioned at the Submarine Base, New London, on 25 January 1986, Capt. Paul L. Callahan (Blue Crew) and Capt. Charles J. Chotvacs (Gold Crew) in command.


Alaska spent much of 1986 engaged in shakedown training for her two crews and in clearing up the many details that attend a new ship's addition to the Fleet.


[Note: The above USS ALASKA (SSBN-732) history may, or may not, contain text provided by crew members of the USS ALASKA (SSBN-732), or by other non-crew members, and text from the Dictionary of American Naval Fighting Ships]