For RATING SHIRTS - Click on your Rating Abbreviation below:
Click on your Rating abbreviation above: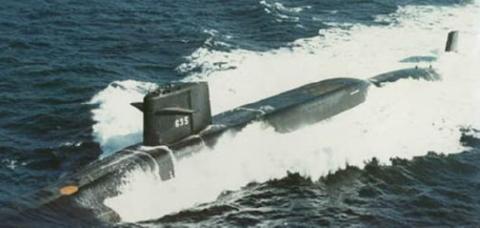 U.S.S. SAM RAYBURN
(SSBN-635)

MR. SAM (SSBN
FIRST IN ITS CLASS (MTS
Click to view crew list
USS SAM RAYBURN (SSBN-635) - a James Madison-class submarine
In Commission 1964 to 1989
SSBN-635 Deployments - Major Events
Add a SSBN-635 Shellback Initiation
Add a SSBN-635 Deployment - Major Event
Month
Year
to
Month
Year
Deployment / Event
DEC
1962
-
Keel Date: 3 DEC 1962
at Newport News Shipbuilding & Drydock Co. Newport News VA
DEC
1963
-
Launch Date: 20 DEC 1963
DEC
1964
-
Commissioned: 2 DEC 1964
JUN
1976
-
JUL
1976
Blue Nose - Arctic Circle
NOV
1976
-
JAN
1977
shooting ballistic missiles
SEP
1981
-
JAN
1983
Blue Nose - Arctic Circle
JAN
1983
-
Shellback Initiation - 29 JAN 1983 - Atlantic Ocean
JUL
1989
-
Decommissioned: 31 JUL 1989
JUL
1989
-
JUL
1989
Recommisioning
SSBN-635 General Specifications
Class: James Madison-class submarine
Named for: Sam Rayburn (1882–1961)
Complement: 120 Officers and Enlisted
Displacement: 6700 tons
Length: 425 feet
Beam: 33 feet
Flank Speed: Over 20 knots
Final Disposition: Became moored training ship at Naval Nuclear Power School Goose Creek South Carolina 1989
USS SAM RAYBURN (SSBN-635)
Sam Rayburn (SSBN-635) was laid down on 3 December 1962 by the Newport News Shipbuilding and Dry Dock Co., Newport News, Va.; launched on 20 December 1963; co-sponsored by Mrs. S. E. Bartley and Mrs. W. A. Thomas; and commissioned on 2 December 1964, Capt. Oliver H. Perry, Jr. (blue crew) in command.


The 28th United States ballistic missile submarine to be commissioned, Sam Rayburn conducted demonstration and shakedown operations on the Atlantic Missile Range, first manned by her blue crew and then by her gold crew, under Comdr. William A. Williams III. She joined Submarine Squadron 18 before her first patrol in the summer of 1965. In August 1965, she joined Submarine Squadron 16 and made 7 patrols out of Rota, Spain, before rejoining Submarine Squadron 18 in December 1966 at Charleston, S.C. During 1967, Sam Rayburn completed her 8th through 11th Polaris deterrent patrols. During 1968, she completed patrols 12 through 14. During 1969, Sam Rayburn operated continuously with Submarine Squadron 18 until commencing overhaul at Portsmouth, N.H., in December. Upon completion of overhaul on 27 May 1971, Sam Rayburn operated along the eastern coast of the United States throughout 1971 and into 1972. Sam Rayburn departed from Groton, Conn., and arrived in Charleston, S.C., before departing on an extended period of special operations. As of June 1974, she continues to be engaged in those special operations.


[Note: The above USS SAM RAYBURN (SSBN-635) history may, or may not, contain text provided by crew members of the USS SAM RAYBURN (SSBN-635), or by other non-crew members, and text from the Dictionary of American Naval Fighting Ships]