For RATING SHIRTS - Click on your Rating Abbreviation below:
Click on your Rating abbreviation above: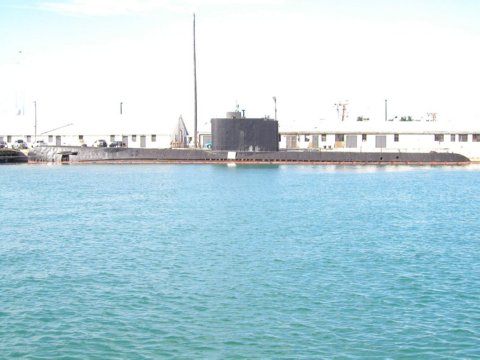 U.S.S. TROUT
(SS-566)

PUT OUT FOR TROUT
Click to view crew list
USS TROUT (SS-566) - a Tang-class submarine
In Commission 1952 to 1978
SS-566 Deployments - Major Events
Add a SS-566 Shellback Initiation
Add a SS-566 Deployment - Major Event
Month
Year
to
Month
Year
Deployment / Event
DEC
1949
-
Keel Date: 1 DEC 1949
at Electric Boat Division of the General Dynamics Corporat
AUG
1951
-
Launch Date: 21 AUG 1951
JUN
1952
-
Commissioned: 27 JUN 1952
JAN
1956
-
FEB
1956
Caribbean
APR
1964
-
SEP
1964
Mediterranean
JAN
1972
-
DEC
1972
West Pac
JUL
1975
-
JAN
1976
West Pac
SEP
1978
-
Shellback Initiation - 22 SEP 1978 - Atlantic Ocean
DEC
1978
-
Decommissioned: 19 DEC 1978
SS-566 General Specifications
Class: Tang-class submarine
Named for: Trout
Complement: 8 Officers and 75 Enlisted
Displacement: 1615 tons
Length: 269 feet
Beam: 27 feet 3 inches
Flank Speed: 16 Knots
Final Disposition: Transferred to Iran 19 December 1978; became IIS Kousseh (SS 101)Abandoned in United States March 1979Returned to U.S. cus
USS TROUT (SS-566)
The second Trout (SS-566) was laid down on 1 December 1949 at Groton, Conn., by the Electric Boat Co.; launched on 21 August 1951; sponsored by Mrs. Albert H. Clark, the widow of Lt. Comdr. Albert H. Clark, the last commanding officer of Trout (SS-202); and commissioned at the submarine base at New London, Conn., on 27 June 1952, Comdr. George W. Kittredge in command.


Trout operated out of New London as a unit of Submarine Squadron (SubRon) 10 from 1952 to 1959. During this period, she conducted training and readiness Operations with ships of the fleet and NATO nations, operating from the North Atlantic to the Caribbean Sea. She engaged in sonar evaluation tests, practice ASW exercises, and submerged simulated attack exercises. During submerged exercises in polar waters in company with Harder (SS-568), Trout sailed 268 miles beneath Newfoundland ice floes, setting a distance record for conventionally powered submarines.


In August 1959, Trout shifted her home port to Charleston, S.C., where she was assigned to SubRon 4. She was deployed to the 6th Fleet in September 1959 for her first Mediterranean cruise. Four months later, while returning home, she represented the United States at Bergen, Norway, during the 50th anniversary celebrations commemorating the birth of the Norwegian Navy's submarine arm.


In February 1960, Trout performed as a test bed for Bureau of Ships shock tests. She won her first Battle Efficiency "E" award in 1961. In early 1963, the submarine rendered services for the Operational Test and Evaluation Force before commencing a six-month overhaul at Charleston in July of that year.


During the remaining years of the 1960's, Trout made three more Mediterranean deployments as a unit of the . 6th Fleet. Between deployments, she participated in training and developmental exercises off the east coast and in the Caribbean. In July 1970, she was assigned to the Pacific Fleet.


Homeported at San Diego, Calif., Trout conducted two Western Pacific (WestPac) deployments-in 1972 and 1975-primarily providing submarine services during ASW exercises conducted by warships of the United States, South Korean, or Nationalist Chinese navies. Between these deployments, the submarine participated in antisubmarine warfare exercises and conducted local operations off the southern California operating areas, punctuating this service with weapons tests in the Pacific Northwest, out of Puget Sound.


After returning from her second WestPac deployment to San Diego on 29 January 1976, Trout operated off the west coast until receiving orders on 1 December changing her home port to Philadelphia. She was decommissioned and struck from the Navy list on 19 December 1978.


[Note: The above USS TROUT (SS-566) history may, or may not, contain text provided by crew members of the USS TROUT (SS-566), or by other non-crew members, and text from the Dictionary of American Naval Fighting Ships]