For RATING SHIRTS - Click on your Rating Abbreviation below:
Click on your Rating abbreviation above: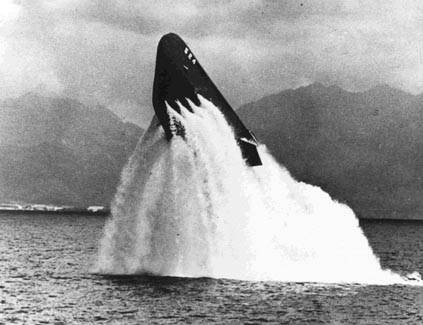 U.S.S. PICKEREL
(SS-524)


Click to view crew list
USS PICKEREL (SS-524) - a Tench-class submarine
In Commission 1949 to 1972
SS-524 Deployments - Major Events
Add a SS-524 Shellback Initiation
Add a SS-524 Deployment - Major Event
Month
Year
to
Month
Year
Deployment / Event
FEB
1944
-
Keel Date: 8 FEB 1944
at Portsmouth Naval Shipyard Kittery ME
DEC
1944
-
Launch Date: 15 DEC 1944
APR
1949
-
Commissioned: 4 APR 1949
MAY
1955
-
OCT
1955
West Pac
JUL
1960
-
AUG
1960
West Pac
JAN
1968
-
JUL
1968
West Pac - Viet Nam
NOV
1968
-
FEB
1969
Dry Dock
MAY
1969
-
MAY
1969
Panama Canal
AUG
1970
-
Shellback Initiation - 16 AUG 1970 - Atlantic Ocean
AUG
1970
-
DEC
1970
UNITAS
NOV
1970
-
NOV
1970
Panama Canal
NOV
1971
-
MAR
1972
Dry Dock
AUG
1972
-
Decommissioned: 18 AUG 1972
AUG
1973
-
Shellback Initiation - 24 AUG 1973 - Atlantic Ocean
SS-524 General Specifications
Class: Tench-class submarine
Complement: 10 Officers and 75 Enlisted
Displacement: 1870 tons
Length: 307 feet
Beam: 27 feet 4 inches
Draft: 17 feet
Range: 15 000 Nautical Miles
Final Disposition: Transferred to Italy 18 August 1972
USS PICKEREL (SS-524)
The second Pickerel (SS-524) was laid down by the Boston Naval Shipyard 8 February 1944; launched without christening ceremony 15 December 1944; sponsored by Mrs. John R. Moore; christened and commissioned at the Portsmouth Navy Shipyard, N.H., 4 April 1949, Lt. Comdr. Paul R. Schratz in command.


After sea trials, Pickerel departed New London, Conn. 10 August, and headed for Hawaii via East and Gulf coast ports, and the Panama Canal and arrived Pearl Harbor 28 September where she joined SubDiv 11.


From 16 March to 5 April 1950, Pickerel completed a 5,200 mile voyage from Hong Kong to Pearl Harbor in 21 days while completely submerged, probably the longest distance ever traveled by a submerged diesel-electric submarine. During her first deployment in the Western Pacific in 1950, Pickerel spent 4 months in the Korean War Zone, one of the first submarines to enter the Korean Conflict.


Returning to Pearl Harbor in the spring of 1951, Pickerel operated in the Hawaiian area undergoing tests of maximum capabilities, and conducting intensive training until she returned to the Far East in July 1953.


Upon returning to Hawaii early in 1954, Pickerel resumed services for our aircraft and surface anti-submarine forces there and, but for overhaul, continued this important duty until returning to the Western Pacific in June 1955. She returned to Hawaii 1 December.


Pickerel alternated North Pacific with WestPac duty through 1963 with the exception of a conversion period during 1962 for Guppy modernization.


Pickerel operated out of Pearl Harbor during 1964 until 28 December, when she departed enroute Yokosuka to begin a WestPac tour as a unit of the 7th Fleet. In the years that followed, she continued this pattern of alternating services in Hawaii with deployments in the Far East. In the fall of 1966 her duties in WestPac were broadened to include operations in the Vietnam combat zone on Yankee Station.


After a year in Hawaiian waters, Pickerel headed west once more on 16 January 1968. She visited various ports of the Orient before returning to Yankee Station 8 May. Following service in the Combat Zone, she reached Pearl Harbor via Japan 8 July. Her home port was changed to San Diego 1 August and she headed for the West Coast 22 August.


Into 1970 Pickerel continues in Pacific operations providing a vital service to the U.S. Navy.


[Note: The above USS PICKEREL (SS-524) history may, or may not, contain text provided by crew members of the USS PICKEREL (SS-524), or by other non-crew members, and text from the Dictionary of American Naval Fighting Ships]