For RATING SHIRTS - Click on your Rating Abbreviation below: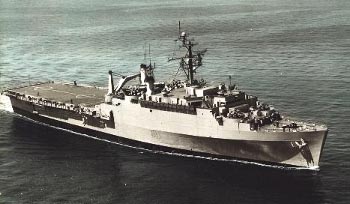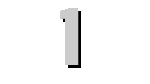 U.S.S. RALEIGH
(LPD-1)

BE FLEXIBLE
Click to view crew list
The USS RALEIGH (LPD-1), a Raleigh class amphibious transport dock, was commissioned on 8 SEP 1962. USS RALEIGH served her country for 29 years, 3 months and 5 days, until decommissioned on 13 DEC 1991. After fit out, USS RALEIGH sailed to Guantanamo Bay for shake down training. A return to the ship yard for a piping retro-fit interrupted the Guantanamo Bay training, however she return to Guantanamo Bay and completed REFTRA in April 1963. As the first of a new class of "Landing Platform Dock Ships", she had the designed capability to support helicopter borne troop and cargo deployment. In July 1963, RALEIGH, home ported in Norfolk, began her assigned duties, deploying to the North Atlantic, Caribbean, Mediterranean, and on in to the Indian Ocean, as needed. Her service career ended with her decommissioning in December 1991. USS RALEIGH was sunk in a Fleet exercise in December 1994.

The USS RALEIGH (LPD-1) deployment history and significant events of her service career follow:
LPD-1 Deployments - Major Events
Add a LPD-1 Shellback Initiation
Add a LPD-1 Deployment - Major Event
Month
Year
to
Month
Year
Deployment / Event
JUN
1960
-
Keel Date: 23 JUN 1960
at New York Naval Shipyard
MAR
1962
-
Launch Date: 17 MAR 1962
SEP
1962
-
Commissioned: 8 SEP 1962
APR
1963
-
JUN
1963
Caribbean
SEP
1964
-
NOV
1964
Operation STEELPIKE I Huelva Spain
OCT
1964
-
NOV
1964
North Atlantic
APR
1965
-
JUN
1965
Caribbean
APR
1965
-
JUN
1965
Dominican Republic Intervention Santo Domingo DR
SEP
1965
-
OCT
1965
Blue Nose - Arctic Circle
SEP
1965
-
NOV
1965
Operation BARFROST -NATO Norway
AUG
1967
-
Shellback Initiation - 26 AUG 1967 - Atlantic Ocean
DEC
1967
-
MAR
1968
Caribbean
SEP
1968
-
OCT
1968
Panama Canal
JUN
1969
-
OCT
1969
Dry Dock
JUN
1969
-
JUL
1969
North Atlantic
JUL
1970
-
DEC
1970
Mediterranean
JAN
1972
-
JAN
1972
North Atlantic
FEB
1972
-
AUG
1972
Mediterranean
NOV
1973
-
JUN
1974
Mediterranean
JAN
1976
-
AUG
1976
Mediterranean
SEP
1976
-
NOV
1976
North Atlantic
MAR
1977
-
JUN
1977
Cuban Missle Blockade
OCT
1977
-
MAR
1978
Mediterranean
SEP
1978
-
NOV
1978
North Atlantic
JUL
1980
-
Shellback Initiation - 22 JUL 1980 - Atlantic Ocean
JUL
1980
-
Shellback Initiation - 22 JUL 1980 - Atlantic Ocean
AUG
1981
-
FEB
1982
Mediterranean-Indian Ocean
OCT
1982
-
DEC
1982
North Atlantic
JAN
1983
-
JUN
1983
Mediterranean-Lebanon
JAN
1983
-
DEC
1983
Mediterranean-Lebanon
JAN
1983
-
JUN
1983
North Atlantic
MAR
1983
-
SEP
1983
Mediterranean
OCT
1983
-
DEC
1983
Caribbean
JAN
1984
-
APR
1984
Blue Nose - Arctic Circle
JUN
1985
-
Shellback Initiation - 10 JUN 1985 - Atlantic Ocean
SEP
1986
-
MAR
1987
North Atlantic-Med-Indian Ocean
OCT
1986
-
DEC
1986
Blue Nose - Arctic Circle
MAY
1987
-
NOV
1987
Mediterranean-Indian Ocean-Persian Gulf
MAY
1987
-
NOV
1987
Operation Ernest Will
JUN
1987
-
JUN
1987
Mediterranean-Indian Ocean-Persian Gulf
SEP
1988
-
MAR
1989
pursian Gulf
AUG
1990
-
MAY
1991
Desert Shield
SEP
1990
-
MAY
1991
Desert Storm/Shield
SEP
1990
-
APR
1991
Desert Storm
JUN
1991
-
AUG
1991
Boston/Halifax Nova Scotia
DEC
1991
-
Decommissioned: 13 DEC 1991
LPD-1 General Specifications
Class: Raleigh-class amphibious transport dock
Named for: Raleigh
Complement: 490 Officers and Enlisted
Displacement: 13600 tons
Length: 522 feet
Beam: 100 feet
Flank Speed: 20 knots
Final Disposition: Disposed of as a target 4 December 1994
USS RALEIGH (LPD-1)
The fourth Raleigh (LPD-1) an amphibious transport dock was laid down by the New York Naval Shipyard Brooklyn N.Y. 23 June 1960; launched 17 March 1962; sponsored bv Mrs. Terrv Sanford wife of the Governor of North Carofma; and commissioned 8 September 1962 Capt. A. W. Whitney in command.
After fitting out through mid-December Raleigh steamed to to Norfolk VA. for the holiday season. Im January 1963 she steamed for shakedown to Guantanamo Bay Cuba but returned to the building yard in late February for correction of design defeficiencies in her aviation gasoline system. Returning to Guantanamo in April she completed shakedown then assisted Commander Amphibious Force Atlantic in hosting the Navy League national convention in San Juan P.R.
Returning to Norfolk 1 June Raleigh completed a week's amphibious training at Little Creek and then deployed to the Caribbean in July with Amphibious Squadron 8. Raleigh proved herself during this dedlovment by simultaneously landing troops and equipment by means of boats and amphibious vehicles from her well and by helicopters from her flight deck. During th is cruise she made one trip to Haiti as tension there rose.
Raleigh returned to Norfolk 1 October and then underwent post-shakedown availability at New York 7 January 1964 through 13 March. During the spring she conducted amphibious training operations off Onslow Beach N.C. Steaming for Europe 12 October Raleigh arrived off the coast of Spain and took part in Operation "Steel Pike." She then called at Oporto, Portugal, and Vigo, Spain before returning to Norfolk 27, November. After a yard period at the U.S. Naval Shipyard Portsmouth Va. she deployed to the Caribbean 1 April 1965 with the Amphibious Ready Squadron. From 25 April through 6 June she operated off the Dominican Republic evacuating 558 refugees who were later transferred to Yancey (LKA-93) for transit to San Juan. For her part in the endeavor Raleigh and her crew received the Armed Forces Expeditionary Medal. She returned to Norfolk 29 June.
After upkeep and coastal training operations Raleigh steamed for northern Europe 27 August to participate in "Bar Frost 65 " a NATO amphibious exercise featuring a landing in Norway's fjords north of the Arctic Circle. Returning to Norfolk 23 October she underwent a yard period through 4 April 1966 and then steamed for refresher training at Guantanamo Bay.
Raleigh's deployments to the Caribbean from Norfolk as a unit of the Amphibious Ready Squadron averaged two per year up until 1970. In July of that year she began the first of a series of Mediterranean cruises and has averaged one a year into 1974.


[Note: The above USS RALEIGH (LPD-1) history may or may not contain text provided by crew members of the USS RALEIGH (LPD-1) or by other non-crew members and text from the Dictionary of American Naval Fighting Ships]