For RATING SHIRTS - Click on your Rating Abbreviation below: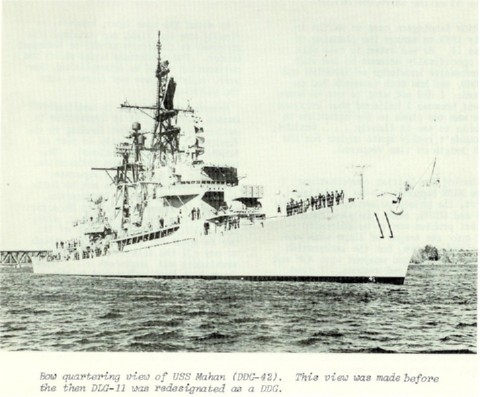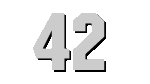 U.S.S. MAHAN
(DDG-42)

PAX PER MARIS POTESTATUM
(PEACE THROUGH SEAPOWER)
Click to view crew list
USS MAHAN (DDG-42) - a Farragut-class guided missile destroyer
In Commission 1960 to 1993
DDG-42 Deployments - Major Events
Add a DDG-42 Shellback Initiation
Add a DDG-42 Deployment - Major Event
Month
Year
to
Month
Year
Deployment / Event
JUL
1957
-
Keel Date: 31 JUL 1957
at San Francisco Naval Shipyard
OCT
1959
-
Launch Date: 7 OCT 1959
DEC
1960
-
Commissioned: 25 DEC 1960
JAN
1976
-
JUL
1976
Mediterranean-Lebanon
JUL
1977
-
DEC
1977
UNITAS XVIII
AUG
1977
-
Shellback Initiation - 20 AUG 1977 - Atlantic Ocean
APR
1978
-
AUG
1978
UNITAS
JUL
1979
-
DEC
1979
Mediterranean
JAN
1980
-
SEP
1981
Converted from DLG-11 to DDG-42 at PNSY
FEB
1982
-
MAY
1982
North Atlantic
APR
1983
-
NOV
1983
Mediterranean-Lebanon
NOV
1983
-
Shellback Initiation - 10 NOV 1983 - Atlantic Ocean
AUG
1985
-
APR
1986
Mediterranean
AUG
1985
-
APR
1986
Mediterranean
SEP
1986
-
AUG
1987
Dry Dock
SEP
1986
-
AUG
1987
Regular Overhaul
DEC
1987
-
JAN
1988
Guantanamo Bay
JUN
1989
-
DEC
1989
STANAVFORLANT
SEP
1991
-
APR
1992
Desert Storm
JUN
1993
-
Decommissioned: 15 JUN 1993
DDG-42 General Specifications
Class: Farragut-class guided missile destroyer
Complement: 21 Officers and 356 Enlisted
Displacement: 5800 tons
Length: 512.5 feet
Beam: 52 feet
Draft: 25 feet
Range: 4500Nautical Miles
Final Disposition: Disposed of by scrapping18 May 2004
USS MAHAN (DDG-42)
The third Mahan (DLG-11) was laid down 31 July 1957 by the San Francisco Naval Shipyard; launched 7 October 1969; sponsored by Mrs. H. P. Smith wife of Vice Adm. H. Page Smith; and commissioned 25 August 1960 Comdr. Wm. S. Busik in command.
During the first year and a half of her commissioned service Mahan's primary assignment was the testing and evaluation of her weapons systems ASROC and Terrier missiles. A unit of the Pacific Fleet's Cruiser-Destroyer Force she operated out of San Dieg o participating in local and fleet exercises off the west coast and in Hawaiian waters. Leaving San Diego 6 June 1962 she commenced her first western Pacific deployment. For the nest 6 months she cruised with other units of the 7th Fleet taking part in antisubmarine antiaircraft and amphibious exercises as well as making good will calls on ports in the Far East. Included in these latter visits was a stop at Saigon 24 to 28 October for the Republic of Vietnam's Independence anniversary celebrations.
1963 brought Mahan's entrance into the standard schedule of the Pacific Fleet beginning with a shipyard overhaul at Long Beach Naval Shipyard. Following her yard period she conducted training exercises off the west coast She then departed San Die go 6 August for deployment in the western Pacific. In addition to assignments in Japanese and Philippine waters she spent on this tour a total of 4 weeks cruising off South Vietnam before returning to California 10 March 1964.
Remaining on the west coast until late 1965 the guided missile frigate underwent a 5-month overhaul 1 May to 20 October followed by test and training exercises and a demonstration of her antisubmarine warfare capabilities before members of the United S tates-Canadian Military Cooperation Committee 9 December. During the summer of 1965 she embarked midshipmen from the Naval Academy and various NROTC units for summer training. Departing San Diego 19 October she sailed to Pearl Harbor for antisubmarine t raining operations and then continued on to the western Pacific arriving at Subic Bay 22 November. Mahan operated with the 7th Fleet spending alternate monthly periods on patrol off Vietnam until returning to California in April 1966.
Upon arrival at San Diego 28 April Mahan continued her previous west coast activities local and fleet training operations missile firing exercises at the Pacific Missile Range and as during the summer of 1965 the training of midshipmen during June and July. August brought the installation of a helicopter flight deck.
The period 1 December 1966 through 4 June 1967 again saw Mahan In the western Pacific where as before she operated off Vietnam patrolling and providing gunfire support in the fight to prevent the aggressive spread of communism. Arriving back at San Diego 17 June Mahan sailed on 31 July to represent the Navy at Seattle's annual Sea Fair. Following further coastal operations she entered Long Beach Naval Shipyard 1 November for overhaul. This was completed late in April 1968 and Mahan remained off the west coast until departing for the western Pacific in August. She remained as a part of the 7th Fleet into 1969.


[Note: The above USS MAHAN (DDG-42) history may or may not contain text provided by crew members of the USS MAHAN (DDG-42) or by other non-crew members and text from the Dictionary of American Naval Fighting Ships]