For RATING SHIRTS - Click on your Rating Abbreviation below:
Click on your Rating abbreviation above: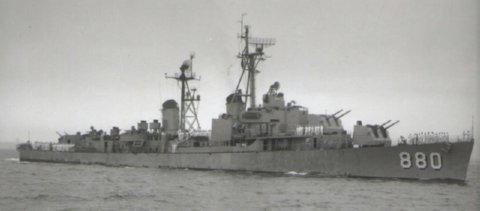 U.S.S. DYESS
(DD-880)

STEAMIN DEMON
Click to view crew list
USS DYESS (DD-880) - a Gearing class destroyer
In Commission 1945 to 1981
DD-880 Deployments - Major Events
Add a DD-880 Shellback Initiation
Add a DD-880 Deployment - Major Event
Month
Year
to
Month
Year
Deployment / Event
AUG
1944
-
Keel Date: 17 AUG 1944
at Charleston Navy Yard N. Charleston SC
JAN
1945
-
Launch Date: 26 JAN 1945
MAY
1945
-
Commissioned: 21 MAY 1945
SEP
1947
-
Shellback Initiation - 11 SEP 1947 - Atlantic Ocean
OCT
1962
-
OCT
1962
Cuban Missle Blockade
MAY
1963
-
OCT
1963
Mediterranean-Lebanon
MAR
1965
-
MAY
1965
Guantanamo Bay
JAN
1966
-
AUG
1966
West Pac
JAN
1966
-
AUG
1966
West Pac
JUL
1966
-
Shellback Initiation - 9 JUL 1966 - Pacific Ocean
JUL
1966
-
Shellback Initiation - 9 JUL 1966 - Pacific Ocean
AUG
1966
-
Shellback Initiation - 9 AUG 1966 - Pacific Ocean
JAN
1967
-
JUL
1967
Mediterranean-Indian Ocean-Persian Gulf
MAY
1967
-
SEP
1967
Med-Mid-East Cruise
JUL
1967
-
SEP
1967
Mediterranean-Indian Ocean
AUG
1967
-
Shellback Initiation - 9 AUG 1967 - Indian Ocean
NOV
1968
-
Shellback Initiation - 12 NOV 1968 - Pacific Ocean
MAY
1970
-
OCT
1970
Blue Nose - Arctic Circle
JUN
1970
-
OCT
1970
Blue Nose - Arctic Circle
APR
1971
-
APR
1971
Regular Overhaul
JAN
1978
-
JUL
1981
New York Harbor Home Port prior to decommission
JAN
1981
-
Decommissioned: 27 JAN 1981
DD-880 General Specifications
Named for: Aquilla J. Dyess
Complement: 336 Officers and Enlisted
Displacement: 2616 tons
Length: 390.6 feet
Beam: 40.10 feet
Draft: 14.4 feet
Range: 4 500 Nautical Miles
Final Disposition: Sold to Greece for spare parts 8 July 1981
USS DYESS (DD-880)
Dyess (DD-880) was launched 26 January 1945 by Consolidated Steel Corp. Orange Tex.; sponsored by Mrs. A. J. Dyess widow of Lieutenant Colonel Dyess; and commissioned 21 May 1945 Commander R. L. Fulton in command. She was reclassified DDR-880 18 March1949
After her shakedown cruise and conversion to a radar picket destroyer Dyess sailed from Norfolk 7 November 1945 to join the 6th Fleet at Tokyo Bay 19 December for occupation duty in the Far East. She returned to San Diego 16 December 1946 and on 6 January 1947 got underway for the east coast arriving at Norfolk 23 January. She served in local training cruises until August of that year when she sailed to Rio de Janeiro Brazil to escort President H. S. Truman embarked in Missouri ( BB-63) as far as Norfolk when he transferred to the Presidential yacht Williamsburg (AGC-9) which Dyess escorted to Washington D.C.
Dyess arrived at Newport R.I. 27 September 1947 for local training operations. After a tour of duty with the 6th Fleet in the Mediterranean from 29 October to 14 February 1948 she returned to her home port of Norfolk. Until the end of 1958 Dyess made nine tours of duty with the 6th Fleet in the Mediterranean patrolling to preserve peace and engaging in exercises with NATO forces. She also sailed on two midshipman cruises one to southern Europe in the summer of 1948 and one to Halifax Nova Scotia in the summer of 1951. The remainder of her service has been as varied as her capabilities. She has acted as plane guard during the qualifying of pilots in carrier operations and has joined in hunter-killer exercises amphibious training and large-scale fleet exercises. She assisted in the evacuation of American nationals from Suez during the tense situation which developed during her 1956 Mediterranean cruise. In the summer of 1958 she joined in strengthening the free world's defenses with NATO operations in northern Europe.
Dyess operated along the east coast and off Cuba in 1959 and on 25 July arrived at Charleston S.C. her new home port. On 29 January 1960 she sailed on her tenth deployment to the Mediterranean.
Dyess returned to Charleston S.C. in August and in October entered Charleston Naval Ship Yard where she remained until the end of 1960.


[Note: The above USS DYESS (DD-880) history may or may not contain text provided by crew members of the USS DYESS (DD-880) or by other non-crew members and text from the Dictionary of American Naval Fighting Ships]