For RATING SHIRTS - Click on your Rating Abbreviation below:
Click on your Rating abbreviation above: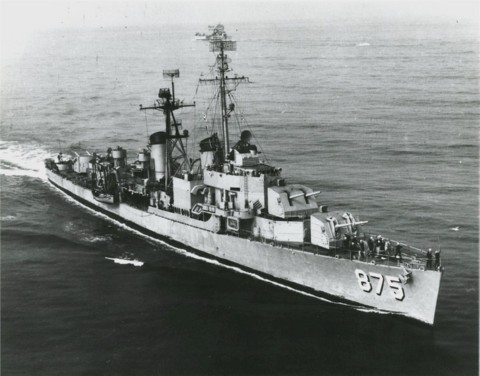 U.S.S. HENRY W. TUCKER
(DD-875)

HAVE GUN WILL TRAVEL
Click to view crew list
USS HENRY W. TUCKER (DD-875) - a Gearing-class destroyer
In Commission 1945 to 1973
DD-875 Deployments - Major Events
Add a DD-875 Shellback Initiation
Add a DD-875 Deployment - Major Event
Month
Year
to
Month
Year
Deployment / Event
MAY
1944
-
Keel Date: 29 MAY 1944
at Consolidated Steel Corporation Orange TX
NOV
1944
-
Launch Date: 8 NOV 1944
MAR
1945
-
Commissioned: 12 MAR 1945
APR
1945
-
JUL
1946
Middle Pacific
APR
1945
-
JUL
1945
North Atlantic
JUN
1952
-
Shellback Initiation - 6 JUN 1952 - Pacific Ocean
NOV
1957
-
MAY
1958
West Pac
DEC
1957
-
Shellback Initiation - 6 DEC 1957 - Pacific Ocean
JAN
1959
-
MAY
1962
West Pac
MAY
1964
-
AUG
1966
West Pac-Viet Nam
JUN
1965
-
Shellback Initiation - 5 JUN 1965 - Indian Ocean
JUN
1967
-
DEC
1967
West Pac-Viet Nam
JUL
1968
-
SEP
1968
West Pac-Viet Nam
JUL
1968
-
AUG
1970
West Pac-Viet Nam
SEP
1968
-
DEC
1969
West Pac-Viet Nam
AUG
1969
-
Shellback Initiation - 8 AUG 1969 - Pacific Ocean
AUG
1969
-
Shellback Initiation - 8 AUG 1969 - Pacific Ocean
JUN
1971
-
JAN
1972
West Pac-Viet Nam
NOV
1971
-
Shellback Initiation - 27 NOV 1971 - Pacific Ocean
NOV
1971
-
NOV
1971
North Atlantic-Med-Indian Ocean
JUN
1972
-
JAN
1973
West Pac-Viet Nam
JUN
1972
-
JAN
1973
West Pac-Viet Nam
DEC
1972
-
Shellback Initiation - 12 DEC 1972 - Pacific Ocean
DEC
1973
-
Decommissioned: 3 DEC 1973
DD-875 General Specifications
Class: Gearing-class destroyer
Complement: 367 Officers and Enlisted
Displacement: 2425 tons
Length: 390.5 feet
Beam: 41.07 feet
Draft: 18.5feet
Final Disposition: Sunk as target 19 September 1994
USS HENRY W. TUCKER (DD-875)
Henry W. Tucker (DD-875) was launched 29 May 1944 by the Consolidated Steel Corp.. Orange Tex.; sponsored by Mrs. Henry Walton Tucker mother of the late Pharmacist's Mate Third Class Henry W. Tucker and commissioned 12 March 1945 Comdr. Bernard H. Meyer in command.
After shakedown Henry W. Tucker was converted to a radar picket destroyer and participated in radar and antiaircraft exercises off the Maine coast until sailing for Pearl Harbor 4 November. From the Hawaiian islands she continued to Yokosuka arriving 22 December to aid in the occupation of Japan and repatriation of Japanese nationals. Her first tour of duty in the Far East ended 25 March 1946 as she set course for her new homeport San Diego. In the next 3 years Henry W. Tucker made two more such cruises alternating them with tactical exercises and operations along the east coast. In March and April 1948 the destroyer patrolled off Eniwetok in connection with United States atomic tests in the Pacific islands. She was reclassified DDR-875 18 March 1949.
Undergoing overhaul at the time Communist troops launched their attack on South Korea in June 1950 Henry W. Tucker speeded up preparations and joined the fleet operating off Korea in November. After 5 months of hunter-killer and patrol operations she joined the screen for Task Force 77 a fast carrier force whose jets struck hard and often at enemy supply lines and troop concentrations. The destroyer also participated in shore bombardment and landed several raiding and intelligence parties on the western coast of the war-torn peninsula. On 28 June 1951 as she steamed into Wonsan Harbor Henry W Tucker was hit by six enemy shells. Two men were injured and extensive damage was done to her radar gear but the destroyer's return fire effectively silenced enemy shore batteries. Returning to San Diego 8 August Henry W. Tucker engaged in intensive training exercises before returning to Korea to join TF-77 off the east coast 25 March 1952. Screening and plane guard duty with the fast carrier force alternated with ASW patrol and shore bombardment duties until she sailed for home 13 September.
Henry W Tucker entered the Mare Island Naval Shipyard for installation of the newest radar equipment in September emerging 14 April 1953. Her new duties centered primarily on the detection of enemy attack through extensive radar coverage were to take her on eight more WesPac cruises in the next 10 years. In addition to the lonely patrols along the radar picket line. Henry W. Tucker also patrolled the important Formosa Straits and the Korean coast. When not deployed with the 7th Fleet the radar picket destroyer participated in tactical training exercises and fleet maneuvers out of her San Diego homeport. Streaming her homeward bound pennant at Yokosuka 2 November 1962 Henry W. Tucker sailed for Boston via Pearl Harbor San Diego Acapulco and the Panama Canal. She reached the Naval Shipyard there 13 December to begin fleet rehabilitation and modernization overhaul designed to lengthen her life as an active member of the fleet by 10 to 15 years. While undergoing modernization she was reclassified DD-875 on 15 March 1963. The FRAM overhaul was completed 4 December 1963 and Henry W. Tucker began a program of intensive training until 26 May when she departed for the western Pacific and a station on the Taiwan Patrol. Almost immediately she was diverted to the South China Sea where the 7th Fleet brought swift power to bear in answer to continued communist aggression.
Tucker alternated between antisubmarine patrol off Vietnam and off Taiwan until April 1965 when she joined Operation "Market Time " a close surveillance of Vietnamese coastal traffic to prevent the shipment of supplies to the Viet Cong on the South Vietnamese coast. On 16 May the veteran destroyer pounded Viet Cong coastal concentrations southeast of Saigon and thus became the first U.S. ship to provide naval gunfire support against enemy targets in South Vietnam. During the next 14 months she continued her varied but important assignments against Communist aggression.
She provided gunfire support for ground operations dozens of times; and during a 40 day Period in August and September fired over 5 000 rounds from her 5-inch guns destroying or damaging numerous enemy positions. In addition to "Market Time" patrols she screened hard hitting attack carriers in the South China Sea and the Gulf of Tonkin and served us a search and rescue control ship to recover downed pilots at sea. This vital duty sent her close to enemy-controlled shores; however joined by daring SAR helicopters which refueled and replenished from the destroyer while in flight she provided maximum protection for planes returning from strikes over North Vietnam. She refueled more than 80 helicopters while on SAR assignments. Known as "Tuck's Tavern" to the brave "chopper" pilots she became the first destroyer 6 November to refuel an in-flight helicopter at night. Coordinated training with these versatile aircraft paid off 26 June 1966 when two pilots from Constellation (CVA-64) and Ranger (CVA-61) were plucked from the sea less than 3 miles from the North Vietnamese coast and carried to Henry W. Tucker.
After more than 2 years of almost continuous duty off Vietnam Henry W. Tucker returned to Long Beach early in August. Following a 4-month overhaul and intensive training out of San Diego and Long Beach she deployed to the Far East in June 1967. She resumed carrier screening duty late in July; and following the disastrous fire on board Forrestal 29 July she took part in survivor rescue and escort operations. As the conflict in South Vietnam continued in 1967 Henry W. Tucker a battle-tested veteran of two struggles against Communist aggression in the Far East remained "on the line" ready to meet the challenge of new assignments efficiently effectively and with dispatch.
Henry W. Tucker was awarded seven battle stars for her participation in the Korean conflict.


[Note: The above USS HENRY W. TUCKER (DD-875) history may or may not contain text provided by crew members of the USS HENRY W. TUCKER (DD-875) or by other non-crew members and text from the Dictionary of American Naval Fighting Ships]