For RATING SHIRTS - Click on your Rating Abbreviation below:
Click on your Rating abbreviation above: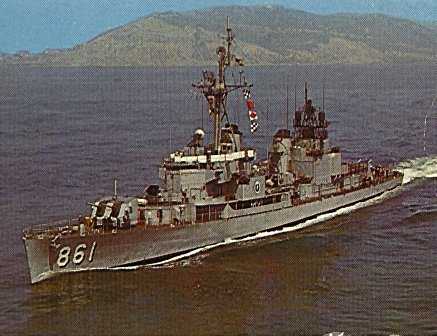 U.S.S. HARWOOD
(DD-861)

HAPPY HARWOOD
Click to view crew list
USS HARWOOD (DD-861) - a Gearing-class destroyer
In Commission 1945 to 1971
DD-861 Deployments - Major Events
Add a DD-861 Shellback Initiation
Add a DD-861 Deployment - Major Event
Month
Year
to
Month
Year
Deployment / Event
JAN
1944
-
JAN
1946
West Pac
OCT
1944
-
Keel Date: 29 OCT 1944
at Bethlehem Shipbuilding Corporation San Pedro CA
MAY
1945
-
Launch Date: 22 MAY 1945
SEP
1945
-
Commissioned: 28 SEP 1945
JUN
1950
-
AUG
1950
North Atlantic
JAN
1956
-
Shellback Initiation - 20 JAN 1956 - Pacific Ocean
OCT
1962
-
OCT
1962
Cuban Missle Blockade
SEP
1963
-
DEC
1963
Naples Italy
MAR
1966
-
NOV
1966
Mediterranean-Indian Ocean-Persian Gulf
JUN
1967
-
DEC
1967
Mediterranean
APR
1968
-
DEC
1968
West Pac-Viet Nam
APR
1968
-
DEC
1968
West Pac
APR
1970
-
NOV
1970
Mediterranean
FEB
1971
-
Decommissioned: 1 FEB 1971
DEC
1971
-
DEC
1971
Turned over to the Turkish Navy December 1971
DD-861 General Specifications
Class: Gearing-class destroyer
Complement: 336 Officers and Enlisted
Displacement: 3460 tons
Length: 390 feet 6 inches
Beam: 40 feet 10 inches
Draft: 14 feet 4 in
Range: 4 500 Nautical Miles
Final Disposition: Sunk in error by Turkish aircraft 22 July 1974
USS HARWOOD (DD-861)
Harwood (DD-861) was launched 22 May 1945 by the Bethlehem Steel Co. San Pedro Calif. sponsored by Mrs. Bruce Lawrence Harwood widow of the late Commander Harwood and commissioned 2S September 1945 Comdr. Reid P. Fiala in command.
After shakedown along the California coast Harwood Joined the 7th Fleet in Chinese waters. In addition to aiding in the occupation of Japan the destroyer also participated in fleet and antisubmarine exercises before returning to San Diego 21 February 1947. Harwood entered the Mare Island shipyard after a second WestPac cruise in January 1949 to be equipped with the latest antisubmarine equipment. Redesignated DDE-861 4 March 1950 the escort destroyer reported to her new home port Newport R.I. 11 September 1949 to participate in research on cold weather ASW operations as well as fleet and training exercises. Departing Norfolk in late August Harwood made her first Mediterranean cruise with the 6th Fleet and returned to the States 10 November 1950.
Subsequent years fell into a pattern for Harwood as to maintain her-battle readiness and stress America's commitment to the defense of democracy she engaged in varied training maneuvers and made yearly cruises to the Mediterranean. Harwood sailed 4 January 1957 for a 3-month ASW demonstration which took her along the South American coast to Colombia Ecuador Peru Chile Panama and Cuba. Entering the New York Navy Yard 2 May 1961 Harwood underwent a Fleet Rehabilitation and Modernization (FRAM) overhaul. Her bridge was totally reconstructed new types of torpedo tubes were installed and the 3-inch antiaircraft guns were removed to accommodate a hangar and launching deck for DASH an antisubmarine helicopter. Departing the yard 2 February 1962 Harwood sailed to her home port Mayport Fla. and from there to the Caribbean. When the Cuban crisis erupted in October 1962 Harwood was ready and sailed with 4 hours notice to join the blockading fleet "quarantining" the Communist island. Redesignated DD-861 on 1 July 1963 she returned Mayport 2 November.
Harwood sailed for the Mediterranean 6 August and provided ASW service during Exercise "Riptide IV" en route. She transited the Straits of Gibraltar on the 22d for intense periods of AAW ASW and BCM exercises in the Med. Returning home 23 December the destroyer operated along the Atlantic coast until getting under way 31 March 1964 for a brief visit to Brazil. She arrived Annapolis 1 June embarked midshipmen and sailed for Europe. She visited Norway Belgium France and England before debarking the "Middies" at Norfolk.
In April 1965 she began overhaul and alterations at Norfolk which turned out to be a major face lifting. On 22 August she returned to Mayport en route to Guantanamo Bay Cuba for refresher training. She operated along the coast of the Southern states until departing Mayport 22 July 1966 for the Mediterranean deployment. On this tour she transited the Suez Canal and visited Aden and Kenya before rejoining the 6th Fleet in the Med 2 November.
Harwood returned home 17 December. She operated out of Newport off the New England coast until sailing for her 10th Mediterranean deployment 29 June 1967. Reaching Rota Spain 10 July Harwood soon joined the 6th Fleet an element of stability in the ancient and volatile sea which had so recently been churned by the Arab war with Israel.


[Note: The above USS HARWOOD (DD-861) history may or may not contain text provided by crew members of the USS HARWOOD (DD-861) or by other non-crew members and text from the Dictionary of American Naval Fighting Ships]