For RATING SHIRTS - Click on your Rating Abbreviation below: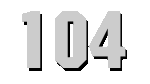 U.S.S. MUNDA
(CVU-104)


Click to view crew list
USS MUNDA CVU 104
USS Munda was originally classified as CVE-104. She was a Casablanca-class aircraft carrier built and active toward the end of World War II, for which she earned one battle star. She was a member of the Pacific Fleet, adding her power to the end of a successful war and important naval struggles against the Japanese fleet. Highlights of her service are as follows:
Munda began her duties as a transport carrier, ferrying cargo and personnel back and forth across the Pacific Ocean. She visited ports at Espiritu Santo, Finschafen, Manus, and Eniwetok. She supplied planes, pilots, and equipment to other ships in the naval task forces.
As part of Task Force 38, the carrier again supplied her sisters while planes blasted Japanese targets in the Pacific. Task Force 38 consisted of three groups ("Taffy" 1-3) which won one of the most important naval battles in history, the Battle for Leyte Gulf, in the Philippines.
After a brief stint of occupation duty once hostilities ended, Munda then reported for Operation "Magic Carpet" duty, in which she made repeated trips across the ocean to bring American troops home after the war.
USS Munda also bore the following hull classifications:

She was sold for scrap in 1960.
CVU-104 Deployments - Major Events
CVU-104 General Specifications