For RATING SHIRTS - Click on your Rating Abbreviation below: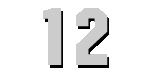 U.S.S. COPAHEE
(CVHE-12)


Click to view crew list
USS Copahee was classified thrice before becoming CVHE-12, known originally as AVG-12, ACV-12, and then CVE-12 in 1955. The ship was commissioned in June of 1942 and sailed from Alameda to Noumea on her maiden voyage. She was responsible for transport and replenishment, but then was used in October to launch 20 marine fighter planes for the Henderson Field operation. She was returned to San Diego for overhaul, and trained at Pearl Harbor after that.
In February of 1943, Copahee was returned to transport duty and carried personnel and aircraft to Fiji, New Hebrides, New Caledonia, and the Hawaiian Islands, which she did until June of that year.
During the later part of 1943 and early 1944, the USS Copahee made two transport cruises to Townsville and Brisbane, Australia, as well as one mission to Pearl Harbor. The ferry cruises continued in April of that year, including one to Pearl Harbor and then to Majuro. After that, she supported the Marianas operation with replacement pilots and aircraft, and then brought confiscated Japanese equipment to the U.S.
She was overhauled and then returned to transport cruises through the end of the war, including bring troops home after the war. She was decommissioned at Tacoma and placed in reserve in 1946, receiving one battle star for her service in WWII.
CVHE-12 Deployments - Major Events
CVHE-12 General Specifications