For RATING SHIRTS - Click on your Rating Abbreviation below: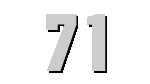 U.S.S. KITKUN BAY
(CVE-71)


Click to view crew list
USS Kitkun Bay (CVE-71) was a Casablanca-class aircraft carrier that was awarded the Presidential Unit citation and six battle stars for her role in World War II. She was built in 1943 and also classified as AVG-71 and ACV-71. She was part of the Pacific Fleet, and her most noteworthy operations were in the Battle of Leyte Gulf and in serving as escort to the admiral who would receive the Japanese surrender.
The Battle of Leyte Gulf
This epic battle, in which the allies were decidedly victorious, was one of the largest naval battles in history and by most accounts the largest in World War II.
On Oct. 20, 1944, her planes were launching strikes against the Japanese off the coast of Leyte, in the Philippine Islands, when Kitkun Bay and her Task Force, "Taffy 3," were targeted by the Japanese Center Force. In a battle that lasted more than two hours, the carrier lost two planes and their crews, but miraculously avoided direct hits until a retaliation period, in which she was crashed by a Zeke. One of her crew was killed and sixteen wounded during that attack.
Aftermath
Kitkun Bay was damaged near the Suriago Straits during air attacks when preparing for the invasion of Luzon. Sixteen were killed and thirty-seven wounded.
In September, 1945, the carrier escorted Admiral F.J. Fletcher, who would receive the formal Japanese surrender. She also took care of American POWs, transporting food and prisoners. Kitkun Bay was sold for scrap in 1947.
CVE-71 Deployments - Major Events
CVE-71 General Specifications
Class: Casablanca-class escort carrier
Complement: 860 Officers and Enlisted
Displacement: 7800 tons
Length: 512 feet 3 inches
Beam: 65 feet 2 inches
Draft: 22 feet 6 in
Range: 10 240 Nautical Miles
Final Disposition: Sold for scrap 18 November 1946