For RATING SHIRTS - Click on your Rating Abbreviation below:
Click on your Rating abbreviation above: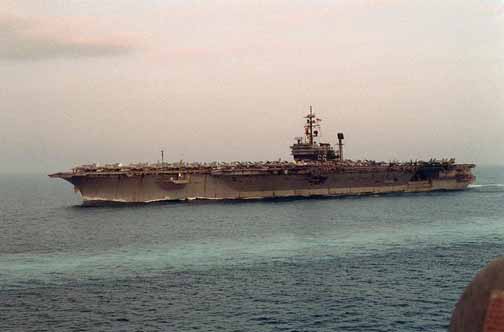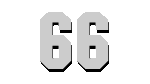 U.S.S. AMERICA
(CV-66)

DONT TREAD ON ME
Click to view crew list
USS America is the third naval ship to be named such. The aircraft carrier was built at Newport News, Virginia, and was commissioned on Jan. 23, 1965. The ship made her first two cruises to the Mediterranean. On her second voyage, the Six Day War broke out. America provided aid and support during this time. After this, the ship was deployed three times to support combat operations in southeastern Asia.
During the latter part of the 1970's and into the early 1980's, she was often in the Mediterranean, including during the Lebanon Crisis. In 1986, America was involved with the Libyan confrontation. The carrier sent aircraft to handle Libyan planes sent to attack American ships. Corsairs from the American were sent to hit key targets within Libya.
From late 1986 to early 1988, the ship underwent an extensive overhaul. The rest of 1988 was spent along the east coast and the Caribbean. During the first Iraq war of 1990-1991, she sent over 3000 combat sorties and lost no aircraft. The ship undertook deployments to the Mediterranean and Indian Ocean during the following years. Although scheduled for another major upgrade in the late 1990's, the Navy ended up sending the ship to retirement early. The ship was formally decommissioned on Aug. 9, 1996.
CV-66 Deployments - Major Events
Add a CV-66 Shellback Initiation
Add a CV-66 Deployment - Major Event
Month
Year
to
Month
Year
Deployment / Event
NOV
1964
-
DEC
1964
Sea Trials
NOV
1964
-
DEC
1964
Sea Trials
DEC
1964
-
DEC
1964
Sea Trials
JAN
1965
-
JAN
1965
Commisioning
APR
1965
-
JUN
1965
Caribbean
MAY
1965
-
MAY
1965
Guantanamo Bay
MAY
1965
-
Shellback Initiation - 3 MAY 1965 - Pacific Ocean
JUL
1965
-
JUL
1965
Dependents Cruise
NOV
1965
-
JUN
1966
Mediterranean
NOV
1965
-
JAN
1967
Sea Trials
MAR
1966
-
DEC
1966
Mediterranean
OCT
1966
-
OCT
1966
Dependents Cruise
OCT
1966
-
NOV
1966
Caribbean
JAN
1967
-
SEP
1967
Mediterranean
JAN
1967
-
JAN
1969
West Pac-Viet Nam
OCT
1967
-
APR
1968
Mediterranean
OCT
1967
-
OCT
1969
West Pac-Viet Nam
FEB
1968
-
Shellback Initiation - 28 FEB 1968 - Pacific Ocean
MAR
1968
-
NOV
1969
West Pac
MAR
1968
-
DEC
1968
West Pac-Viet Nam
APR
1968
-
Shellback Initiation - 24 APR 1968 - Atlantic Ocean
APR
1968
-
Shellback Initiation - 7 APR 1968 - Pacific Ocean
APR
1968
-
Shellback Initiation - 7 APR 1968 - Pacific Ocean
AUG
1968
-
Shellback Initiation - 7 AUG 1968 - Pacific Ocean
NOV
1968
-
Shellback Initiation - 27 NOV 1968 - Atlantic Ocean
SEP
1969
-
OCT
1971
West Pac-Viet Nam
APR
1970
-
Shellback Initiation - 24 APR 1970 - Atlantic Ocean
APR
1970
-
Shellback Initiation - 4 APR 1970 - Atlantic Ocean
APR
1970
-
DEC
1970
West Pac-Viet Nam
MAY
1970
-
Shellback Initiation - 16 MAY 1970 - Atlantic Ocean
MAY
1970
-
Shellback Initiation - 16 MAY 1970 - Atlantic Ocean
MAY
1970
-
Shellback Initiation - 16 MAY 1970 - Atlantic Ocean
JUL
1970
-
DEC
1970
West Pac-Viet Nam
NOV
1970
-
Shellback Initiation - 26 NOV 1970 - Pacific Ocean
APR
1971
-
Shellback Initiation - 1 APR 1971 - Pacific Ocean
APR
1971
-
APR
1972
VF-74
JUL
1971
-
DEC
1971
Mediterranean
JUL
1971
-
AUG
1971
Mediterranean
MAR
1972
-
NOV
1972
West Pac-Viet Nam
JUN
1972
-
Shellback Initiation - 12 JUN 1972 - Atlantic Ocean
JUN
1972
-
Shellback Initiation - 12 JUN 1972 - Pacific Ocean
JUN
1972
-
MAR
1973
West Pac-Viet Nam
NOV
1972
-
Shellback Initiation - 3 NOV 1972 - Atlantic Ocean
JAN
1973
-
OCT
1974
Mediterranean
FEB
1973
-
Shellback Initiation - 23 FEB 1973 - Indian Ocean
FEB
1973
-
Shellback Initiation - 24 FEB 1973 - Indian Ocean
JAN
1974
-
JUL
1974
Mediterranean
JAN
1974
-
OCT
1974
Mediterranean
SEP
1974
-
OCT
1974
North Atlantic
NOV
1975
-
DEC
1975
North Atlantic-Med-Indian Ocean
APR
1976
-
OCT
1976
Mediterranean
APR
1976
-
SEP
1976
Mediterranean-Lebanon
JUN
1976
-
JUL
1976
South America
JUL
1976
-
FEB
1977
Mediterranean
JUN
1977
-
JUL
1977
BRAZILIAN JOINT OPERATIONS
JUN
1977
-
Shellback Initiation - 15 JUN 1977 - Atlantic Ocean
JUN
1977
-
Shellback Initiation - 17 JUN 1977 - Atlantic Ocean
JUN
1977
-
Shellback Initiation - 6 JUN 1977 - Atlantic Ocean
JUN
1977
-
AUG
1977
South America
JUL
1977
-
Shellback Initiation - 10 JUL 1977 - Atlantic Ocean
SEP
1977
-
MAR
1978
Mediterranean
OCT
1977
-
Shellback Initiation - 15 OCT 1977 - Atlantic Ocean
JAN
1978
-
SEP
1978
Mediterranean
APR
1978
-
NOV
1978
Mediterranean
SEP
1978
-
OCT
1978
Sea Trials
JAN
1979
-
JAN
1982
Mediterranean-Indian Ocean-Persian Gulf
APR
1979
-
NOV
1979
Mediterranean
JUL
1979
-
Shellback Initiation - 10 JUL 1979 - Atlantic Ocean
JUL
1979
-
Shellback Initiation - 8 JUL 1979 - Atlantic Ocean
NOV
1979
-
AUG
1980
Overhaul
JAN
1980
-
SEP
1981
Mediterranean-Indian Ocean-Persian Gulf
JAN
1980
-
NOV
1980
Mediterranean-Lebanon
MAY
1980
-
JUL
1992
North Atlantic-Med-Indian Ocean
OCT
1980
-
OCT
1980
Guantanamo Bay
JAN
1981
-
JAN
1981
Grenada
FEB
1981
-
OCT
1981
Mediterranean-Indian Ocean
APR
1981
-
NOV
1981
Mediterranean-Indian Ocean
MAY
1981
-
OCT
1981
Mediterranean-Indian Ocean
MAY
1981
-
OCT
1981
Suez Crossing
MAY
1981
-
MAY
1981
Suez Safari
AUG
1981
-
Shellback Initiation - 10 AUG 1981 - Atlantic Ocean
AUG
1981
-
Shellback Initiation - 10 AUG 1981 - Indian Ocean
DEC
1982
-
MAY
1983
Mediterranean-Indian Ocean
FEB
1983
-
Shellback Initiation - 26 FEB 1983 - Indian Ocean
APR
1984
-
NOV
1984
Mediterranean-Indian Ocean
JUN
1984
-
Shellback Initiation - 20 JUN 1984 - Indian Ocean
JAN
1985
-
JAN
1986
Blue Nose - Arctic Circle
JAN
1985
-
JAN
1986
North Atlantic-Med-Indian Ocean
JAN
1985
-
JAN
1989
Mediterranean-Lebanon
AUG
1985
-
SEP
1985
North Atlantic
FEB
1986
-
SEP
1986
Mediterranean
MAR
1986
-
AUG
1986
Mediterranean
MAR
1986
-
SEP
1986
Mediterranean
SEP
1987
-
Shellback Initiation - 11 SEP 1987 - Indian Ocean
FEB
1989
-
MAR
1989
North Atlantic
MAR
1989
-
MAR
1989
Blue Nose - Arctic Circle
MAY
1989
-
NOV
1989
Mediterranean-Indian Ocean
JUN
1989
-
Shellback Initiation - 16 JUN 1989 - Atlantic Ocean
JUL
1989
-
Shellback Initiation - 12 JUL 1989 - Indian Ocean
JUL
1989
-
Shellback Initiation - 14 JUL 1989 - Indian Ocean
JUL
1989
-
Shellback Initiation - 12 JUL 1989 - Indian Ocean
JUL
1989
-
Shellback Initiation - 12 JUL 1989 - Indian Ocean
JUL
1989
-
Shellback Initiation - 12 JUL 1989 - Indian Ocean
MAR
1990
-
MAR
1990
Blue Nose - Arctic Circle
DEC
1990
-
APR
1991
Desert Storm
JAN
1991
-
Shellback Initiation - 15 JAN 1991 - Indian Ocean
JAN
1991
-
Shellback Initiation - 15 JAN 1991 - Indian Ocean
FEB
1991
-
MAR
1991
North Atlantic
APR
1991
-
Shellback Initiation - 3 APR 1991 - Indian Ocean
AUG
1991
-
OCT
1991
North Pole
FEB
1992
-
Shellback Initiation - 8 FEB 1992 - Atlantic Ocean
JUL
1992
-
Shellback Initiation - 27 JUL 1992 - Atlantic Ocean
JAN
1993
-
JAN
1996
Desert Storm
JUN
1993
-
FEB
1994
Mediterranean-Indian Ocean-Persian Gulf
AUG
1993
-
FEB
1994
Mediterranean-Indian Ocean-Persian Gulf
SEP
1993
-
NOV
1993
black hawk down somalia
NOV
1993
-
DEC
1993
Somalia
DEC
1993
-
Shellback Initiation - 1 DEC 1993 - Indian Ocean
DEC
1993
-
Shellback Initiation - 1 DEC 1993 - Indian Ocean
AUG
1994
-
FEB
1995
Panama Canal
SEP
1994
-
NOV
1994
Caribbean
JAN
1995
-
DEC
1995
Mediterranean-Indian Ocean-Persian Gulf
AUG
1995
-
FEB
1996
Mediterranean-Indian Ocean-Persian Gulf
FEB
1996
-
AUG
1996
Decommisioning
FEB
1996
-
Shellback Initiation - 19 FEB 1996 - Pacific Ocean
MAR
2005
-
MAR
2005
Sank at Sea - 33°09′09″N 71°39′07″W
CV-66 General Specifications