For RATING SHIRTS - Click on your Rating Abbreviation below: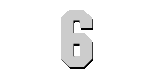 U.S.S. ENTERPRISE
(CV-6)

TO BOLDLY GO WHERE NO MAN HAS GONE BEFORE
Click to view crew list
Background
USS Enterprise (CV-6) was a Yorktown-class aircraft carrier commissioned before World War II began and which fought in the Battle of Midway in the North Pacific. The Battle of Midway, though not as famous as the attack on Pearl Harbor, was a crucial turning point in World War II, and Enterprise and her air groups were largely responsible for this victory.
Significant Combat Operations

Dec. 10, 1941: Her planes sink a Japanese submarine.
Feb.1942: Enterprise attacks the Japanese holdings in the Marshall Islands.
June 1942: The Battle of Midway. Her planes have a hand in sinking three Japanese ships.
Summer-Fall 1942: Enterprise is active in combat operations during the Guadalcanal Campaign, the Battle of the Eastern Solomons, and the Battle of the Santa Cruz Islands. She is badly damaged but continues to play an integral role in the Naval Battle of Guadalcanal.
1943-1944: Enterprise is a key player in invasions and attacks on the Gilbert and Marshall Islands, the Marianas Invasion, the Luzon Campaign, the attack on Iwo Jima, and the Okinawa Campaign.
March-May 1945: Enterprise sustains extensive damage from kamikaze attacks and bombs and returns to mainland American bases for repairs.
Enterprise played such a crucial—and active—role in World War II that efforts were made to turn her into a memorial. These efforts were unsuccessful and she was sold for scrap in 1958.
CV-6 Deployments - Major Events
Add a CV-6 Shellback Initiation
Add a CV-6 Deployment - Major Event
Month
Year
to
Month
Year
Deployment / Event
JUL
1934
-
Keel Date: 16 JUL 1934
at Newport News Shipbuilding & Drydock Co. Newport News VA
OCT
1936
-
Launch Date: 3 OCT 1936
MAY
1938
-
Commissioned: 12 MAY 1938
JAN
1942
-
JAN
1944
Middle Pacific
JUL
1942
-
Shellback Initiation - 28 JUL 1942 - Pacific Ocean
JAN
1943
-
FEB
1943
Capture and Defense of Kwajalein Atoll
MAY
1943
-
MAY
1943
Presidential Unit Citation awarded 5/27/1943
DEC
1943
-
DEC
1943
Kwajalein Atoll Raid
JAN
1944
-
Shellback Initiation - 22 JAN 1944 - Pacific Ocean
JAN
1944
-
JAN
1944
Taroa Atoll Raid
FEB
1944
-
FEB
1944
Attack on Jaluit Atoll
FEB
1944
-
FEB
1944
Truk Island Raid
MAR
1944
-
MAR
1944
Capture and Defense of Emirau Island
MAR
1944
-
MAR
1944
Palau Island Raid
MAR
1944
-
MAR
1944
Yap Island Raid
APR
1944
-
APR
1944
Capture and Defense of Hoilandia New Guinea
APR
1944
-
APR
1944
Truk Island Raid
APR
1944
-
APR
1944
Woleai Island Raid
MAY
1944
-
Shellback Initiation - 9 MAY 1944 - Pacific Ocean
DEC
1944
-
JUN
1945
RIMPAC
FEB
1947
-
Decommissioned: 17 FEB 1947
JAN
1967
-
JAN
1970
West Pac-Viet Nam
CV-6 General Specifications
Class: Yorktown-class aircraft carrier
Complement: 2217 Officers and Enlisted
Length: 770 feet
Draft: 25 feet 11.5 in
Flank Speed: 32 Knots
Range: 12 500 nautical miles