For RATING SHIRTS - Click on your Rating Abbreviation below: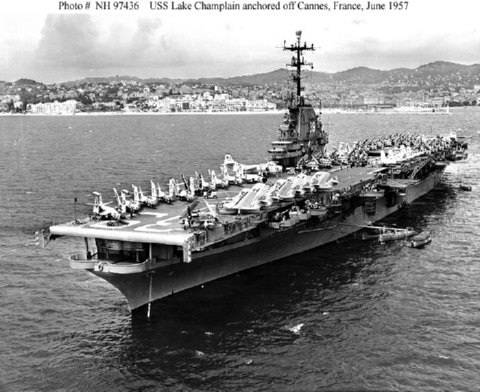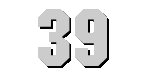 U.S.S. LAKE CHAMPLAIN
(CV-39)

THE STRAIGHTEST AND THE GREATEST
Click to view crew list
The USS LAKE CHAMPLAIN (CV-39), an Essex-class aircraft carrier, was commissioned on 3 JUN 1945. USS LAKE CHAMPLAIN served her country for 20 years, 10 months and 29 days, until decommissioned on 2 MAY 1966.

The USS LAKE CHAMPLAIN (CV-39) deployment history and significant events of her service career follow:
CV-39 Deployments - Major Events
Add a CV-39 Shellback Initiation
Add a CV-39 Deployment - Major Event
Month
Year
to
Month
Year
Deployment / Event
MAR
1943
-
Keel Date: 15 MAR 1943
at Norfolk Naval Shipyard Norfolk Virginia
NOV
1944
-
Launch Date: 2 NOV 1944
JUN
1945
-
Commissioned: 3 JUN 1945
NOV
1945
-
NOV
1945
Magic Carpet
OCT
1952
-
OCT
1952
Recommisioning
APR
1953
-
DEC
1953
Korean War
MAY
1953
-
Shellback Initiation - 30 MAY 1953 - Pacific Ocean
JAN
1954
-
JAN
1956
Mediterranean
OCT
1954
-
FEB
1955
Mediterranean
SEP
1955
-
APR
1956
Mediterranean
JAN
1957
-
JUL
1957
Mediterranean
JAN
1957
-
JUL
1957
Mediterranean
MAR
1957
-
SEP
1957
Mediterranean
APR
1957
-
JUL
1957
Mediterranean
SEP
1957
-
OCT
1957
North Atlantic-Med-Indian Ocean
JUN
1959
-
AUG
1959
Mediterranean
MAY
1961
-
MAY
1961
Recovery ship for Gemini 7 space craft (Alan Shepherd aboard)
OCT
1962
-
DEC
1962
Cuban Missle Blockade
NOV
1962
-
JAN
1963
Caribbean
OCT
1964
-
NOV
1964
Mediterranean
JAN
1965
-
JAN
1965
Gemini 2 unmanned spacecraft recovery
JUL
1965
-
AUG
1965
Gemini V Recovery
MAY
1966
-
Decommissioned: 2 MAY 1966
CV-39 General Specifications
Class: Essex-class aircraft carrier
Named for: Battle of Lake Champlain
Complement: 3448 Officers and Enlisted
Length: 888 feet
Draft: 28 feet 7 inches
Flank Speed: 33 knots
USS LAKE CHAMPLAIN (CV-39)
The second Lake Champlain (CV-39) was laid down in drydock by the Norfolk Navy Yard Portsmouth Va. 15 March 1943; launched by float 2 November 1944; sponsored 3 June 1945 by Mrs. Warren Austin wife of Senator Austin of Vermont and commissio ned the same day Capt. Logan C. Ramsey in command.
After shakedown and visits to New York and Philadelphia Lake Champlain was assigned to "Magic Carpet" duty departed Norfolk for England 14 October and arrived Southampton the 19th where she embarked veterans and returned them to New York .
She set a speed record for crossing the Atlantic 26 November 1945 when she arrived at Hampton Roads Va. having completed a run from Cape Spartel Africa in 4 days 8 hours 51 minutes. This record stood until surpassed by SS United States in the summer of 1952.
Lake Champlain retired to the "Mothball Fleet" at Norfolk Va. 17 February 1947. After the United States had allowed her active military strength to shrink to the danger point the Communists struck in Korea. Fortunately we had ships in reserv e though it took time to obtain and train crews and provide materiel. Lake Champlain was reactivated and modernized at Newport News Shipbuilding & Drydock Co. and recommissioned 19 September 1952 Capt. G. T. Mundroff in command.
After shakedown in Cuban and Haitian waters 25 November through 25 December the carrier departed Mayport Fla. for Korea 26 April 1953 via the Red Sea Indian Ocean and China Sea becoming the largest ship to transit the Suez Canal. She moored at Yo kosuka Japan 9 June 1953.
As flagship of Carrier Task Force 77 she sailed from Yokosuka 11 June and arrived off western Korea 14 June. The carrier's air group immediately launched sorties cratering runways; assaulting enemy troops; attacking trenches bunkers gun positions; an d giving close air support to hard pressed ground forces. Her planes also escorted B-29 bombers on their way to enemy targets. Lake Champlain continued to strike at the enemy until the truce was signed 27 July. Relieved by Kearsarge (CVA- 33) 11 October Lake Champlain headed toward the South China Sea arriving Singapore 24 October. Bidding farewell to the Pacific Ocean 27 October she steamed toward home touching at Columbo Port Said Cannes and Lisbon before arriving Mayport Fla. 4 December 1953.
In the years that followed Lake Champlain made several cruises to the Mediterranean participating with NATO forces. On 25 April 1957 she joined elements of the fleet in a high-speed run to the scene of tension in the Middle East cruising in t he vicinity of Lebanon and backing Jordan's stand against the threat of Communism. The swift and firm reaction averted a near catastrophe in the Middle East. Tension eased and Lake Champlain returned to Mayport 27 July. Converted to an antisubma rine carrier an d reclassified (CVS-39) on 1 August Lake Champlain trained off the eastern seaboard to master her new role. She departed Bayonne N.J. 8 February 1958 for a Mediterranean cruise returning 30 October to Mayport Fla. After yard o verhaul she departed f or the Mediterranean 10 June and visited Spain Denmark and Scotland before returning to Mayport 9 August.
The carrier operated off Florida and in the Caribbean until 15 June 1958 when she sailed on another Mediterranean cruise returning to her newly assigned home port Quonset Point R.I. 4 September.
The carrier operated out of Quonset Point R.I. until 29 June 1960 when she made a midshipmen cruise to Halifax returning 12 August. Beginning 7 February she made a cruise to the Caribbean returning 2 March.
Lake Champlain was selected as the prime recovery ship for the first manned space flight. She sailed for the recovery area 1 May and was on station on the 5th when Comdr. Alan Sheppard splashed down in spacecraft Freedom 7 some 300 miles down r ange from Cape Kennedy. Helicopters from the carrier visually followed the descent of the capsule and were over the astronaut 2 minutes after the impact. They skillfully recovered Astronaut Sheppard and Freedom 7 and carried them safely to Lake < I>Champlain's flight deck.
For the next year the ship operated along the Atlantic coast and in the Caribbean. In June 1962 she embarked Naval Academy midshipmen for a summer cruise to Halifax Nova Scotia and Kingston Jamaica where she represented the United States at the isla nd's celebration of its independence 3 August.
On 24 October Lake Champlain joined in a classic exercise of seapower--the quarantine of Cuba where the Soviet Union was constructing bases for offensive missiles. To block this grave threat U.S. warships deployed throughout the western Atlant ic choking off the flow of military supplies to Cuba and enforcing American demands for the withdrawal of the Russian offensive missiles.
After the American demands were substantially complied with Lake Champlain sailed for home 23 November via St. Thomas Virgin Islands and arrived Quonset Point 4 December 1962. For the next few months the carrier was in New England wat ers for operations and overhaul. In September 1963 while she was on a cruise to Guantanamo Bay her training schedule was interrupted when she was ordered to Haiti to relieve distress caused by Hurricane "Jane." Her helicopters located homeless victims and flew them food and medical supplies.
Lake Champlain returned to Quonset Point 9 November for operations in New England waters. She visited Bermuda briefly in spring of 1964 and steamed to Spain in the fall for landings near Huelva. She sailed 6 November from Barcelona for the Unite d States touched at Gibraltar and arrived at Quonset Point the 25th. The first half of 1965 found the Lake Champlain performing training duties and conducting exercises up and down the East Coast. The last major duty of her career occurr ed on 5 August when s he served as the primary recovery ship for Gemini 5. Soon after this duty was completed she sailed to Philadelphia where she commenced inactivation. She was decommissioned 2 May 1966.


[Note: The above USS LAKE CHAMPLAIN (CV-39) history may or may not contain text provided by crew members of the USS LAKE CHAMPLAIN (CV-39) or by other non-crew members and text from the Dictionary of American Naval Fighting Ships]