For RATING SHIRTS - Click on your Rating Abbreviation below: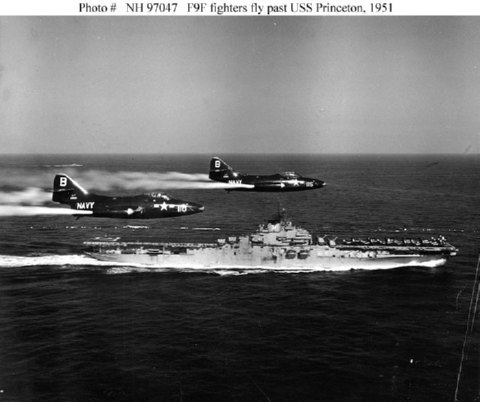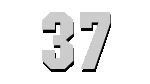 U.S.S. PRINCETON
(CV-37)

EVERY MAN IS A TIGER
Click to view crew list
USS Princeton started out life as the USS Valley Forge. However, with the loss of CVL-23 USS Princeton in November 1944, the ship received her new name. The ship was commissioned on Nov. 18, 1945. After making its first deployment to the Atlantic, in June 1946, she transferred to the Pacific Fleet. There she joined the 7th Fleet, becoming the flag ship (TF 77). During her Pacific time, she cruised off of Japan and China.
In February 1947, she went back to the US and served out of San Diego until she was decommissioned in June of 1949. Princeton came back into service in August 1950. In December of that year, she went west to support the Korean War efforts. In total, she made three trips to the combat zone. During this time, she supported thousands of missions.
With the close of the Korean War, the ship returned to west coast duty. In January 1954, the ship was reclassified to CVS-37 for anti-submarine support status. In that role, she served in the Pacific and Indian Ocean for the next four years. In March 1959, she came out of a conversion to become an amphibious assault carrier with hull designation LPH-5.
In October 1964, the ship once again entered combat operations. For the next four years, she served several voyages to support Vietnam forces. In April 1969, she acted as recovery ship for Apollo 10. In January of 1970, the ship was formally decommissioned.
CV-37 Deployments - Major Events
Add a CV-37 Shellback Initiation
Add a CV-37 Deployment - Major Event
Month
Year
to
Month
Year
Deployment / Event
SEP
1943
-
Keel Date: 14 SEP 1943
at Permanente Metals Corp. Richmond CA
JUL
1945
-
Launch Date: 8 JUL 1945
NOV
1945
-
Commissioned: 18 NOV 1945
MAY
1950
-
MAR
1954
Middle Pacific
JAN
1951
-
OCT
1951
Korean War
MAY
1951
-
FEB
1952
Middle Pacific
JAN
1952
-
SEP
1953
Korea War Zone
JAN
1956
-
AUG
1956
West Pac-Indian Ocean
JAN
1956
-
AUG
1956
Middle Pacific
MAY
1957
-
NOV
1957
West Pac-Indian Ocean-Persian Gulf
JAN
1958
-
Shellback Initiation - 15 JAN 1958 - Indian Ocean
JAN
1958
-
Shellback Initiation - 15 JAN 1958 - Pacific Ocean
FEB
1958
-
FEB
1958
Flood relief to Ceylon (now Sri Lanka) and crossed the equater .
JUL
1958
-
NOV
1958
Taiwan Strights
SEP
1958
-
OCT
1958
formosa straits
DEC
1960
-
FEB
1961
Dry Dock
DEC
1960
-
JUL
1961
Regular Overhaul
JAN
1961
-
MAY
1961
West Pac
AUG
1961
-
Shellback Initiation - 10 AUG 1961 - Pacific Ocean
SEP
1961
-
MAY
1962
West Pac-Viet Nam
FEB
1963
-
OCT
1963
West Pac-Viet Nam
MAY
1964
-
AUG
1964
West Pac
JAN
1968
-
JAN
1970
West Pac-Viet Nam
JAN
1970
-
Decommissioned: 30 JAN 1970
CV-37 General Specifications
Class: Essex-class aircraft carrier
Named for: Battle of Princeton
Complement: 3448 Officers and Enlisted
Length: 888 feet
Draft: 28 feet 7 inches
Flank Speed: 33 knots
USS PRINCETON (CV-37)
CV-37 was laid down as Valley Forge at the Philadelphia Navy Yard 14 September 1943 renamed Princeton 21 November 1944; launched 8 July 1945 sponsored by Mrs. Harold Dodds; and commissioned 18 November 1945 Capt. John M. Hoskin s in command.
Following shakedown off Cuba Princeton with Air Group 81 embarked remained in the Atlantic and operated with the 8th Fleet until June 1946. Then transferred to the Pacific Fleet she arrived at San Diego on the 31st and departed again 3 July to carry the body of Philippine President Manuel Queson back to Luzon for burial. From Manila Princeton joined the 7th Fleet in the Marianas becoming flagship of TF 77. During September and October she operated in Japanese and Chinese waters t hen returned t o the Marianas where she remained until February 1947. Maneuvers in Hawaiian waters preceded her return to San Diego until 15 March. She cruised the west coast Hawaiian waters and the western Pacific (1 October-23 December) during 1948. She then prepared for inactivation and on 20 June decommissioned and joined other capital ships in the Pacific Reserve Fleet.
Reactivated with the outbreak of hostilities in Korea fifteen months later Princeton recommissioned 28 August 1950. Intensive training refreshed her reservist crew and on 5 December she joined TF 77 off the Korean coast her planes and pilots (A ir Group 19) making possible the reinstitution of jet combat air patrols over the battle zone. She launched 248 sorties against targets in the Hagaru area to announce her arrival and for the next six days continued the pace to support marines fighting t heir way down the long cold road from the Chosin Reservoir to Hungnam. By the 11th all units had reached the staging area on the coast. Princeton's planes with other Navy Marine and Air Force squadrons then covered the evacuation from Hungn am through its completion on the 24th.
Interdiction missions followed and by 4 April Princeton's planes had rendered 54 rail and 37 highway bridges inoperable and damaged 44 more. In May they flew against the railroad bridges connecting Pyongyang with Sunchon Sinanju Kachon and th e trans peninsula line. Next they combined close air support with raids on power sources in the Hwachon Reservoir area and with the stabilization of the front there resumed interdiction. For much of the summer they pounded supply arteries concentrat ing on highways and in August Princeton got underway for the United States arriving at San Diego on the 21st.
Eight months later on 30 April 1952 Princeton rejoined TF 77 in the combat zone. For 138 days her planes flew against the enemy. They sank small craft to prevent the recapture of offshore islands; blasted concentrations of supplies facilities and equipment behind enemy lines participated in air-gun strikes on coastal cities pounded the enemy's hydroelectric complex at Suiho on the Yalu to turn off power on both sides of that river destroyed gun positions and supply areas in Pyongyan; and closed mineral processing plants and munitions factories at Sindok Musan Aoji and Najin.
Reclassified CVA-37 (1 October 1952) Princeton returned to California 3 November for a two month respite from the western Pacific. In February 1953 she was back off the Korean coast and until the end of the conflict launched planes for close ai r support "Cherokee" strikes against supply artillery and troop concentrations in enemy territory and against road traffic. She remained in the area after the truce 27 July and on 7 September got underway for San Diego.
In January 1954 Princeton was reclassified CVS-37 and after conversion at Bremerton took up antisubmarine/ Hunter-Killer (HUK) training operations in the eastern Pacific. For the next five years she alternated HUK exercises off the west coast with similar operations in the western Pacific and in late 1957-early 1958 in the Indian Ocean-Persian Gulf area. Reclassified again 2 March 1959 she emerged from conversion as an amphibious assault carrier LPH-5. Capable of transporting a battalio n landing team and carrying helicopters in place of planes Princeton's mission became that of vertical envelopment--the landing of Marines behind enemy beach fortifications and providing logistics and medical support as they attack from the rear t o seize critic al points cut enemy supplies sever communications and link up with assault forces landed on the beaches.
From May until January 1960 Princeton trained with Marine units from Camp Pendleton then deployed to WestPac to train in Okinawan waters. For the next three years she followed a similar schedule gaining experience in her primary mission. Inte rruptions came in October 1961 when she rescued survivors of merchantmen Pioneer Muse and Sheik grounded on Daito Shima and in April 1962 when she delivered Marine Corps advisors and helicopters to Soc Trang in the Mekong Delta area of the Republic of South Viet Nam.
In October 1964 Princeton exchanged WestPac training for the real thing as she returned to Viet Nam and joined the Pacific Fleet's Ready Group in operations against North Viet-Namese and Viet Cong forces. Combat operations interrupted in Novemb er for flood relief work continued into the new year 1965 and culminated in May off Chu Lai as she carried out her primary mission vertical envelopment for the first time in combat.
Returning to her homeport Long Beach after that operation she transported Marine Air Group 36 to Viet Nam in August and in February 1966 got underway for another tour in the combat zone. Relieving Okinawa (LPH-3) as flagship for the Amphibiou s Ready Group she engaged the enemy in operations "Jackstay" 26 March- 6 April to clear the Rung Sat Special Zone of Viet Cong guerrillas and "Osage" 27 April-4 May to protect Viet-Namese in the Phu Loc area from Viet Cong "harassment."
Search and destroy missions against Viet Cong and North Viet-Namese Army units followed as Princeton provided transportation medical evacuation logistics and communication support for the amphibious operation "Deckhouse I" 18-27 June in the So ng Cau district and the Song Cai river valley then supported 1st Air Cavalry and 101st Airborne units engaged in "Nathan Hale" to the south of the "Deckhouse I" area. "Deckhouse II" and support for "Hastings" followed as Navy Marine and Army units aga in combined this time to impede enemy infiltration from the DMZ.
After "Hastings" Princeton sailed for home arriving 2 September. She deployed again to Viet Nam 30 January-19 June 1967 and again ranged along that long embattled highly indented coast. In March she assisted in countering an enemy threat t o the Marine artillery base at Gio Ling and evacuated wounded from Con Thien mountain. In April she participated in "Beacon Star" in the Khe Sanh area and supported search and destroy operations in conjunction with "Shawnee". In May her helicopters lifted Marines to the DMZ to block enemy forces withdrawing across the Ben Hai river.
A much needed overhaul followed Princeton's return to the west coast and in May 1968 she again sailed west to Viet Nam. There as flagship for Amphibious Ready Group Alpha she provided amphibious assault carrier services for operations "Fortress Attack" III and IV "Proud Hunter" "Swift Pursuit" and "Eager Hunter." In December she returned to the United States and in April 1969 she was designated the prime recovery ship for Apollo 10 the lunar mission which paved the way for Apollo 11 and t he firs t landing on the moon. Completing that mission successfully Princeton resumed exercises off the west coast.
Princeton received 8 battle stars for service during the Korean Conflict.


[Note: The above USS PRINCETON (CV-37) history may or may not contain text provided by crew members of the USS PRINCETON (CV-37) or by other non-crew members and text from the Dictionary of American Naval Fighting Ships]