For RATING SHIRTS - Click on your Rating Abbreviation below:
Click on your Rating abbreviation above: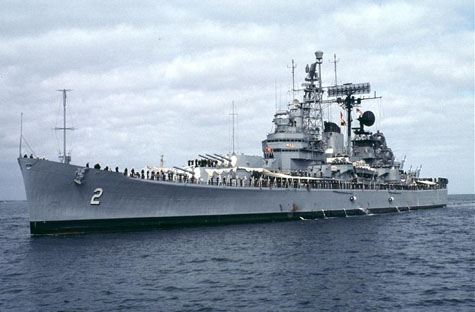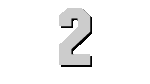 U.S.S. CANBERRA
(CAG-2)

THE KAN DO KANGAROO
Click to view crew list
The USS CANBERRA (CAG-2), a Baltimore class cruiser, was commissioned on 14 OCT 1943 as CA-70. USS CANBERRA was built at the Bethlehem Steel Fore River Shipyard in Quincy, Mass. Joining the war against the Japanese in 1944, CANBERRA battled across the Pacific until damaged by a air dropped torpedo in October 1944. She finished WWII in the Boston Naval Shipyard and was placed in reserve after the end of hostilities. CANBERRA underwent a extensive overhaul and conversion from 1952 to 1956 to be reconfigured as CAG-2, a guided missile cruiser. Recommissioned on 15 June 1956 and homeported at Norfolk, Virgina after returning to active service, CANBERRA carried President Eisenhower to Bermuda in 1957, circumnavigated the world in 1960 and participated in the Cuban Missile Blockade in 1962. CANBERRA deployed repeatedly to Vietnam in the late 1960s to provide shore bombardment. USS CANBERRA served her country, as CAG-2, for 23 years, 7 months and 17 days, until decommissioned on 2 FEB 1970. The hulk of the CANBERRA was scrapped in 1980.

The USS CANBERRA (CAG-2) deployment history and significant events of her service career follow:
CAG-2 Deployments - Major Events
Add a CAG-2 Shellback Initiation
Add a CAG-2 Deployment - Major Event
Month
Year
to
Month
Year
Deployment / Event
SEP
1941
-
Keel Date: 3 SEP 1941
at Fore River Shipyard
APR
1943
-
Launch Date: 19 APR 1943
OCT
1943
-
Commissioned: 14 OCT 1943
JUN
1957
-
Shellback Initiation - 26 JUN 1957 - Atlantic Ocean
SEP
1957
-
SEP
1957
Blue Nose - Arctic Circle
JAN
1959
-
JAN
1959
Guantanamo Bay
APR
1959
-
SEP
1959
Mediterranean
JAN
1960
-
JAN
1962
Cuban Missle Blockade
MAR
1960
-
OCT
1960
World Cruise
APR
1960
-
Shellback Initiation - 25 APR 1960 - Pacific Ocean
APR
1960
-
Shellback Initiation - 25 APR 1960 - Pacific Ocean
APR
1960
-
Shellback Initiation - 25 APR 1960 - Pacific Ocean
JAN
1962
-
AUG
1962
Mediterranean
FEB
1962
-
SEP
1962
Mediterranean
SEP
1962
-
OCT
1962
Cuban Missle Blockade
FEB
1963
-
SEP
1963
Mediterranean
JAN
1965
-
JUL
1965
West Pac-Viet Nam
JAN
1965
-
JAN
1965
West Pac-Viet Nam
MAY
1965
-
NOV
1967
West Pac-Viet Nam
DEC
1965
-
JUL
1966
West Pac-Viet Nam
JUN
1966
-
JUL
1969
West Pac-Viet Nam
SEP
1966
-
MAY
1967
West Pac-Viet Nam
APR
1967
-
Shellback Initiation - 4 APR 1967 - Pacific Ocean
APR
1967
-
Shellback Initiation - 23 APR 1967 - Pacific Ocean
APR
1967
-
Shellback Initiation - 4 APR 1967 - Pacific Ocean
APR
1967
-
Shellback Initiation - 23 APR 1967 - Pacific Ocean
MAY
1967
-
Shellback Initiation - 4 MAY 1967 - Pacific Ocean
JAN
1968
-
MAR
1968
Pueblo Incident Korea
SEP
1968
-
JAN
1969
West Pac-Viet Nam
SEP
1968
-
SEP
1969
West Pac-Viet Nam
SEP
1968
-
SEP
1969
West Pac-Viet Nam
FEB
1970
-
Decommissioned: 2 FEB 1970
CAG-2 General Specifications
Class: Baltimore class cruiser
Named for: Australian cruiser HMAS Canberra
Complement: 1142 Officers and Enlisted
Displacement: 13600 tons
Length: 673 feet 5 inches
Beam: 70 feet 10 inches
Flank Speed: 33 knots
Final Disposition: Sold for scrap on 31 July 1980
USS CANBERRA (CAG-2)
Canberra (CA-70) was launched 19 April 1943 by Bethlehem Steel Co., Quincy, Mass.; sponsored by Lady Alice C. Dixon; and commissioned 14 October 1943, Captain A. R. Early in command.


Canberra departed Boston 14 January 1944 and sailed via San Diego to embark passengers for Pearl Harbor, arriving 1 February. She rendezvoused with TF 58 on 14 February and took part in the capture of Eniwetok. The cruiser steamed from her base at Majuro to join the Yorktown (CV-10) task group for the raids on the Palaus, Yap, Ulithi, and Woleai (30 March-1 April), then got underway from the same base 13 April for air strikes against Hollandia and Wakde in support of the Army landings on New Guinea. Canberra joined with the Enterprise (CV-6) task group for fighter sweeps against Truk, then bombarded Satawan, rejoining the carriers for further strikes on Truk (29 April-1 May).


After a raid against Marcus and Wake Islands in May 1944, Canberra sailed from Majuro 6 June to participate in the Marianas operation, including the far-flung Battle of the Philippine Sea, and the supporting air strikes and bombardment to neutralize bases in the Bonins. Following replenishment at Eniwetok, Canberra sailed 29 August for raids on the Palaus and the Philippines, and to back up the Morotai landings (15-16 September).


On 2 October 1944 Canberra sailed in company with TF 38 for air strikes on Okinawa and Formosa in anticipation of the forthcoming landings on Leyte. On 13 October, only 90 miles off Formosa, close to the enemy and far from safe harbor, Canberra was struck below her armor belt at the engineering spaces by an aerial torpedo which blew a huge, jagged hole in her side and killed 23 of her crew instantly. Before damage control could isolate the compartments, some 4,500 tons of water rushed in to flood her after fireroom and both engine rooms, which brought the cruiser to a stop. Then began one of the most notable achievements of the war in saving wounded ships. Canberra was taken in tow by Wichita (CA-45). The task force reformed to provide escort for her and Houston (CL-81) who had been torpedoed on the morning of the 14th. Retiring toward Ulithi, "Cripple Division 1" fought off an enemy air attack which succeeded in firing another torpedo into Houston. Admiral Halsey (CTF 38) attempted to use the group, now nicknamed "Bait Division 1," to lure the Japanese fleet into the open, but when the enemy sortied from the Inland Sea, air attacks from the rest of TF 38 roused enemy suspicions of the trap, and the Japanese force withdrew. Canberra and her group continued unmolested to Ulithi, arriving 27 October, 2 weeks from the day she was hit. The cruiser was towed to Manus for temporary repairs, thence departed for permanent repairs at Boston Navy Yard (16 February-17 October 1945). Canberra returned to the west coast late in 1945 and was placed out of commission in reserve at Bremerton, Wash., 7 March 1947.


Reclassified CAG-2, 4 January 1952, Canberra was towed from Bremerton to New York Shipbuilding Corp., Camden, N.J., where she was converted to a guided missile heavy cruiser. Her after 8" turret was replaced by terrier antiaircraft missile launchers and she was otherwise modernized. Canberra was recommissioned 15 June 1956, part of the sweeping revolution that is increasing the United States' seapower for peace. Local operations from her home port of Norfolk and Caribbean exercises were conducted until 14 March 1957 when she carried President Dwight D. Eisenhower to Bermuda for a conference with Prime Minister Harold MacMillan of Great Britain. On 12 June she served as a reviewing ship for the International Naval Review in Hampton Roads, with Secretary of Defense Charles E. Wilson embarked. After a midshipman training cruise to the Caribbean and Brazil (13 June-5 August), she departed Norfolk 3 September to participate in NATO Operation "Strikeback," sailing on to the Mediterranean for duty with the 6th Fleet before returning home 9 March 1958.


In the spring of 1958 Canberra was designated as ceremonial flagship for the selection of the unknown servicemen of World War II and Korea to be buried with honor at the Tomb of the Unknowns in Arlington National Cemetery. The cruiser rendezvoused off the Virginia Capes 26 May with Blandy (DD-943) carrying the Unknown of the European Theater, and Boston (CAG-1) carrying the Unknowns of the Pacific Theater and the Korean War. After Blandy had transferred her Unknown to Boston, all three caskets were high-lined to Canberra, where the selection between the two Unknowns of World War II was made. The selected casket along with the Korean Unknown was returned to Blandy for transportation to Washington, D.C., and the unselected Unknown was buried at sea with military honors by Canberra.


Canberra carried midshipmen on a training cruise to Europe (9 June-7 August 1958), then after a brief visit to New York, entered Norfolk Naval Shipyard for overhaul.


Departing from the normal operating schedule, Canberra sailed from Norfolk on 3 March 1960 on good-will cruise around the globe, flying the flag of Rear Admiral J. McN. Taylor, Commander of the Atlantic Fleet Cruiser Force and Cruiser Division 6. On this cruise he took his flagship to the South Pacific, where her namesake had sunk, where she had engaged the enemy in 1944 and where he had served. On this cruise Canberra operated with both the 7th and 6th Fleets as she sailed across the Pacific, through the Indian Ocean, Suez, the Mediterranean, and across the Atlantic. She arrived home in Norfolk on 24 October. For the remainder of the year she operated on the east coast.


Canberra received seven battle stars for World War II service.


[Note: The above USS CANBERRA (CAG-2) history may, or may not, contain text provided by crew members of the USS CANBERRA (CAG-2), or by other non-crew members, and text from the Dictionary of American Naval Fighting Ships]