For RATING SHIRTS - Click on your Rating Abbreviation below:
Click on your Rating abbreviation above: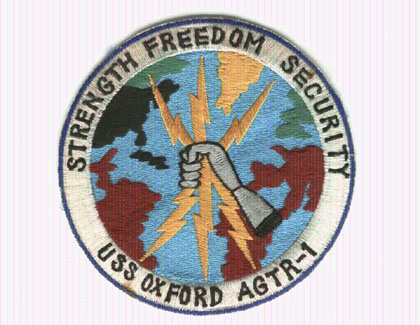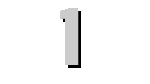 U.S.S. OXFORD
(AGTR-1)

FREEDOM
Click to view crew list
USS OXFORD (AGTR-1) - an Oxford-class technical research ship
In Commission 1961 to 1969
AGTR-1 Deployments - Major Events
Add a AGTR-1 Shellback Initiation
Add a AGTR-1 Deployment - Major Event
Month
Year
to
Month
Year
Deployment / Event
JUN
1945
-
Keel Date: 23 JUN 1945
JUL
1945
-
Launch Date: 31 JUL 1945
JUL
1961
-
Commissioned: 8 JUL 1961
JAN
1962
-
MAY
1962
South Atlantic
OCT
1962
-
DEC
1962
Guantanamo Bay
OCT
1962
-
DEC
1962
Cuban Missle Blockade
MAY
1963
-
Shellback Initiation - 24 MAY 1963 - Atlantic Ocean
FEB
1965
-
FEB
1966
Circumnavigation
MAR
1965
-
Shellback Initiation - 19 MAR 1965 - Atlantic Ocean
OCT
1965
-
Shellback Initiation - 10 OCT 1965 - Pacific Ocean
NOV
1965
-
JUN
1969
Meritorious Unit Commendation
JAN
1966
-
MAR
1966
Regular Overhaul
JAN
1966
-
DEC
1967
West Pac-Viet Nam
APR
1966
-
FEB
1967
West Pac-Viet Nam
DEC
1966
-
Shellback Initiation - 3 DEC 1966 - Pacific Ocean
DEC
1966
-
Shellback Initiation - 5 DEC 1966 - Pacific Ocean
DEC
1966
-
Shellback Initiation - 5 DEC 1966 - Pacific Ocean
MAR
1967
-
MAR
1968
West Pac-Viet Nam
AUG
1967
-
Shellback Initiation - 12 AUG 1967 - Pacific Ocean
OCT
1967
-
Shellback Initiation - 17 OCT 1967 - Pacific Ocean
JAN
1968
-
JAN
1969
West Pac-Viet Nam
JUN
1968
-
AUG
1968
West Pac-Viet Nam
DEC
1969
-
Decommissioned: 19 DEC 1969
AGTR-1 General Specifications
Complement: 254 Officers and Enlisted
Displacement: 11365 tons
Length: 441 feet
Beam: 59 feet
Draft: 22 feet
Flank Speed: 11 knots
USS OXFORD (AGTR-1)
The second Oxford (AGTR-1), a Liberty ship, was laid down 23 June 1945 under Maritime Commission contract by the New England Shipbuilding Corp., Portland, Me.; launched 31 July as Samuel R. Aitken (MCE-3127); sponsored by Mrs. Margaret C. Aitken; and delivered to the Maritime Commission 25 August.


As Samuel R. Aitken she served the merchant fleet, first with the Moore-McCormack Steam Ship Lines and then with the Arnold Bernstein Line. She was laid up 10 April 1948 in the National Defense Reserve Fleet, Wilmington, N.C.


In October 1960 Samuel R. Aitken was towed to the New York Naval Shipyard, Brooklyn, N.Y. for conversion. Named Oxford (AG-159) on 25 November 1960, she commissioned at New York 8 July 1961, Comdr. Howard R. Lund in command. She reported to Norfolk, Va. 11 September for duty with the Service Force, Atlantic Fleet, and shortly thereafter conducted shakedown out of Guantanamo Bay, Cuba.


Oxford was designed to conduct research in the reception of electromagnetic propagations. Equipped with the latest antenna systems and measuring devices, she is a highly sophisticated and mobile station which can steam to various parts of the world to participate in the Navy's comprehensive program of research and development projects in communications. Because of the immediate or potential military applications of her work, much of Oxford's employment is classified.


One of Oxford's publicized operations took place 15 December 1961 when she became the first ship to receive a message from a shore based facility via the moon successfully. Next she departed Norfolk 4 January 1962 for a South Atlantic deployment, returning four months later. Another four month South Atlantic deployment followed in May 1963, after which Oxford underwent overhaul at Norfolk Naval Shipyard, Portsmouth, Va.


January 1964 brought refresher training at Guantanamo Bay, and from 22 February until 10 June Oxford conducted further research operations in South Atlantic and Pacific waters.


Oxford was redesignated Technical Research Ship (AGTR-1) on 1 April 1964. She departed 4 August on yet another South Atlantic cruise, conducting research not only in electromagnetic reception, but also in oceanography and related areas. She returned to Norfolk 1 December.


Oxford steamed for Africa 3 February 1965, calling at Las Palmas, Canary Islands, Lagos, Nigeria, and Durban, South Africa. A message arrived 26 May reassigning the ship to the Pacific Fleet, with a new homeport at San Diego, Calif. She stood out of Subic Bay, P.I. 16 June for a one month deployment to the South China Sea, and thus set the pattern for her operations into 1969.


Oxford decommissioned and was struck from the Naval Vessel Register 19 December 1969 at Yokosuka, Japan.


[Note: The above USS OXFORD (AGTR-1) history may, or may not, contain text provided by crew members of the USS OXFORD (AGTR-1), or by other non-crew members, and text from the Dictionary of American Naval Fighting Ships]