ABOUT HULLNUMBER.COM

HullNumber.com's mission is to provide a means for shipmates to keep in touch with one another.


HullNumber.com started with the passing of my best Navy buddy in August 1999 at the age of 40. He lived four hours away and I visited him every second or third year for the nearly twenty years since we served together. I attended his funeral and had several of my Navy pictures reprinted for his friends and family. My shipmate was a true friend of mine.
The passing of my shipmate spurred me to search the Internet for Navy sites. I found an unexpected number of sites dedicated to ships, units and the military.

HullNumber.com exists because of the sacrifice and effort that we all made to enable our ships to make their commitments. In the past twenty years, I've routinely told my friends of crossing the Atlantic. That we knew we were getting close to the other side when a Russian Tupulov Bear bomber, with a red star on its tail, would fly by.
click on image to view larger version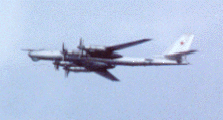 Soviet Bear Bomber

The Russian Bear and the Red Star ... it seems unimaginable from today ... but today exists the way it does because millions of U.S. Military personnel worked and sacrificed to enable their unit to make its commitments.



I wish you smooth sailing.


Dave Schultz
ex - USS Newport (LST-1179)
R Div. 1977-80
December 1999