For RATING SHIRTS - Click on your Rating Abbreviation below:
Click on your Rating abbreviation above: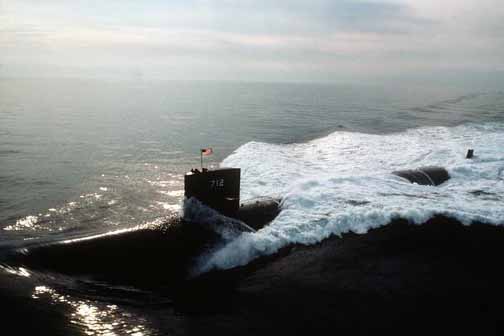 U.S.S. ATLANTA
(SSN-712)

RESURGENS
Click to view crew list
The USS ATLANTA (SSN-712), a Los Angeles class submarine, was commissioned on 6 MAR 1982. USS ATLANTA served her country for 17 years, 9 months and 10 days, until decommissioned on 16 DEC 1999.

The USS ATLANTA (SSN-712) deployment history and significant events of her service career follow:
SSN-712 Deployments - Major Events
Add a SSN-712 Shellback Initiation
Add a SSN-712 Deployment - Major Event
Month
Year
to
Month
Year
Deployment / Event
MAR
1977
-
Shellback Initiation - 14 MAR 1977 - Atlantic Ocean
AUG
1978
-
Keel Date: 17 AUG 1978
at New York Shipbuilding Corporation Camden NJIn
AUG
1980
-
Launch Date: 16 AUG 1980
MAR
1982
-
Commissioned: 6 MAR 1982
JUN
1982
-
SEP
1982
Blue Nose - Arctic Circle
JUN
1983
-
OCT
1983
Mediterranean
JAN
1986
-
JAN
1986
3 Caribbean Cruises
FEB
1986
-
APR
1986
northern run-we bottomed in Gibraltar.
AUG
1986
-
SEP
1986
Blue Nose - Arctic Circle
AUG
1986
-
SEP
1986
North Atlantic
AUG
1986
-
NOV
1986
Norther Run
NOV
1987
-
MAY
1988
Mediterranean
SEP
1991
-
MAR
1992
Mediterranean
MAR
1994
-
JUN
1994
Blue Nose - Arctic Circle
JAN
1995
-
APR
1995
Blue Nose - Arctic Circle
NOV
1996
-
JUN
1997
Mediterranean
MAY
1998
-
NOV
1998
Mediterranean
DEC
1999
-
Decommissioned: 16 DEC 1999
SSN-712 General Specifications
Class: Los Angeles-class submarine
Named for: Atlanta
Complement: 12 Officers and 115 Enlisted
Displacement: 5732 tons
Length: 362 feet
Beam: 32 feet 10 inches
Flank Speed: 20 knots
Final Disposition: To be disposed of by submarine recycling
USS ATLANTA (SSN-712)
The fifth Atlanta, (SSN-712) was laid down on 17 August 1978 at Newport New, Va., by the Newport News Shipbuilding & Drydock Co.; launched on 16 August 1980; sponsored by Mrs. Sam Nunn; and commissioned on 6 March 1982, Comdr. Robin J. White in command.


The nuclear-powered attack submarine carried out shakedown training along the New England coast after commissioning. On 15 May 1982, she reentered the yard at the Newport News Shipbuilding & Drydock Co. for five months of post-shakedown repairs. Late in October, Atlanta began operations out of her home port, Norfolk, Va. That duty carried her through the rest of 1982 and almost all of the first six months of 1983. On 20 June 1983, the warship embarked upon her first overseas deployment. During that five-month tour of duty, she called at ports in Scotland, England, and Norway before returning to Norfolk on 23 November. In January of 1984, Atlanta cruised to the West Indies as a school ship for prospective commanding officers and then returned to normal operations out of Norfolk during the spring and summer. In September, the warship took part in a fleet readiness exercise "READEX 2-84" and then resumed duty out of Norfolk.


The beginning of 1985 found Atlanta in port at the Naval Base, Norfolk, completing a restricted availability. In February,she practised torpedo firing in the Bahamas and took part in mine warfare drills near Port Everglades, Fla. March brought a weapons technical proficiency inspection, and in April, the nuclear submarine participated in the fleet exercise "COMPTUEX 2-85." Late that summer, she got underway for two months of operations at sea. The warship returned to her home port that fall and resumed duty in the local operating area.


Atlanta spent the first month of 1986 getting ready for an overseas deployment. She embarked upon that assignment in February and returned to Norfolk later that spring. Following an availability at the Norfolk Naval Shipyard, Atlanta operated in the West Indies for a time early that summer. In August and September, the nuclear submarine took part in an eight-week NATO exercise that brought with it visits to a Canadian and a Norwegian port. She returned to Norfolk in October and resumed local operations along the eastern seaboard for the remainder of the year. As of the beginning of 1987, Atlanta was at Norfolk preparing for overseas movement.


[Note: The above USS ATLANTA (SSN-712) history may, or may not, contain text provided by crew members of the USS ATLANTA (SSN-712), or by other non-crew members, and text from the Dictionary of American Naval Fighting Ships]