For RATING SHIRTS - Click on your Rating Abbreviation below:
Click on your Rating abbreviation above: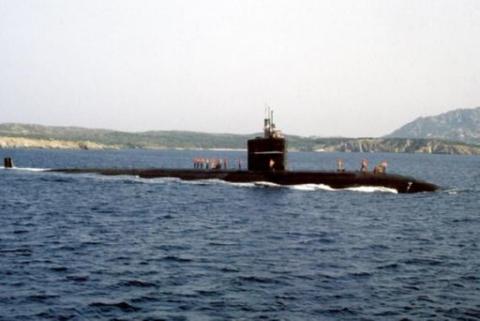 U.S.S. BATON ROUGE
(SSN-689)

GO BIG RED
Click to view crew list
USS BATON ROUGE (SSN-689) - a Los Angeles class submarine
In Commission 1977 to 1995
SSN-689 Deployments - Major Events
Add a SSN-689 Shellback Initiation
Add a SSN-689 Deployment - Major Event
Month
Year
to
Month
Year
Deployment / Event
NOV
1972
-
Keel Date: 18 NOV 1972
at Newport News Shipbuilding & Drydock Co. Newport News VA
APR
1975
-
Launch Date: 26 APR 1975
JUN
1977
-
Commissioned: 25 JUN 1977
MAR
1980
-
SEP
1980
Circumnavigation
MAR
1980
-
Shellback Initiation - 5 MAR 1980 - Atlantic Ocean
JUN
1980
-
Shellback Initiation - 11 JUN 1980 - Pacific Ocean
DEC
1981
-
Shellback Initiation - 10 DEC 1981 - Atlantic Ocean
MAY
1983
-
DEC
1983
Mediterranean
OCT
1984
-
MAR
1986
Overhaul
SSN-689 General Specifications
Class: Los Angeles class submarine
Complement: 12 Officers and 98 Enlisted
Displacement: 5780 tons
Length: 362 feet
Beam: 32 feet 10 inches
Draft: 30 feet 10 in
Final Disposition: Submarine recycling
USS BATON ROUGE (SSN-689)
Baton Rouge (SSN-689) was laid down on 18 November 1972 at Newport News, Va., by the Newport News Shipbuilding and Dry Dock Co.; launched on 26 April 1975; sponsored by Mrs. F. Edward Hebert; and commissioned on 25 June 1977, Comdr. Thomas C. Maloney in command.
Though assigned to Submarine Squadron (SubRon) 1 and based at Norfolk, Baton Rouge carried out her shakedown training out of New London, Conn. She left Hampton Roads on 5 July and spent most of the month engaged in drills in waters off the New England coast. The attack submarine returned to Norfolk on 29 July and devoted the next four weeks to post-shakedown upkeep.


During late August and the first week in September, she participated in SUBASWEX-77 and then returned to Norfolk on 9 September. On the 12th, she headed south to carry out acoustic trials at Exuma Sound and weapons' tests out of Port Everglades, Fla. Baton Rouge arrived back at Norfolk on 7 October and remained there until early November at which time she put to sea for another round of tests carried out from Port Everglades. The warship returned to Norfolk on 23 November but embarked on an extended period at sea on the 29th.


Baton Rouge concluded that assignment at Norfolk on 5 January 1978. She moored alongside L. Y. Spear (AS-36) and conducted upkeep until 24 January when she headed back to Port Everglades. There, submarine participated in additional tests before returning to Norfolk early in February. On 20 February, Baton Rouge began her post-shakedown overhaul at the Newport News Shipbuilding and Dry Dock Co. That repair period lasted more than six months with the submarine returning to sea for trials on 28 August. In September, she prepared for overseas deployment with training out of New London, Conn. and then returned to Norfolk where she spent the first part of October completing a host of last-minute chores before embarking on her first tour of duty with the 6th Fleet. Baton Rouge set out on that assignment on 19 October and raised her first port of call in the Mediterranean Sea--La Maddalena, Sardinia--on 1 November. In addition to visits to La Maddalena, the warship also called at La Spezia, Italy, and took part in a variety of antisubmarine warfare (ASW) exercises through the winter of 1978 and 1979. The attack submarine returned to Norfolk from her first overseas assignment in March of 1979.


After post-deployment standdown, Baton Rouge resumed normal operations out of her home port in the spring. These included participation in two major ASW exercises and visits to such widely separated places as Fort Lauderdale, Fla., and Halifax, Nova Scotia. In July, she was reassigned to SubRon 8 but continued to use Norfolk as her base of operations. In September and October, Baton Rouge put to sea for a major NATO exercise--Operation "Ocean Safari"-- which took her across the Atlantic once more and included a call at Rotterdam in the Netherlands. She returned to Norfolk from that mission during the latter part of October and spent the remainder of 1979 in a restricted availability.


Baton Rouge was decomissioned on 13 January 1995 and struck from the Navy list on the same day. She was disposed of by submarine recycling on 30 September 1997.


[Note: The above USS BATON ROUGE (SSN-689) history may, or may not, contain text provided by crew members of the USS BATON ROUGE (SSN-689), or by other non-crew members, and text from the Dictionary of American Naval Fighting Ships]