For RATING SHIRTS - Click on your Rating Abbreviation below:
Click on your Rating abbreviation above: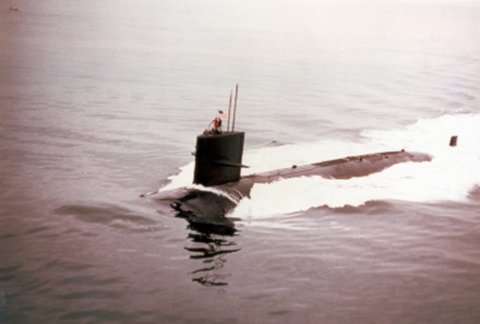 U.S.S. TUNNY
(SSN-682)

ILLEGITIMI NON CARBORUNDUM
Click to view crew list
USS TUNNY (SSN-682) - a Sturgeon-class attack submarine
In Commission 1974 to 1998
SSN-682 Deployments - Major Events
Add a SSN-682 Shellback Initiation
Add a SSN-682 Deployment - Major Event
Month
Year
to
Month
Year
Deployment / Event
MAY
1970
-
Keel Date: 22 MAY 1970
at Ingalls Shipbuilding Pascagoula MS
JUN
1972
-
Launch Date: 10 JUN 1972
JAN
1974
-
Commissioned: 26 JAN 1974
JAN
1975
-
JUL
1975
Mediterranean
FEB
1975
-
AUG
1975
Mediterranean
JUL
1976
-
DEC
1976
Mediterranean
FEB
1978
-
MAY
1978
Blue Nose - Arctic Circle
JUL
1978
-
JAN
2009
Panama Canal Transit -- with no return to Charleston
SEP
1978
-
Shellback Initiation - 6 SEP 1978 - Pacific Ocean
JAN
1979
-
JUL
1979
West Pac
DEC
1981
-
JUN
1982
West Pac
FEB
1984
-
Shellback Initiation - 20 FEB 1984 - Pacific Ocean
NOV
1993
-
MAY
1994
West Pac
APR
1995
-
SEP
1995
West Pac
SEP
1996
-
MAR
1997
West Pac
MAR
1998
-
Decommissioned: 13 MAR 1998
SSN-682 General Specifications
Class: Sturgeon-class attack submarine
Named for: The tunny
Complement: 110 Officers and Enlisted
Displacement: 4460 tons
Length: 302 feet
Beam: 31.7 feet
Flank Speed: 15 Knots
Final Disposition: Scrapping via Ship and Submarine Recycling Program began 1 October 1997 completed 27 October 1998
USS TUNNY (SSN-682)
The second Tunny (SSN-682) was laid down on 22 May 1970 at Pascagoula, Miss., by the Ingalls Ship building Division of Litton Systems Inc.; launched on 10 June 1972; sponsored by Mrs. Lola Aiken; and commissioned on 26 January 1974 at Charleston, S.C., Comdr. Dennis Y. Sloan in command.


Tunny remained at Charleston, her home port, until March when she moved to Groton, Conn., for two weeks of in-port training at the submarine base. Between March and June, she conducted shakedown training in the West Indies and along the east coast. From June to August, the nuclear-powered submarine conducted normal operations out of Charleston before heading north to the Portsmouth (N.H.) Naval Shipyard where she began post-shakedown overhaul on 12 August. The warship completed repairs on 5 October and headed back to Charleston where she resumed normal training operations.


In February 1975, Tunny began preparations for her first deployment to the Mediterranean. She stood out of Charleston and headed across the Atlantic on 6 March and changed operational control to the 6th Fleet 10 days later. During the first part of her tour in the Mediterranean, the submarine operated with Task Force (TF) 60 conducting antisubmarine (ASW) exercises with the other ships of the unit. Following refit and tender upkeep in June and early July at Santo Stefano, Sardinia, Tunny rejoined the 6th Fleet as a unit of TF 69 and resumed ASW training. After participating in a major 6th Fleet exercise late in July and early in August, the warship departed the Mediterranean for home. She changed operational control from 6th Fleet to the Atlantic Fleet Submarine Force on 17 August and arrived in Charleston 12 days later. After post-deployment stand down in September and a shipyard availability at Charleston in October and November, she resumed operations-mostly type training-out of Charleston on 20 November.


Type training along the South Carolina and Florida coasts occupied her time during the first month of 1976. February brought inspections and examinations; and, in March, she participated in two special operations designed to help develop and evaluate submarine tactics. In May, Tunny began preparations for her second tour of duty with the 6th Fleet but did not embark upon that assignment for over two months. In the meantime, she conducted one exercise-in mine warfare-in June. Finally, on 26 July, she sailed out of Charleston on her way to the Mediterranean. Following a visit to Lisbon, Portugal, the attack submarine joined the 6th Fleet on 11 August. After a month of ASW training, highlighted by† Exercise† "National† Week† XXI,"† the† warship put into† Santo† Stefano for† a month of upkeep alongside Howard W. Gilmore (AS-16). In October, she returned to sea for ASW training operations punctuated periodically with a visit to Naples or upkeep at Santo Stefano. That routine continued until 11 December, when she departed Santo Stefano to return to the United States. Arriving in Charleston on 22 December, she commenced a combination of holiday leave and up keep and post-deployment stand down.


January 1977 found Tunny undergoing an extensive upkeep following her Mediterranean deployment. She then resumed operations off the east coast which extended through the spring and summer months. In mid-September, the attack submarine commenced a two-month Selected Restricted Availability (SRA) at the Norfolk Naval Shipyard which was concluded in late November, followed by a short sea trial period. Following refresher training at the Naval Submarine School, New London, Tunny returned to Charleston for the Christmas holidays.


Tunny spent January and part of February 1978 preparing for a North Atlantic deployment which commenced in late February and concluded in late April. In July, Tunny's home port was changed to Pearl Harbor, Hawaii, and the ship transited to that port on 19 August. The remainder of the year was devoted to local operations in preparation for a forthcoming deployment to the western Pacific in 1979.


[Note: The above USS TUNNY (SSN-682) history may, or may not, contain text provided by crew members of the USS TUNNY (SSN-682), or by other non-crew members, and text from the Dictionary of American Naval Fighting Ships]