For RATING SHIRTS - Click on your Rating Abbreviation below:
Click on your Rating abbreviation above: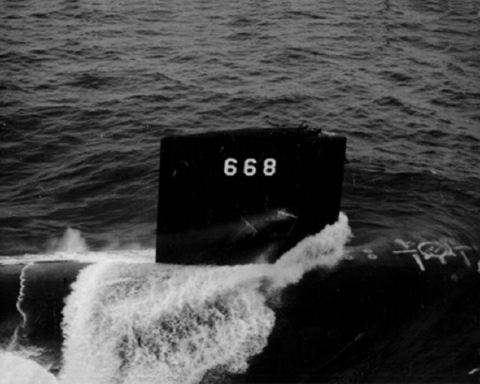 U.S.S. SPADEFISH
(SSN-668)

DIVE DEEP DIVE HARD FEAR NOTHING
Click to view crew list
USS SPADEFISH (SSN-668) - a Sturgeon-class attack submarine
In Commission 1969 to 1997
SSN-668 Deployments - Major Events
Add a SSN-668 Shellback Initiation
Add a SSN-668 Deployment - Major Event
Month
Year
to
Month
Year
Deployment / Event
DEC
1944
-
Shellback Initiation - 29 DEC 1944 - Pacific Ocean
DEC
1966
-
Keel Date: 21 DEC 1966
at Newport News Shipbuilding & Drydock Co. Newport News VA
MAY
1968
-
Launch Date: 15 MAY 1968
AUG
1969
-
Commissioned: 14 AUG 1969
MAR
1971
-
DEC
1971
Sea Trials
OCT
1974
-
JAN
1975
Mediterranean
MAR
1980
-
AUG
1980
Mediterranean
MAR
1980
-
AUG
1980
Mediterranean
JAN
1983
-
APR
1983
North Pole
AUG
1984
-
OCT
1984
Blue Nose - Arctic Circle
MAY
1985
-
SEP
1985
North Pole
MAR
1986
-
AUG
1986
Mediterranean
MAR
1990
-
AUG
1990
Mediterranean
AUG
1991
-
NOV
1991
Blue Nose - Arctic Circle
APR
1997
-
Decommissioned: 11 APR 1997
SSN-668 General Specifications
Class: Sturgeon-class attack submarine
Named for: The spadefish
Complement: 14 Officers and 95 Enlisted
Displacement: 3995 tons
Length: 292 feet 3 inches
Beam: 31 feet 8 inches
Flank Speed: 15 knots
Final Disposition: Scrapping via Ship and Submarine Recycling Program begun 1 October 1996 completed 24 October 1997
USS SPADEFISH (SSN-668)
The second Spadefish (SSN-668) was laid down on 21 December 1966 by the Newport News Shipbuilding and Drydock Co., Newport News, Va.; launched on 15 May 1968; sponsored by Mrs. Charles T. Booth II; and commissioned on 14 August 1969, Comdr. G. M. Henson in command.


Following shakedown in the Atlantic, Spadefish underwent post-shakedown availability at Newport News from April to June 1970 and, in July, participated in antisubmarine warfare exercises in the North Atlantic. After returning to her homeport, Norfolk, Va., the submarine was deployed in the Atlantic from October to December and then returned to Norfolk for upkeep.


On 18 February 1971, she got underway for her second deployment in the Atlantic, visiting Faslane, Scotland, before returning to Norfolk on 18 April. The submarine operated in the Norfolk area for the remainder of the year, participating in antisubmarine warfare exercises and type training.


For the year 1972, Spadefish participated in training operations in the Norfolk area until deploying in the Atlantic from June to August, visiting Holy Loch, Scotland, before returning to Norfolk. She again deployed in the Atlantic on 10 October and returned to Norfolk on 17 December for the holidays.


Through the first six months of 1973, Spadefish operated out of Norfolk along the east coast. She conducted independent exercises, an SSBN security exercise and independent type training. In May and June, she supported Cruiser-Destroyer Flotilla 8 in a LANTREADEX and SEACONEX. At the end of June, she spent a week at Portland, England, and, in July, returned to the east coast. At the beginning of September, she commenced a major overhaul at Norfolk Naval Shipyard. Spadefish completed overhaul in July 1974 and resumed Atlantic coast operation. She was so employed through 1974 and for the first four months of 1975.


[Note: The above USS SPADEFISH (SSN-668) history may, or may not, contain text provided by crew members of the USS SPADEFISH (SSN-668), or by other non-crew members, and text from the Dictionary of American Naval Fighting Ships]